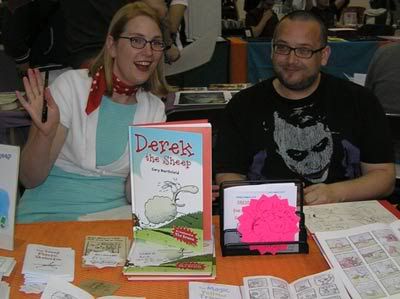 Here's me selling a few bits and bobs at Gary Northfield's table at London's MCM Expo, where he kindly let me crash for a few hours. Look, he drew a picture for me!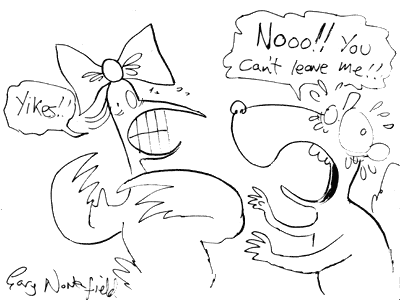 This one's from one of my favourite Little Cutie strips, with Sophie the cygnet and Dudley the squirrel (Sophie's short-term boyfriend who is not quite up to the task). (Read it here!)

Gary asked me to draw Derek the sheep and Vern in pirate costumes, so here it is: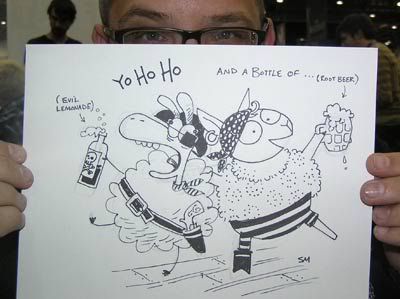 We had some lovely small press favourites a few tables over: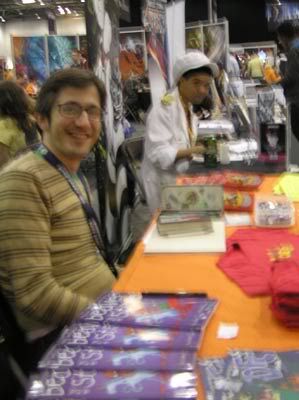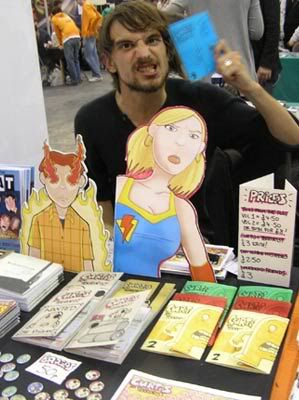 James Turner and John Aggs (both DFC mates), and London Underground Comic's Oliver Lamden. James spoke on a panel with Marc Ellerby (Ellerbisms), John Allison (Scary Go Round) and Paul Duffield (Freakangels, Manga Shakespeare).

Here's the loot I picked up: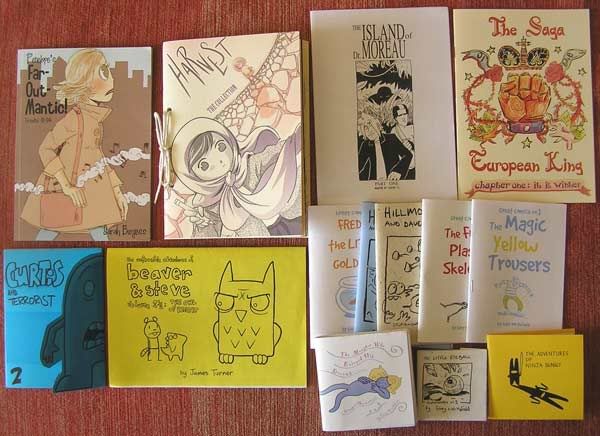 Penelope's Far-out-mantic by Sarah Burgess; Harvest: the Collection by Asia Alfasi; The Island of Dr Moreau by Claude TC (
ryclaude), The Saga ofo the European King by Tom McNally, Curtis and Terrorist 2 by Oliver Lamden, The unfeasible adventures of Beaver & Steve, volume 2 1/2: the owl of regret by James Turner, The Adventures of Ninja Bunny by Philip Spence, and I stocked up big-time on Gary Northfield's stuff: The Magic Yellow Trousers, The Funny Plastic Skelenton, Hillmonster and Dave the Dinosaur, Freddy and the Little Goldfish, The Monster who Enjoyed his Dreams, and The Little Eyeball.

Even though I never managed to meet her (she was away from the table when I stopped by), I was chuffed to get a copy of Asia Alfasi's comic (look at that binding!). I heard her give a talk last November at Comica at the V&A and it was the first time I got to read some of her work. Really lovely linework and subtle colouring, and great to see a story told from a Muslim woman's perspective. (She'll be speaking at Caption in Oxford this August!)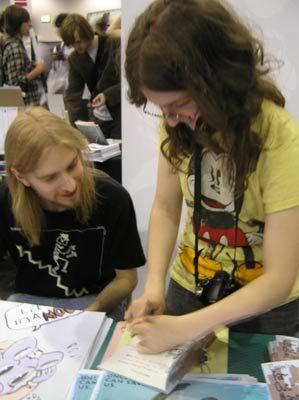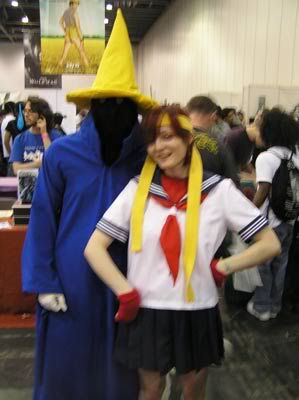 I was on the hunt for small-press chick lit and very happy to discover Sarah Burgess, who turned out to be a big fan of Vern and Lettuce, so we had a mutual photo fandom moment. (Here's Sarah signing my comic.) We had some great people stop by; here's Kim (
yunni: 'My first anime con where I cosplayed!!')




Will Kirkby
chamonkee) with one of the marvelous drawings in his sketchbook.

I sat right next to Philip Spence, who drew me his Ninja Bunny eating a carrot sandwich. Yay!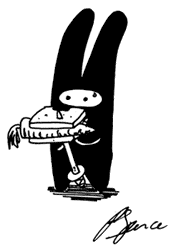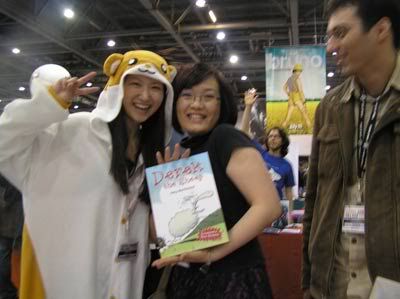 The cutest hamster I have ever seen with Faye
fayeyong) and
fehed. I also got to see
mondoagogo, Ilya,
seanazz, Nick Abadzis, Andie Tong, Chris Bottoms, John Scrivens, Michael James Hatch, Dennis Morrison, Joel Meadows and a bunch of other great people but somehow managed to miss seeing Kate Brown (darn).

And, of course, the amazing Emma Vieceli (
emmav), who took on the enormous task of planning this all for the expo's Comics Village, and managed to do it splendidly despite only having the use of one arm (which hopefully is feeling better). Thanks, Emma!! This trade fair had a great amosphere, really small-press friendly and the 20,000 or so unaccompanied kids and teenagers running around were boisterous but remarkably good-natured. I hope I'll get back there next year!

(You can see lots more photos of remarkable costumes in my last two posts here and here.)
Edit: And more fab costume pics here from
ryclaude!
Emma Vieceli's write up here!