tozocomic
to see this year's crop of master's degree students at my old art college, including my friends
Dan Fone
(also my website designer) and
trypanocorax
. (Congratulations, guys!) Unfortunately, my brain was totally zombified by this stupid ongoing jet-lag, so I was pretty incoherent all evening and I missed a lot of stuff. So I'll probably have to go back and have a look at the exhibition during the week.
(Details here.)
From what I've seen so far, the best of show went to
Mark Long
, with his
Football Chants
. I bought a copy of his
Selected Football Chants
, a gorgeous two-colour mini. But the one on display had every page screen printed, and it was pretty amazing. It reminds me a bit of
Jonny Hannah
's work, with the lettering and slightly naive, bold figures.
(Hey, look, I drew Peter Crouch, too!)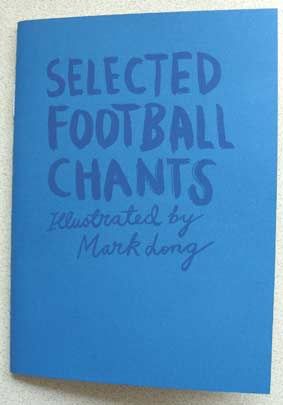 Gwen Turner
and
Thomas Flintham
also had some lovely work on display. Actually, I was really impressed with the whole illustration group, I think they've taken the quality up a notch from previous years' shows. Do go see their work this week if you're able, or visit their
group website
.
I wish I'd taken a photo of the entryway, which was
covered in toast
. And as I was going,
Myles Calvert
gave me my very own piece of varnished toast. I've seen toast art before, but I still thought it made for a memorable business card.
Last night I went with