Hooray, David Roberts is such a star! I just got this in the post, after speaking on a panel with him last week. When I opened the trollish parcel (the main character in his picture book, The Troll), I found his new book: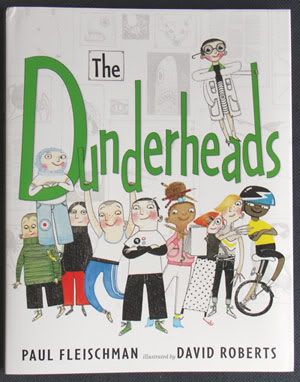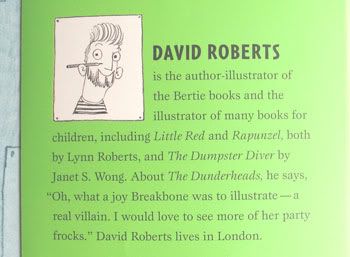 I was so tempted to take photos of the inside pages, but then I thought his publicist at Candlewick Press might throttle me, so I'll have to just say that the pictures are splendid! (Of course, I wouldn't expect anything less from David.) The story's sort of a meaner, sharper, more up-to-date version of Emil and the Detectives, and you'll notice shades of headmistress Mrs Trunchbull from Roald Dahl's Matilda in the teacher, Miss Breakbone. Have a look at her in her pink cocktail dress, it will send shivers down your spine.

Today's been crazy, e-mailing back and forth with Giles Andreae and David Fickling and Lauren the publicist about our upcoming book, Morris the Mankiest Monster. Giles moves in very different circles than I do, but he is incredibly nice and funny and we both have all these whopper ideas for the book, but we have to see what we can get away with. The book is absolutely, revoltingly disgusting, which gives a lot of leeway with what havoc we can wreak. But people in publishing offices tend to be quite neat and tidy, and say things like 'oh, goodness, shocking' even when you do not-very-revolting things like put gummy worms in their tea or make armpit farts while they are looking at your portfolio.

And events! We have been planning events! And I'm going to Dublin! Thanks to
ztoical, I'll be leading a workshop, doing a panel discussion and bookstore signing on Oct 17th and 18th, as a joint event between Ireland's Children's Book Festival and Irish 24 Hour Comics Day.

Thanks to
emmav and Gary Northfield, I'll be selling copies of Morris (right next to Derek the Sheep) at London's MCM Expo on 24 Oct, and the very next day, 25 Oct, thanks to Sarah Lightman, I'll be speaking on a panel with Asia Alfasi and Sarah Zaidan in Cambridge for the Women in Comics Conference. (I notice Woodrow Phoenix is speaking as an honourary woman in comics.) I've posted my other events here, hope to see you!