Today the writer and illustrator Elissa Elwick came over to my place for lunch. (Elissa's doing a picture book for Macmillan and you'll surely be hearing more about her soon.)




I always get overexcited when people come to visit me and thrust cake at them and show them all my picture books, but she likes cake and picture books as much as I do, so it was all good. Then we made a some drawings! Theses two are like that game Consequences, except we didn't fold the paper over, we just swapped the papers round a few times and added bits.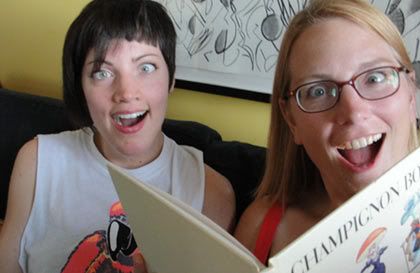 Here's us doing our best Muppet faces. I am showing her Champignon Bonaparte by Gilles Bachelet, which is one of my all-time favourite picture books. It's the life story of Napoleon, but told as if he were a mushroom instead of human. It's essential reading.