Today Gary, Viv and I moved into our new studio! We spent a bit of time running around the old police station just being excited, then we decided the walls really were a foul shade of pink and got some paint and then I found a perfect work table for forty quid at Deptford market, and then Gary was a total angel and helped me lug it back. And then we spent the rest of the day speaking in run-on sentences.

Here's Gary with our first three pieces of furniture: a chair, my Flinstones mug and a box of tea. And Viv and Gary examining one of the holding cells.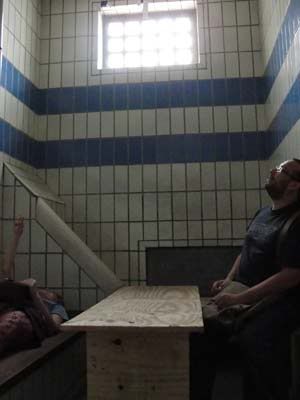 Our friend Woodrow told us that the place has a horrible history, that a lot of black people got duffed up there in the '60s and on, which was really sobering. But we are going to transform the place, and we still couldn't help getting excited about all the leftover police stuff.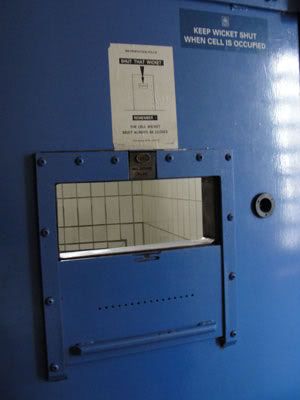 We went to a greasy caff for lunch and Viv went all the way with a chip buttie.




We didn't actually think we'd get to the painting stage today, so Viv hadn't brought any painting clothing. She wore a box for awhile, until that was too cumbersome (Gary and I kept wanting to tip her over). So she changed into newspaper and looked smashing as ever.