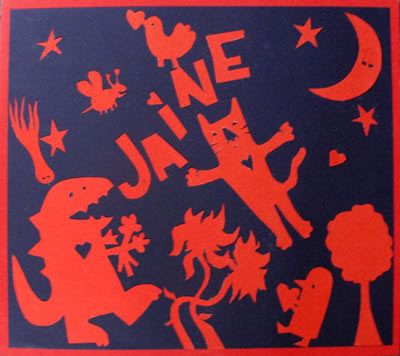 Yesterday the animators upstairs came down to stick bits of paper onto a cad for our cafe owner (who had a family bereavement). We had fun making it, and it's a bit silly for a sympathy card, but we hoped it might help cheer her up. Jaine's the best; she's really the heart of our studio community and we're able to meet other people from the building because of her cafe.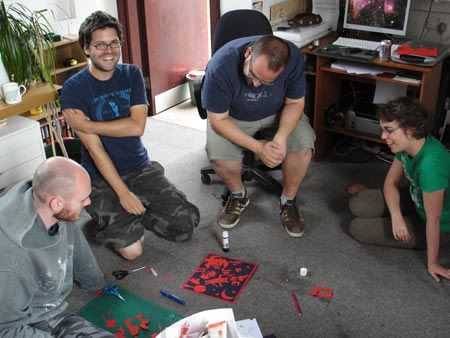 Viviane has been introducing me to a bunch of educational folk songs, which have had Gary and me in hysterics. Here are
some of the science songs
.
And after her
writeup of Oxford's Caption festival
, I promised
jinty
I'd post a list of the books I mentioned in
my talk about comics and picture book cross-overs
. (A lot of these are cross-over books, but some of them I used to illustrate other points I was making about design and marketing issues.) I put way too much time into preparing the presentation, so I hope I'll get to use it again at some point. A bunch of people were asking about
David Wiesner
, so
here's a link to his books
; Besides
The Three Pigs
, I get a kick out of the surreal giant vegetables in his book
June 29, 1999
.
Maurice Sendak
:
In the Night Kitchen
Winsor McCay
:
Little Nemo in Slumberland
Gary Northfield
:
Derek the Sheep
Raina Telgemeier
goraina
:
The Baby-Sitters Club
series
Ellen Lindner
ellenlindner
:
Little Rock Nine
Kate Brown
:
Spider Moon, The DFC
Emma Vieceli
emmav
: Manga Shakespeare
Much Ado About Nothing
Simone Lia
:
Billy Bean's Dream
Posy Simmonds
:
Lavender
Neil Gaiman & Dave McKean
:
The Day I Swapped my Dad for Two Goldfish
Raymond Briggs
:
Gentleman Jim, The Snowman, Fungus the Bogeyman
Satoshi Kitamura
:
Comic Adventures of Boots; Me and my Cat
Viviane Schwarz
:
Shark & Lobster; There are Cats in this Book
Bob Graham
:
How to Heal a Broken Wing
Gregory Rogers
:
The Boy, the Bear, the Baron, the Bard
Mark Newgarden & Megan Montague Cash
:
Bow-Wow Bugs a Bug
Mo Willems
:
Don't Let the Pigeon Stay Up Late!
Anne Cottringer & Alex T. Smith
:
Eliot Jones, Midnight Superhero
Mini Grey
: Traction Man is Here;
Biscuit Bear
Fiona McDonald & David Antram
:
Avoid becoming an Aztec Sacrifice!
Marcia Williams
:
My Secret War Diary by Flossie Albright
David McKee
:
Mr Benn Gladiator
Allan Ahlberg & Faith Jaques
:
Mr Tick the Teacher
Sara Midda
:
Growing Up and Other Vices
David Schiller & Marc Rosenthal
:
The Runaway Beard
Joyce Dunbar & Russell Ayto
:
Baby Bird
Ian Whybrow & Russell Ayto
:
Where's Tim's Ted?
Andy Cutbill & Russell Ayto
:
The Cow that Laid an Egg
Lauren Child
:
My Uncle is a Hunkle says Clarice Bean
Delphine Durand
:
Ma Maison/My House
Les Chats Pelés
:
Long Live Music!
Lane Smith
:
Pinocchio, the Boy
Oliver Jeffers
:
The Incredible Book Eating Boy
Beatrice Masini & Anna Laura Cantone
:
The Wedding Dress Mess
Shaun Tan
:
The Lost Thing; The Arrival
Jonny Hannah
:
Hot Jazz Special
David Almond & Dave McKean
:
The Savage
Philip Pullman & Patrice Aggs
:
Count Karlstein
Susan Schade & Jon Buller
:
The Fog Mound: Travels of Thelonious
Anders Brundin & Joanna Rubin Dranger
:
Dudley the Daydreamer
Stina Langlo Ørdal
:
Princess Aasta
Sara Fanelli
:
Dear Diary
Sylvia van Ommen
:
Sweets
Edward Gorey
:
The Gashlycrumb Tinies
Nick Sharratt:
Ketchup on Your Cornflakes?; You Choose
David Wiesner
:
The Three Pigs
Barbara Lehman
:
The Red Book
Coleman Polhemus
:
The Crocodile Blues