This afternoon I popped into the Institute of Contemporary Arts to watch the Little Pencil drawing workshop. Kids listened to music picked by an artist (this time it was illustrator Rob Matthews), then watched short films by Norman McLaren. It would've been nice to have had another drawing session after the films, because everyone started out drawing very figuratively, and it would've been interesting afterward to see the kids drawing responsively to the music in an abstract way, more like they'd seen McLaren draw. But when I was a kid, I probably still would've drawn a robot or something. So here are the happy robots I drew:




Here's one of my favourite drawings; again, who knows what it had to do with the music, but hey, isn't the space suit so fabulous?




I was a bit naughty and took some photos during the McLaren cinema screening, curious to see how they'd come out. Really pretty, actually! The screen looked like fireworks.




So I am doing the Little Pencil thing on Nov 6th, do send your kids along to it!

While I was sitting on the floor drawing, Alex Milway and Katie Lee popped their heads into the room and Alex gave me one of the uncorrected advance copies of his new book, The Mythical 9th Division: Operation Ice Age, which is part graphic novel and part solid text. And it stars yetis, I can't wait to read it; started a bit already on the train and it looks like a cracking good read. Yay, thanks, Alex! (He loves having his photo taken, as you can see.)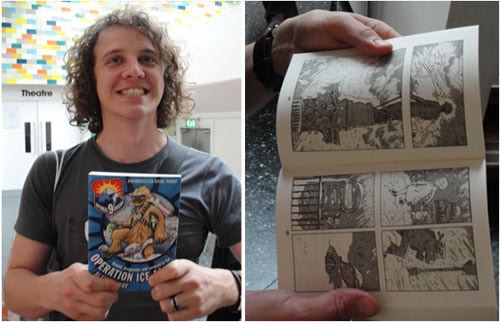 Now I am off home to try out a new recipe with big mushrooms and a super fancy cheese that has such a fancy name that I forget what it is called. Something that starts with a 'T', I think.