Yesterday my studio mate Gary Northfield and I jointly led a couple monster workshops in Essex at the South Hornchurch library and Newton's primary school. I had loads of fun reading from Morris the Mankiest Monster; the kids got REALLY into being grossed out, and at the grand finale on the last page, both groups of kids did this thing where they all fell backward, en masse, in total amazed disgust. It was awesome!

Afterward, the librarian, Ruth Gedalovitch, drove us all around the places Gary grew up and he got rather nostalgic, which was good fun. You can see the rest of the tour over on the Fleece Station blog. (Warning: includes snogging and violence)





I got a few photos from the workshops: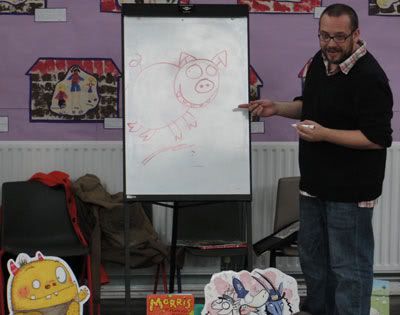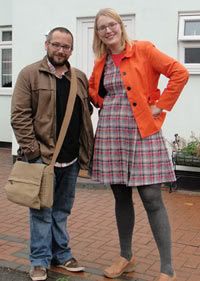 Several kids informed me that I am very tall, which was helpful as I had never realised that, heh heh...



Links o' the day: Illustrator David Ercolini did an unusually classy cover for the SCBWI magazine, you can see his work here. In the related article, he recommends the New York Public Library Picture Collection Online, which I skimmed very briefly but looks like it could come in handy.