Last night Stuart and I had a much-needed cosy evening in, where he sat on the sofa and read David Copperfield and I pottered about nearby and painted this little picture of him. It's very simple, but it really looks like Stuart to me. Unlike me, he's definitely a morning person and he has a very strict routine he cheerfully follows every morning, involving a two-course breakfast (porridge and a banana for the first course, tea and toast for the second, the only variation being whether he has marmalade or honey on his toast). It's very comforting and endearing, unless we're late for something, because nothing short of nuclear war would rush him in it. (I made a couple comics about it ages ago, but I still like them: my mole comic and the hourly comic.)

And another lovely thing, this book of poetry by
dlasky fought it's way valiantly through the postal strike, The Catalog of Exceptionally Rare Comic Books. It's a collection of verses about completely obscure comics that might have been made, beautifully imaginative and such a cosy read. Thank you, David Lasky!! I love books and exhibitions about stories that might have been, like the 'well of lost plots' in the Thursday Next series by Jasper Fforde, which I found hugely entertaining.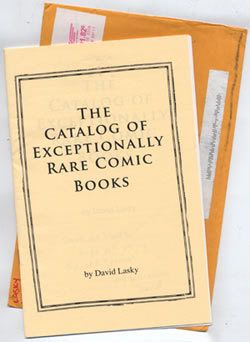 It's Comica season again! Last year's festival in London was brilliant (you can see my posts about it here). Matt Badham interviews organiser Paul Gravett about it on the FPI blog here. Which tickets are you going to book? If you have kids aged between 4-11, book them in to draw to music with me for the Little Pencil event at the Institute of Contemporary Arts on Friday, 6 Nov from 4:30-6:30.

Oo, and can you guess the number of pens in Dave Shelton's house?