Yesterday, we officers at the Fleece Station got a warrant for baby inspection at the home of Mousehunter novelist Alex Milway and editor/journalist/publisher Katie Lee. Baby passed inspection with flying colours, despite being asleep for the whole time except for when she was pooing.




But I got more than a little obsessed with their cat, Milo, and took way too many blurry photos. (I do that sometimes.) He does this great thing where he has you thump with your hand on his lower back for awhile and mess up his fur, then suddenly switch and hold down his ears, and then he yowls. You'd think he'd hate it, because he lashes his tail, but then he comes back so you'll do it again. Endless fun to be had. (Here he is, basking on the lap of knitting guru Lauren O'Farrell)





Alex pulled out his banjo and gave us a few tunes, and I made some unsucessful, farty type noises on his didgeridoo and passed it over to Viviane, who was slightly more skilled (but only slightly).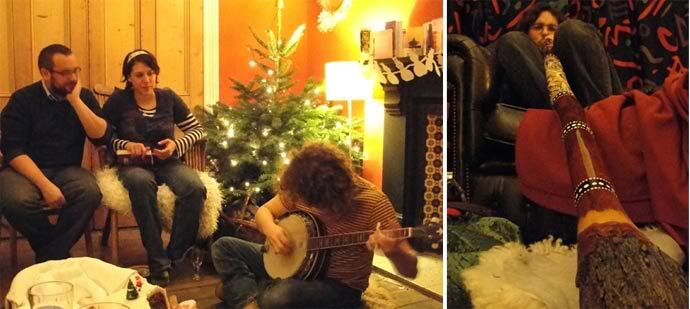 (Viv's blogged about it here.)