Last week I was toodling around the Brick Lane area for spice and art supply shopping and lunch with my agent, so I popped into a nearby studio... (Can you guess whose studio, just from this photo?)




Well, that would be...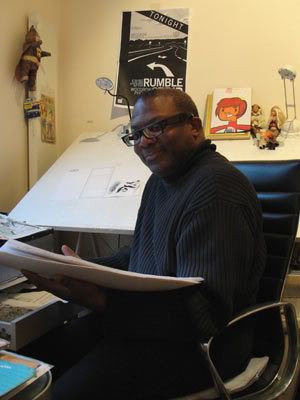 (You can read a bit of mister Phoenix's Donny Digits here)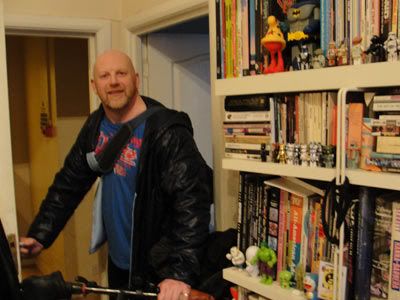 I found JAKe having his gyoza dumpling soup ...have a look at his cool Star Wars website!. When I followed the banging around in the next room, I found the Mighty ILYA (also known as Ed Hillyer). The three of them have toys everywhere, but they insist it's only a tiny sampling of their entire collection.

Woodrow let me sniff his (surprisingly tasty-smelling) ink and see his original artwork for Rumble Strip, and the sketches and inking for one of my favourite DFC covers:



Here are some sketches for Donny Digits, and the Kangaroo Court in the DFC's That's a Horse of a Different Colour:




Ed's recently been shortlisted for the Waterstone's New Voices 2010 award with The Clay Dreaming. He still hasn't seen a copy of it, but it comes out on 11 March and I want to be first in the queue to read it.

I read about it on the website of his publisher, Myriad Editions:
May 1868 – an Aboriginal Australian cricket team begins a tour of England. One of the players is on a quest to explore his Truth, or Dreaming.

Sarah Larkin's quiet routine, divided between her father's sick room and the British Library, takes on a completely new aspect when King Cole, aka Brippoki, arrives unannounced on her doorstep, requesting her help. A curious friendship develops as together they research the fate and fortune of Joseph Druce, a convicted felon, transported to New South Wales nearly eighty years earlier: sneak thief, drunkard, cattle rustler, Royal Navy deserter – and quite possibly a murderer.

From Lord's cricket ground to the Royal Naval Hospital at Greenwich and the muddy banks of the River Thames – the Great Serpent coiled at the heart of his London Dreaming – diabolical spirits rage in pursuit of the hapless Aborigine. His health and sanity unravelling, Brippoki is a man out of place, and running out of time.

In this powerful début novel, Ed Hillyer has created an epic brimming with memorable characters and historical intrigue, and etched with documentary detail that brings both Regency and Victorian London vividly to life.