And the inhabitants were friendly! Stuart and I headed up to Scotland for our first-ever visit to the Highlands International Comics Expo or Hi-Ex. It was also Stuart's first experience of running a festival table, and I think he's still decompressing from the strange voyage.


Photo thanks to Joe Gordon (whom I met in person for the first time, yay!) at Forbidden Planet International

Here's a comics jam I did with DFC crewmates Jim Medway, Dave Shelton and Gary Northfield.
(Click on pic to embiggen)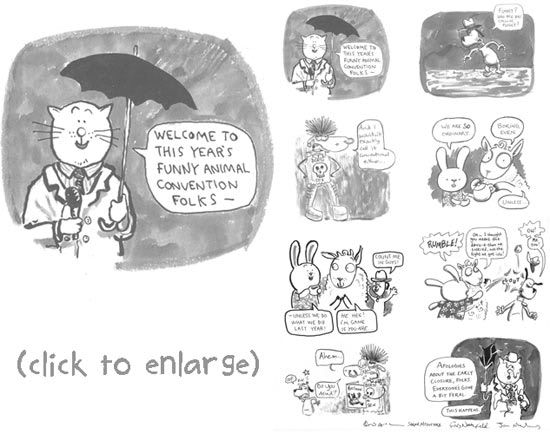 Hi-Ex had some great photo ops, here's Dave, Jim and Gary: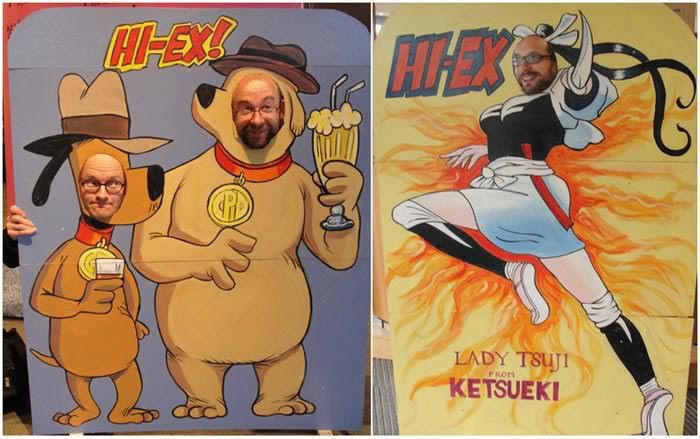 And after months of only managing to grab a few rushed words in passing with Asia Alfasi, I finally got to have a long chat with her in Jimmy Chung's Chinese restaurant, hurrah! She'd been drawing portraits all day, but I talked her into doing one more with me and we swapped.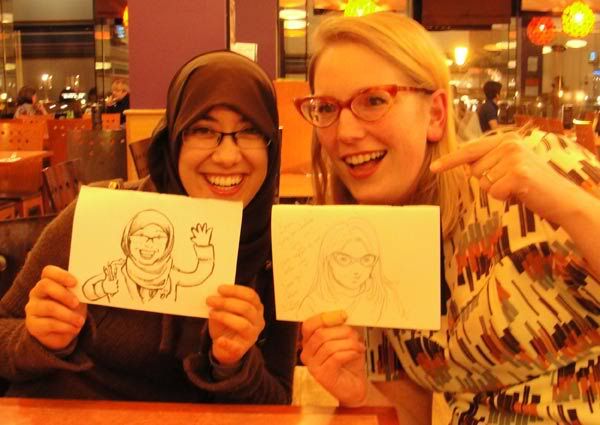 Gary and I led a workshop called Stupidmonsters & Aliens: comics from outer space. (Stupidmonsters is a mini comic Gary did awhile back.)


(Click to enlarge)

Here's a picture from the workshop and another book of comic strips a guy brought in that he'd made:




Here are Ishara and Freya with their alien pictures; these gals spent 18 hours on a coach to get from Bath to Hi-Ex. that's dedication!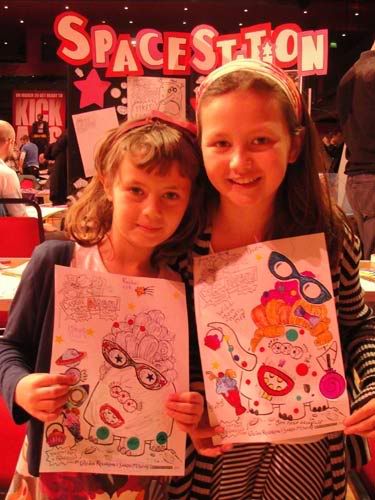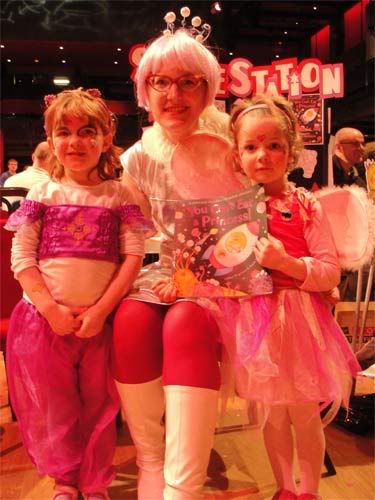 Gary, Jim, Dave and I did several comics jams right at our table with some of the visitors. This one's by Jim, me and a girl named Amy.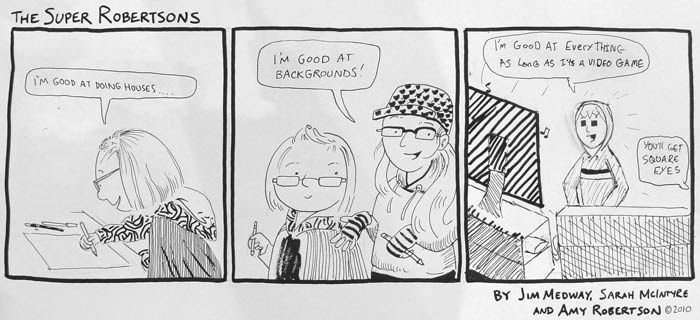 Here's a fab example of four people making three panels: Amy did the first, Jim did the second, I inked the third and Fiona coloured it in. The other one has panel borders by Jim and comics by the beautifully face-painted visitor.




Jim Medway's table and his alien: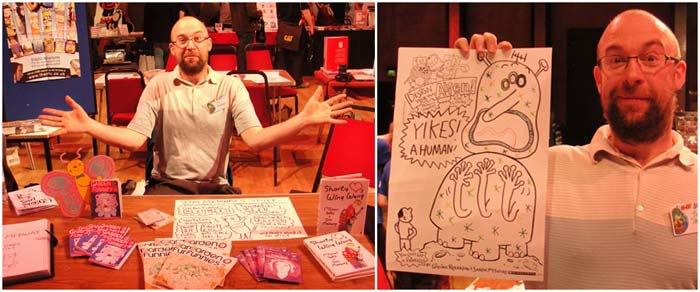 Here's an amazing cat picture I got from Jim, which reminds me of some very old Russian woodcut pictures. I'm totally going to treasure this one.



We had a crowd of zombies come through, so he also drew some zombie cats.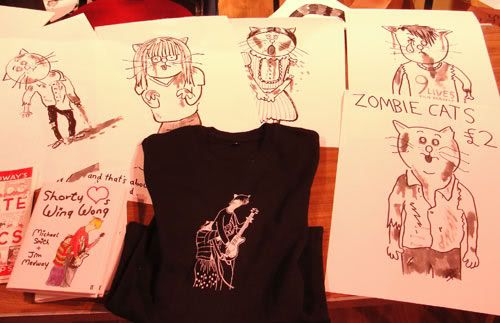 Dave Shelton had some blank WANTED posters made up to tie in with his Good Dog, Bad Dog book, part of the DFC Library (which will be launching my Vern and Lettuce this September). I got a text from him on the train informing me that he was staring blankly out the window, so I tried to get him to draw me a sheep, then an octopus in a fedora, and he obliged.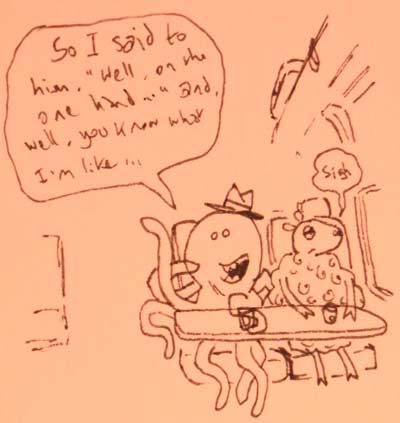 The Hi-Ex room had these great projections on the wall, so I got Dave to pose with his canine detectives Kirk Bergman and Duncan McBoo. (Freya and Ishara helped prop them up.)




Here's Cliodhna Lyons (
ztoical) at her booth. While we were at the pub on the the second night, Cliodhna came back very excitedly from the loo, telling us the ladies room had pay-as-you-go hair straighteners! It was that kind of pub. We were well amazed.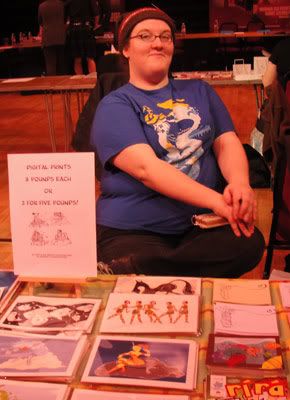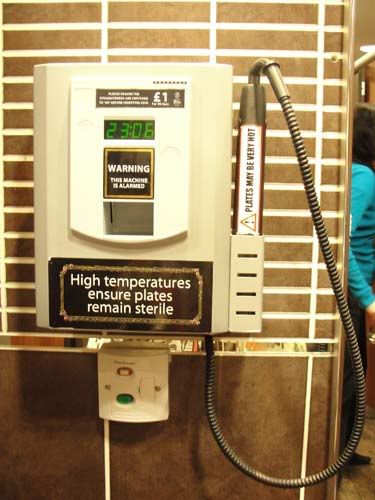 Gary Northfield had lots of mini comics and his Derek the Sheep book, assisted by our studio mate Stitchette Lauren O'Farrell, head of 7,000-member-strong Stitch & Bitch London. She knitted a tiny Loch Ness Monster, then left wee Nessie to fend for herself in her natural environment by the River Ness.




Some more marvellous aliens at our table: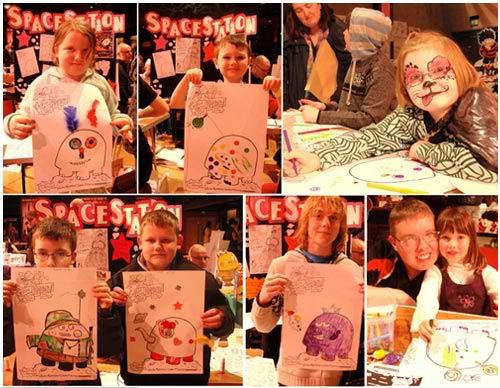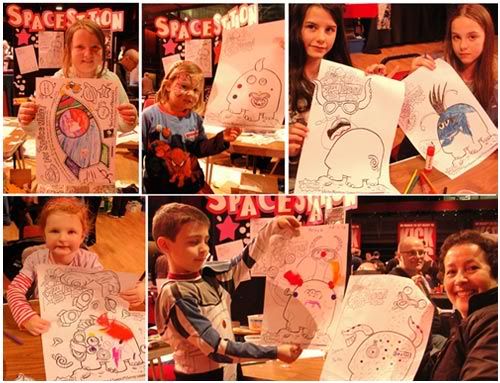 **You can download pdf files of the alien activity sheets on my webpage for You Can't Eat a Princess!.**

The fabulous Gary and Mhairi in all their glory: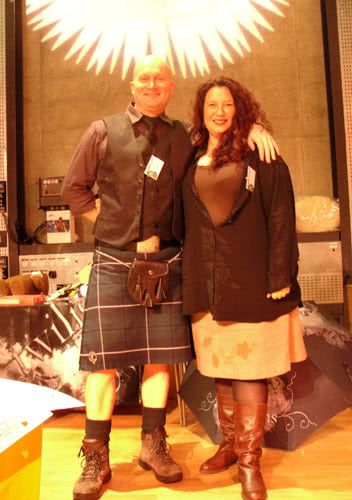 A family of superheroes: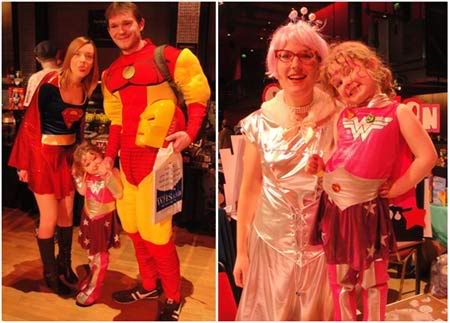 Here's our tables:



And the dudes we hung out with on the very long voyage back home:



To finish, a HUGE THANKS goes to Vicky Stonebridge and Richmond Clements, the couple who made the whole festival happen, along with their daughter Ish and her boyfriend Lukáš. They were amazing, so extremely helpful, good natured and well organised. (You guys are total stars!) I wish I'd got a photo of Vicky in her amazing red boots or Rich in his white suit, but you can at least see the suit on the FPI blog entry.