Last night the Fleece Station hosted a big shindig to celebrate Lauren O'Farrell, Ellen Lindner ...and Gertrude Woolsworthy... moving into the studio. And it was Darryl Cunningham's 50th birthday as well!




I don't do much baking (and almost never successfully), but I went and bought the biggest cake tin I could find on Deptford high street, and a little squeezy decorator thing with different nozzles and copied one of Darryl's comic panels onto it. Not to be outdone, Stuart made brownies and our studio mate Gary Northfield bought a sheep mold and made a sheep cake:





It was great seeing so many friends and a few people I got to meet on the night, too. Here's Rob Davis, whom I only knew as Robgog on Twitter, and I'd loved his submission to the Observer competition, How I Built my Father. He's sitting by the shipping containers in the courtyard with the DFC's Faz Choudhury and Patrice Aggs.




Here's Jodie Marsh from United Agents (the Icelandic volcano stranded my agent in Rome!) and fab illustrator Jamie Littler.




Tegan on Toast (who came with Layn Marlow) with Francesca Cassavetti (and musician Nicky Tesco from The Members in the background). Tegan cracked me up with her blog post about the party, and just as much with her review of the film Dear John.




Kev Hopgood and Cliodhna Lyons (
ztoical):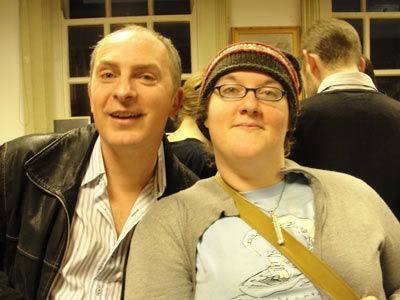 Peter Stanbury and Will Dawbarn (
wilburonline, who created Bodkin & the Bear for the DFC). Peter has a new graphic design website and is also starting up the Comica Social Club, a monthly London meeting-up session for comics people on the last Thursday of every month. Do get in touch with him if you're interested in coming along! The first one's Thursday, 29 April, 6-9pm at the Royal Festival Hall Bar. Look out for the guy in the green fez.




Stephen Betts of comics translation website Comix Influx and Rian Hughes:




Political scientist Akanksha Awal and the DFC's James Turner (
eruditebaboon):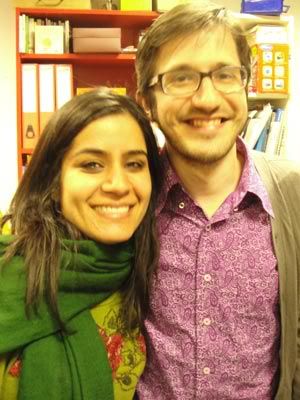 Jenni Scott (
jinty) and the DFC's Emma Vieceli (
emmav). Jenni and Emma both organise comics festivals: Jenni's on the team that set up Caption in Oxford. This year's festival's happening Sat, 31 July & Sun, 1st Aug, on the theme Mad Science. Emma organises the Comics Village at MCM Expo at London's ExCel Centre, that gets more than 30,000 mostly teenage cosplayers through its doors and, thanks to Emma, has a growing indie and small-press comics presence. This year the DFC Library will have a big presence there, with its newly released graphic novels Mezolith, Spider Moon, and Good Dog, Bad Dog.




Will Dawbarn and the DFC's Woodrow Phoenix:




Editorial director Bridget Hannigan, an actor named Julie and her partner Richard Hayes from the Comics Creators Guild.




Darryl opening Bridget's gift of a string of beautiful fabric festival flags (Woodrow, Bridget, Peter, Paul Gravett and Darryl):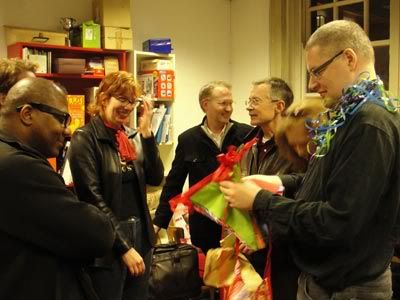 Dutch comics artist Maartje Schalkx: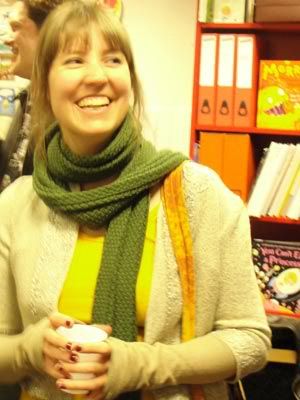 Tanya Meditzky and Ellen: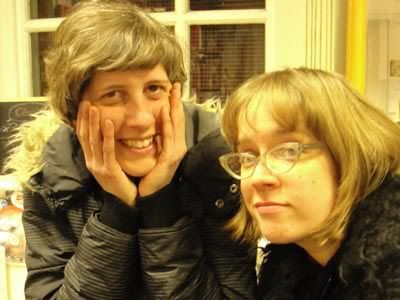 Richard Buck (
tortipede) sits in the studio granny chair examining David Wiesner's The Three Pigs:




Darryl and Emma's husband, games programmer Andrew Ruddick (or Pud - love the Robots in Disguise t-shirt!):




Dave Mansfield (
cdave) and partner:




The Cartoon Museum had a good showing from Alison Brown and Mark Stafford (pictured with papaya):




Rob and Faz (and Woodrow):




Darryl blowing out his candles (behind, photographer Anna Mondo (
mondoagogo):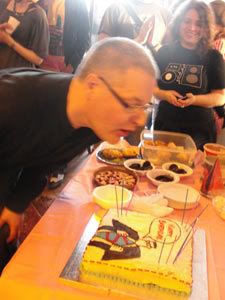 Gina Alnatt (
ginasketch) and one of Gary's friends with a cool new robotic leg and matching 'Legless' t-shirt.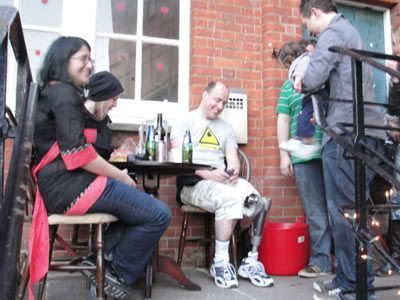 Me with NUT magazine editor Elyssa Campbell-Barr who came with her husband, creator of The Rainbow Orchid, Garen Ewing, (
rainboworchid.) Don't forget to pre-order the second volume in the 3-part Rainbow Orchid series, coming out on 5 July!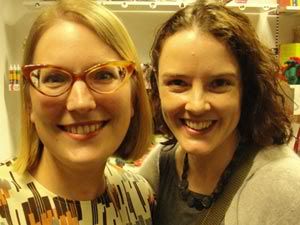 Unfortunately I didn't get any photos of Lauren, even though it was her party (boo, me!). And that's the only photo of me from the evening, I look totally demented. But all in all, a great party, hurrah! Thanks, everyone who came along and made it so much fun.

Some more pics from
seanazz here on Flickr.