Here's a drawing I just did of me and my friend David O'Connell, who also had his birthday this weekend. Happy birthday, Dave! (That's
tozocomic.) He is my favourite person to write stuff with, and he's been sticking by me on our project even though it's been a bit frustrating lately.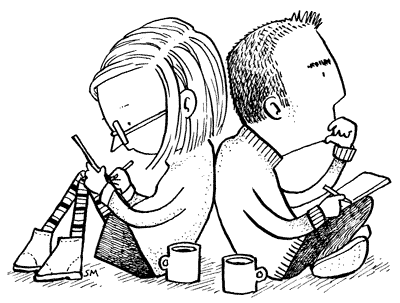 After the studio party on Saturday, King Cupcake and I spent Sunday going for a lazy walk in Greenwich with Darryl Cunningham, through the park (I had to show him my favourite trees) and then through the market, where we picked up some fab Nigerian food for lunch on the lawn of the Royal Naval College. Here are a couple pictures we took in the Painted Hall, in the mirrors they put out so you can look at the ceiling without getting a crick in your neck.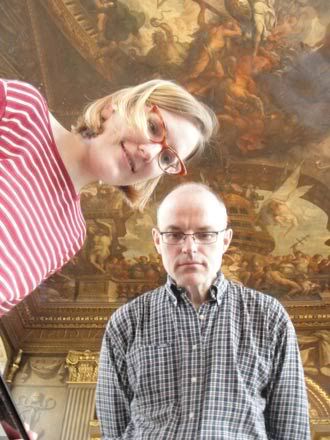 The lovely Tulip Staircase in the Queen's House:



I like the way the people on the lawn are dotted about in a pattern like a Lowry painting. Darryl said his work's very influenced by Lowry, as well as other woodcut printmakers, it was fun talking with him about that.