Thanks to Selina Lock at Factor Fiction for her fab review of my Dear Diary mini comic!

Yesterday evening, David O'Connell and I went to a Children's Book Circle panel at Penguin Books on the Strand to hear these people talk about books for kids and imagination. The very serious looking dude on the left used to be the Children's Laureate and I doodled him inside the cover of the little Puffin handbook they gave us: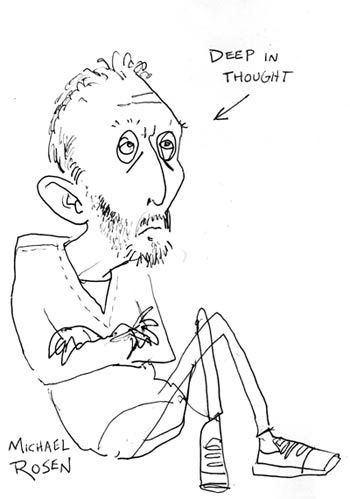 From left: Michael Rosen, Puffin editorial director Amanda Punter, children's book academic (one of his books rescued me when I was writing my thesis) Peter Hunt, the fabulous Giles Andreae (who wrote Morris the Mankiest Monster), children's book journalist and critic Nicolette Jones and Puffin Creative Executive Sarah Kettle.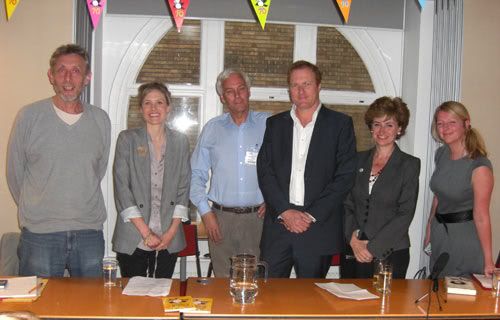 It made me laugh when they asked Giles what he looked in books as a kid, and he said he always looked for the shortest books, and comics and books with pictures. And now that he's reading books to his kids at bedtime, he still looks for the shortest books, so that's what he aims for when he writes them. If he can get a book down to one perfect word, he'll be a happy man.

Michael Rosen made a mention of some sort of exhibition at the Institut Français of Russo-French children's books in November. (So let me know if anyone hears anything about that, could be interesting!)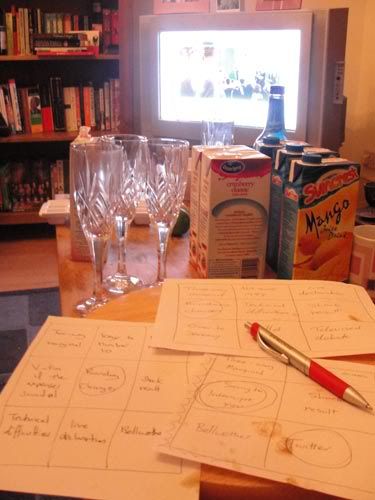 We somehow managed to miss the whole crowd of people going for drinks afterward, but Dave, Giles and I ended up having a lovely chat and a few pints together. Then I went on to an election party at the house of Tom and fab writer Sally Nicholls, which made me laugh since Giles is rather fond of his school chum, Tory leader David Cameron, and Sally's house was full of Lib-Dem/Green-voting Quakers. But Sally and Tom had colour-coded cocktails for the three major parties and Tom had devised Election Bingo for the BBC coverage, with squares marked Technical difficulties, Bellwether, Victim of the Expenses Scandal, Over to Jeremy, and Shock result (which we didn't get, it's been a bit of a damp squib finale).




I came back with a couple things in my bag, including this great card from Maureen Irving and Natalie Fountain, organisers of last month's UniComics festival, whom I was very pleased to see at the panel event. (I told you they were well organised, they even printed up cards!) And my defaced Puffin handbook (sorry, Puffin, that logo is very fun for scribbling).