Costume slideshow!
This weekend
The Fleece Station
well and truly barnstormed
London MCM Expo
. Here's our studio: me, Ellen Lindner, Lauren O'Farrell and Gary Northfield:
A huge thanks and congratulations to
Emma Vieceli
, Swedish Anna, Pud and all the organisers for putting together such a great festival! The word's just in that this was the
most successful Expo yet, pulling in more than 41,000 people!
I spent a lot of time popping back and forth between The Fleece Station and
The DFC Library
stands, where several of the DFC creators were drawing and generally doing their magic. (You can see
yesterday's photos here
.)
Here are
Dave Shelton
(creator of
Good Dog, Bad Dog
),
John Aggs
(artist of Philip Pullman's
John Blake
, creator of
Robot Girl
and writer of
The Boss
, all of which appeared in the original DFC weekly magazine), me and a fabulous DFC fan named Agnes. (I ditched the pink wig for the second day.)
Here's the big drawing John made of Robot Girl:
Visitor
Rian Hughes
, Dave Shelton and
Jamie Smart
, creator of
Fish-head Steve
in the DFC, and about a zillion other projects including
Desperate Dan
in
The Dandy
and an upcoming book with Scholastic about a little ball of white fluff named Chaffy.
Thanks, Jamie, for taking this picture of me taking part in a game of on-stage Pictionary, writers against artists. Unfortunately, the artists lost, but
Gary Erskine
did a fine split-second drawing of Captain America. (Other panel members included
Robin Furth
,
Svetlana Chmakova
,
Ben Templesmith
,
Kieron Gillen
and a bunch of other people I would know if I wasn't so clueless about superhero comics.)
Here's the DFC Library's
Mezolith
artist
Adam Brockbank
signing, with its writer
Ben Haggarty
in the the background.
Former V&A comic-artist-in-residence
Karen Rubins
lounges in one of the stall bean bags and pinches off John's face.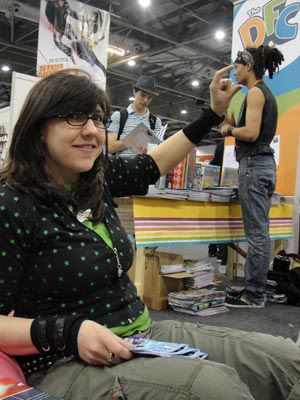 Louise Stothard shows off the lovely DFC Library books, with
Mo-bot High
's
Neill Cameron
drawing behind her:
Several visitors were fans of my
Vern and Lettuce
, which made me super pleased.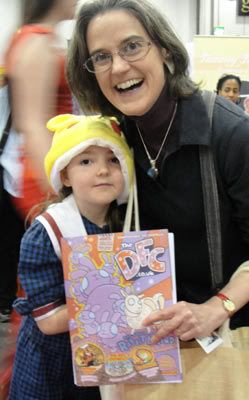 Here's one of my fave convention compadres,
Gary Erskine
, with 17-year-old comics creator
Katja Hammond
and her book,
The Shadow Generation
.
Edit:
Gary writes:
The lovely and talented Katja Hammond at London MCM. She writes and draws her
own manga style comic books. Always a delight to meet her and her dad at the
event. Can't wait for the next part of the story.
I couldn't resist a comic and a mighty-fine tea towel by
John Allison
.
I couldn't resist buying a Ming doll from
Declan Talbert
.
Our fab neighbour,
Jenika Ioffreda
. You can read a review of her latest book,
Vampire Free Style
, on the
FPI blog here
. She had to suffer the indignity of a group of self-appointed
Twilight
Bashers coming round to tell her off for making something about vampires. (They'd been earnestly campaigning earlier outside with big signs that read
Twilight Sucks
.)
FPI also
reviewed
My Cardboard Life
by
Phillipa Rice
, and Dave Shelton came by with a stack of them he'd bought. Then Lauren bought the whole series, too.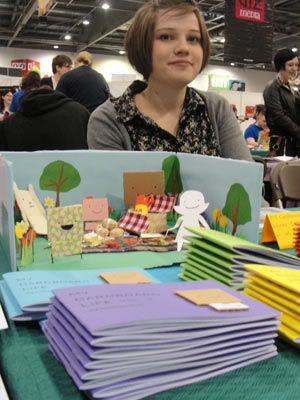 The ever-marvelous Chichester Harbour boat captain and brilliant comic creator
Warwick Johnson Cadwell
.