Hurrah, just saw the formatted version of my illustration for the Cheltenham Literature Festival, and I like it very much!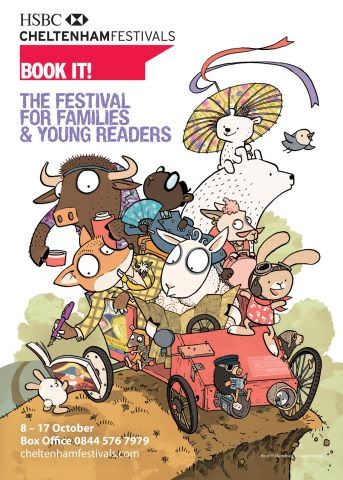 Happy birthday to Woodrow Phoenix, I made him a little pull-tab card with his characteristic single raised eyebrow.




Events: Friday, 6 Aug (today!) Come to my comics workshops at the Cartoon Museum! (ages 8-12)

Mark your diaries to visit Hypercomics, curated by Paul Gravett and featuring comic work by the likes of Dave McKean, Warren Pleece, my studio mate Ellen Lindner, Adam Dant and Daniel Merlin Goodbrey. The Pump House, Battersea Park, London, 12 Aug - 26 Sept.

And Woodrow's studio mate, ILYA (aka Ed Hillyer) is busy at the Whitechapel Gallery's Idea Store with a talk and an exhibition:

* Manga in the UK - Drawing Out Loud - A talk about Manga by renowned writer, artist and editor ILYA (Best New Manga, Manga Shakespeare's King Lear). What is Manga? Why and how does it work? Why is it suddenly becoming so popular the world over? ILYA gives you the answers to all of these questions and more...
Fun for ages 16 years and above.
Thursday 12 August, 7 - 8.30pm
* MANGA UK
Friday 6 August - Sunday 5 September 2010
From West to East and East to West, the hybrid artform that is manga (the Japanese for 'comic strip') continues to develop in many different directions. The exhibition at Idea Store Whitechapel will present some of the best manga produced by British artists, contextualising it with authentic manga from Japan. Visitors will be able to see original story-strips by UK artists - influenced and inspired by their love of Japanese manga - and enjoy a celebration of one of today's liveliest art forms, now popular worldwide.

The annual competition Manga Jiman, organised by the Japanese Embassy to foster and encourage UK talent, will be running concurrently with the exhibition, and potential entrants will find plenty of inspiration in the show. The exhibition has been curated by Ilya, the highly regarded London-based manga artist, writer and editor. Projects and publications include 'The Manga Drawing Kit', 'Best New Manga' and 'King Lear' in the 'Manga Shakespeare series'.

Events organised in conjunction with the exhibition include workshops for children and adults. The children's workshop will take place on Saturday 7 August 2.30 - 4pm.