Yesterday I sketched my fab friends Dan and Alice and their two kids, who all come along our book club that meets every couple months. We just finished reading Disgrace by J.M. Coetzee, which was great for provoking heated discussion, and now we're onto The Tenderness of Wolves by Stef Penney. (Don't know anything about it but hope it's good!)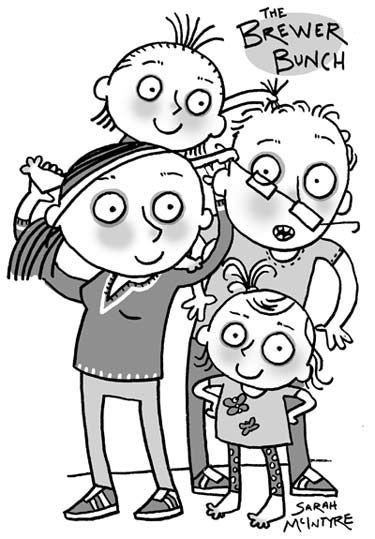 Congratulations to Ellen Lindner, who so far has rallied 47 supporters pledging $922 toward our fab zine full of comics. We're hoping to get a few more on board, if you want to buy our comics, please help Ellen get up to $1000! (And see her in a great promo video.)

And congratulations to Kate Brown and her post-publication launch party for her amazing graphic novel Spider Moon! It's the second to come out in David Fickling's DFC Library series of comics and I've learned SO much about colouring from this woman. Her compositions, linework and colour palettes are possibly the most beautiful you'll see in British comics right now.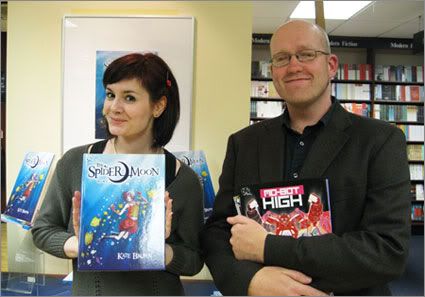 Kate Brown at her party with Spider Moon and Neill Cameron with his upcoming Mo-Bot High, which comes out in November (photo nabbed from Garen Ewing's blog post)

You might remember, Kate gave a detailed description of her working processes over on the FPI blog here last March. Go have a look! You can buy the book from FPI here.




And don't miss Jamie Smart's Endless Chaffy Comic! I can't wait to see his newly launched Find Chaffy book. You might already know his work from Desperate Dan in The Dandy, from Fish-Head Steve in The DFC, and from lots of other places, the guy is a total Powerhouse.

I'm doing a bunch more workshops, including one today at Maida Vale Library and a couple more at the Cartoon Museum on Thursday. (Click over to my events page)