Anne Cottringer (the person who wrote our upcoming picture book with Oxford University Press, When Titus Took the Train) arrived early yesterday morning at the studio and we mucked around until 10pm with bits of cardboard and her fancy movie camera. Neither of us are animators, but Anne's a film maker and can work Final Cut Express, so we thought we'd try our hand at making a very small film. We did all the filming and a lot of the editing work, but Anne's taking it away to make a lot more tweaks, fingers crossed!




We'll show a lot more from that later, but here are some photos of the first time we met a few months ago, just after I'd finished the Titus illustrations. We met at a pub in Wapping and ended up being a two-woman team in a very lively pub quiz! Here's we are, agonising over the questions.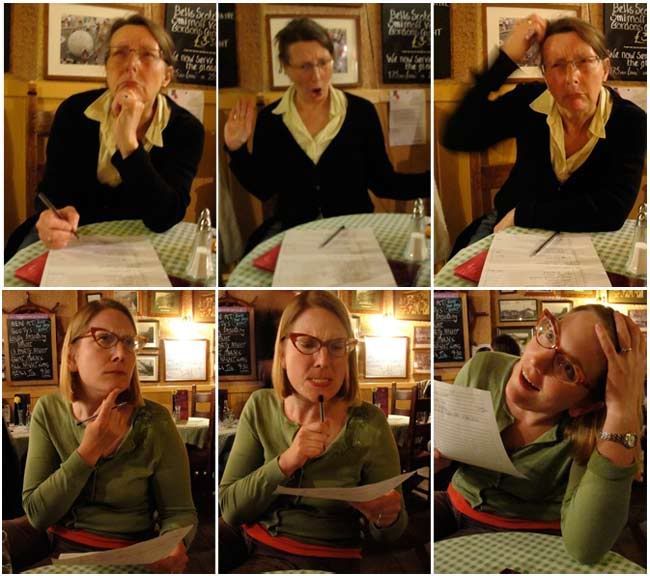 It's kind of strange, you always think of writers and illustrators working very closely, but generally editors prefer to keep us distanced from each other while the book's being made. I think it's partly so the writers and illustrators don't start ganging up on them. But it's also a bit of protection for the illustrators, so they feel free to interpret the book in the way they see best and not have someone peeking over their shoulder saying, 'but I imagined that hat to be beige, not red'. It's still weird, though, and I really love working collaboratively with other people. So as soon as the book was finished, I sent Anne a tentative e-mail saying hi, and we met up and got on like a house on fire. So the animation was us coming together to do something properly collaborative.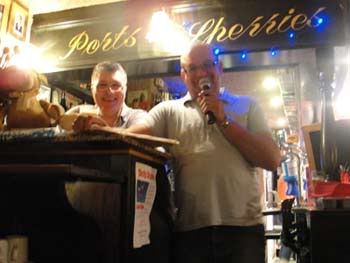 Our super-fabulous pub quiz hosts at Booty's after we got kicked out of The Grapes

You might recognise Anne's other book (above) Eliot Jones, Midnight Superhero. I was hugely aware of how amazing its illustrations are, so I made sure that our book, When Titus Took the Train, looked very different to it. But I've been curious about the illustrator, Alex T. Smith, who has gone on to make loads of other beautiful books. Last time I was at Scholastic, I was very disappointed to see in the guest book that I'd just missed him. (I'm so nosy with Scholastic's guest book, you can see all sorts of names in there!) Fortunately Alex will be at the Edinburgh festival, so I'm going to meet him and his publicist for tea and cake. Very exciting! You can book tickets to his Edinburgh book fest event here for his latest book, My Mum has X-Ray Vision (next Mon, 1:30-2:30). And my event the next day!