What a fabulous weekend! On previous trips to Wigtown, Stuart and I have rated Dumfriesshire the most beautiful place in the world: the light, the hills, the stone walls, the trees... sometimes the landscape's so beautiful it almost hurts. So it was a no-brainer to accept our invitation from the Wigtown Book Festival.




And boy, did those festival people get behind us! On Friday, they bused in 600 KIDS (!!) to hear me talk about comics and Vern and Lettuce, along with Scottish poet Liz Niven and writer Ceci Jenkinson from North Wales (above). Just as in Edinburgh, one of the best parts of the festival was meeting other authors. Let me introduce you to one of the newest faces on the comics scene, 15-year-old Scottish comics creator Angus Dunn: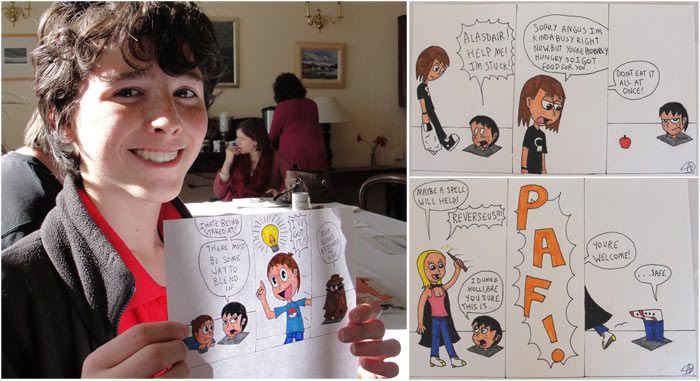 Here's a taster of some of the work he's been coming up with, really funny stuff, including an ongoing gag where his friends walk up to him while he's buried up to the neck in concrete. We had a chat in the Authors' Lounge about blogs and websites and things, and I'm hoping Angus will post some of his work online soon. Keep an eye out for this guy! (That's writer Ian Rankin sitting just behind him at the table.)



Comic by Angus Dunn


Wigton's not the easiest place to get to by public transport, so we hired a car and Stuart drove us from Carlisle. (Funny, I drove every day in the USA, but I never drive in Britain.) We took the beautiful coastal route, past Sweetheart Abbey...



...and Caerlaverock Castle.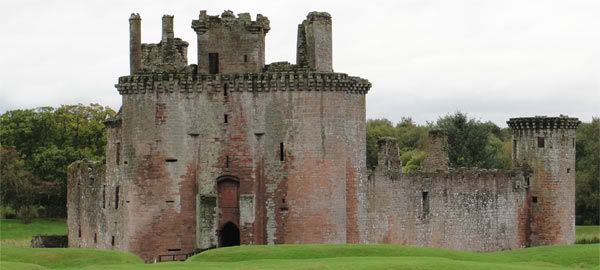 I was thrilled that my gig on Saturday morning (which was packed-out - thanks, guys!) came just before another big event by Polly Dunbar. Polly's already a bit of a legend in picture books with Penguin, a deceptively simple but powerful book about a little boy who desperately wants his toy penguin to be a real friend, and after being eaten and puked by a lion, discovers that the penguin's silence doesn't mean all their time together has been for nought. (The clincher is a comics speech bubble, which particulary endears it to me; here's a short review I wrote about it for Write Away.) Polly has the gift of being able to draw beautifully under pressure; the kids at her event were tiny, not old enough to have learned things like raising their hands or not climbing on the flip chart stand, and their parents were smiling indulgently at them from worryingly far away. But Polly handled it with grace. I'd love to learn how to draw so well in front of people; I tend to give the flip chart only half my attention because I'm thinking so much about the audience, and it never looks quite as good as something I'd draw in a sketchpad. (Practice, I guess.) The chicken in lipstick she's drawing comes from Pretty Pru.




Here's a photo Polly took of Ceci and me in the Authors' Lounge, the area that's usually the private living room of the owners of The Bookshop downstairs. The room is gorgeous and they had food and drink out for us at all times, including - I couldn't believe it - LOBSTER! I don't think I've had lobster since I was a teenager... Wow.





Here's Helena (whom I met on our last visit) and two of the fab people who made my event go so well: organiser Sarah Cowan and storyteller Renita Boyle, who left us all breathless with her almost flagrant rendition of I knew an old lady who swallowed a fly.




Our friends' farm where we stayed was looking beautiful. They've planted loads of rare breeds of apple and pear trees, which are finally coming into their own with fruit, and built some lovely new dry stone walls. Here's the listed mill building on their property, and some cool-looking oat milling machinery inside, which used to be driven by water wheel.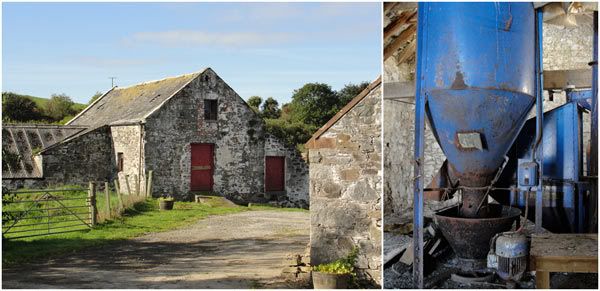 Here's Angus and Stuart inspecting one of the sheds. According to Angus, sheds are a big deal in Wigtown; houses are one thing, but sheds are where all the important stuff is kept, and people can talk forever about them. Angus didn't do this, but it was a very good shed. Here's our escort, Suzie the border terrier.




Our fab Wigtown friends from Newmilns Farm, Angus and Mary MacIlwraith. (Stuart met Angus over 20 years ago in a Spanish conversation class and they've kept in touch ever since.) Thank you, Mary and Angus!




Just one more thing for now, we arrived back to find an envelope with this week's copy of Scotland's version of The Big Issue magazine, which has a great review of Vern and Lettuce! "That is a very good review," says Stuart, pleased that he gets a big mention. (Apologies, you can't read the interview online; go buy the magazine!)