Today the Chinese chestnut collectors gave me a lot of smiles and 'good morning' wishes, which was rather lovely. And it kept me from getting grumpy about wind blowing huge splodges of rainwater onto my paper, which kept turning the pencil line to greasy clay.




Hey, everyone, the British branch of the Society of Children's Book Writers & Illustrators has a blog now! It's an excellent organisation, where I've met lots of people and learn a great deal about making books, so join it if you haven't already. A big thanks to amazing writer Candy Gourlay for editing and posting this video she took at my talk with David Fickling on 'The Makings of Morris the Mankiest Monster'. I'd forgotten a lot of what we'd said, and I was a bit flustered at the time because the pub didn't have a connector cable for the Powerpoint, so I had to show everyone the slides on a laptop screen. But it's the only time David and I have really hashed through the process of what it was like to come up with the character, and talk about the editorial process. (Please look past the fact that the rather terrible camera angle makes me look suspiciously like a beached whale, hehe.) David is a fab publisher, he really pushed me on this book. Although I must add, it's not even near as hard as he's pushing me on the book Dave O'Connell and I are making with him now. (Morris website and downloadable activity sheets here.)


The Makings of Morris YouTube link

And have you read Candy's book, Tall Story? If not, why not? It will knock your socks off, such a brilliant read! I'm really looking forward to sharing a room with Candy at the SCBWI Winter Conference in Winchester. She's my best roomie, we'll be up all night talking if we're not careful. And if I drift off to sleep, I can almost guarantee that if I suddenly wake up at 3am, it will be to the clack of her keyboard as she sitting up against the headboard, writing her next novel. Come to the conference! It's 13-14 Nov, featuring fab speakers such as Mini Grey, Marcus Sedgwick, David Fickling, Lucy Coats, and loads others. Candy and I are both on a couple panels, mine are How to sell your book and Social Networking: a blessing or a curse?.

Have you seen that Viviane Schwarz has posted an open invite to her launch of The are No Cats in this Book? Meeting Viv is a real treat, be sure to pop along and get a signed copy. Even better, get her to draw cats in it. Review Bookshop, Peckham, 15 Oct, 6:30pm, more details here. It's a brilliant follow-up to There are Cats in this Book, which I think was by far the most cleverly designed and illustrated book of the year, and which was nominated for a Kate Greenaway award.

Derek the Sheep and Vern star in this month's Stitch London newsletter! Subscribe here to keep an eye on what my fab studio mate and her mind-bending, yarn-loving gang get up to.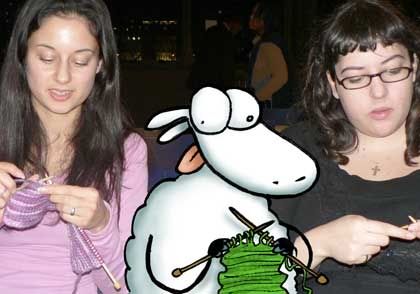 A great review of When Titus Took the Train by The Bookbag, and another of Vern and Lettuce by The School Run, thanks for that! I like that The Bookbag compared Titus to a comic:

As wonderful as the writing is, it's Sarah McIntyre's illustrations that are the real star of the show. It's a unique style that immediately grabs your attention - the station, the city, the train whizzing through canyons, all have characteristics and charm that cry out to be pored over. The action scenes bring to mind some elements of a comic strip or graphic novel, but not just a disposable comic - it sells the action and perfectly supports the text. Throw in the drawings that Titus himself did, and the overall beautiful design, and you've got a real treat of a book on your hands. (Read more here)

When Titus Took the Train comes out THIS THURSDAY! But people are already starting to get mail-order copies, so it's all happening. Yay! Be sure to check out my Titus boardgame, which you can download here. Play the game I designed, or use the blank template to make up your own adventure game!