very happy birthday to my dad!
I only sent his birthday parcel yesterday, so if you're in Seattle, please make him lots of cakes and fuss over him royally in the meantime.
Stuart was on the Internet last night and called me over, in a sudden fit of consternation, to read a
one-star review on Amazon
of
Morris the Mankiest Monster
. People are generally very kind to children's books; if they don't like them, they just ignore them. So I was a bit disappointed for a second to lose the five-star ranking. But then I read the review, and it was just SO SCATHING that it made me burst out laughing.
Review:
Lucky that I had this book delivered to me first before sending it off again as a present to the grandchildren ie their parents as intended. This way I had the chance to see and vet this 'children's book'. I am sure this book would have ruined our relationship and my reputation. It will not even end up in a charity shop.
Ha ha! Wow, the power to ruin a reputation, I'm impressed. As soon as I read that, I thought, Morris wouldn't care one bit. He's totally repulsive and proud of it. For every nine people who love Morris, there's always one who thinks it should practically be illegal. Too funny.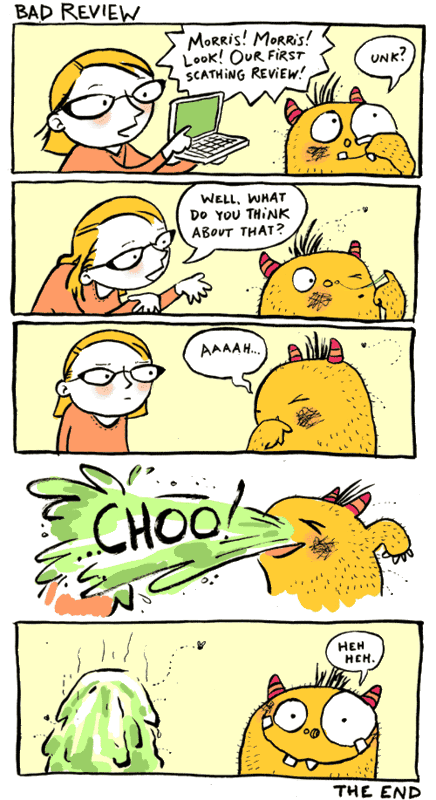 Hey, remember the recent Morris monster poetry
competition
? Well, there's another one!
Stories on the Web is hosting a 'Create a Comic' competition
? It's a subscription website, but if your library is listed
here
, you can pop into your local branch and ask for a password. (And it lists other ways to join Stories on the Web if your library isn't listed.) You can read a whole bunch of pages from the DFC Library there online, and win copies of
DFC Library
books
Spider Moon, Monkey Nuts, Mo-Bot High
and
Vern and Lettuce
.
If you're already subscribed, just go to
Stories from the Web
, enter your password and find the competition in the 7-11 section.
Last thing, a huge thanks to comics creator
Emma Vieceli
for all the hard work she's put into running
MCM Expo Comics Village
for the last few years! She's stepping down to take part in it purely as a comics creator now, and passing on the baton to the very capable
Anna Petterson
and
Matthew Sheret
. Great work, Emma! And hope you get lots done on that big stack of books you're working on! (Talk about major workload, Emma takes the cake.)
First, a