Oh, my goodness! I had no inkling, when I got up at stupid o'clock this morning to catch a train to Sheffield that my book with Giles Andreae, Morris the Mankiest Monster, was going to win a prize. And not just one prize! Here's me with my fab agent, Jodie Marsh, looking shocked.




The ceremony for the Sheffield Children's Book Award took place in Sheffield Town Hall under this magnificent ceiling: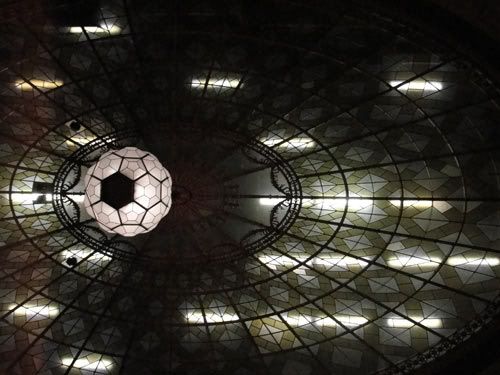 I could hardly believe it when Morris took the Best Picture Book prize. I hadn't even prepared a speech, and since the weather was cold, I wore my scuffy ten-year-old Doc Marten boots and thick socks my auntie knit me, thinking no one would notice (since I wasn't going to go on stage or anything). But not only did they ask me to do one speech, but TWO SPEECHES when Morris won the prize for the Overall Winner 2010! That's up against all the big-kid novels!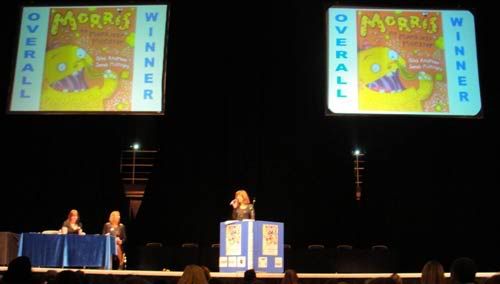 The auditorium was massive, and the organisers had packed more than a thousand schoolchildren in there, all screaming and stomping like we were rock stars! They'd all personally voted for the books, so they had a real stake in who won. The enthusiasm was a bit overwhelming... but definitely in a good way! Giles couldn't come because he was in Egypt, but he sent a message along to everyone (dwelling on the shape of my spectacles, of all things. ...Giles!)





I was pleased to see comics represented in the Stan Lee Graphic Novel/Manga Prize, and I hope they'll think of including my Vern and Lettuce with those next year. Here's my snapshots of the shortlist: Vampire Knight Vol.5 by Matsuri Hino (the winner), Twelfth Night adapted by Nana Li, X-Men: Magneto Testament by Carmine Di Giandomenico & Greg Pak, Captain America: the Man with No Face by Ed Brubaker, and Grandville by Bryan Talbot.





Nana Li did a great job representing the graphic novels:




Here's a group shot:



Left to right, top row: Mei Matsuoka, Leigh Hodgkison, Caryl Hart, Anne Cassidy, Nana Li, Thomas Taylor, Martin G Naylor, Terence Blacker
Bottom row: Pete Johnson, Peter Bentley, Amy Husband, the Lord Mayor of Sheffield, Elen Caldecott, Sarah McIntyre, Damian Kelleher

Here's the fabulous illustrator Mei Matsuoka, whom I first met when she came for lunch at our studio, the Fleece Station. Since then, she's moved from Tokyo to England, so I'm hoping this means I'll get to see a lot more of her.



Mei Matsuoka and Peter Bently with their book 'The Great Dog Bottom Swap'

Here's a picture from when Mei and I were mucking about in one of the fancy rooms.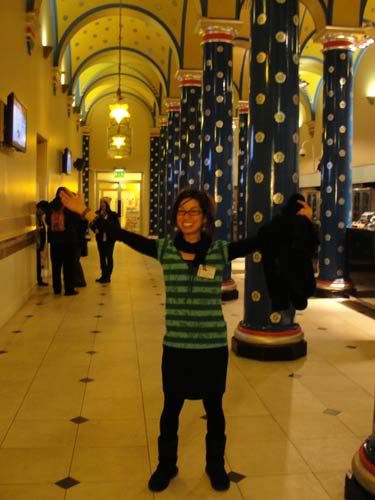 Photo session with the Lord Mayor:




Another friend, Damian Kelleher, with his novel Life Interrupted:




Here's writer Caryl Hart with illustrator Leigh Hodgkinson with Don't Dip your Chips in your Drink, Kate!. We rode the same train back to London and I discovered Leigh lives just down the road from me, hurrah!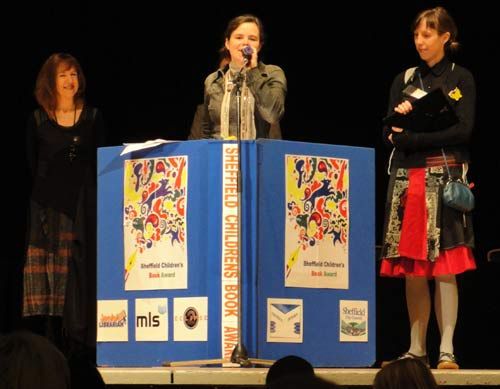 Caryl Hart and Leigh Hodgkinson

And I'm not totally sure what I'm doing here, I think I was trying to make enthusiasm make up for a completely off-the-cuff acceptance speeches.




Scary big space, huh? :D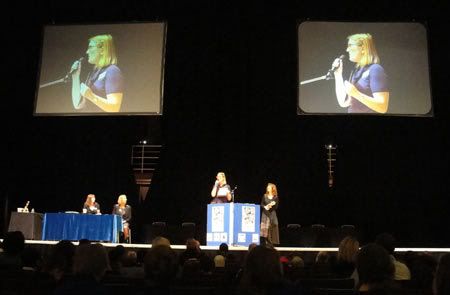 Thank you so much to all the organisers and all the kids who voted for Morris. What an amazing day! Thanks particularly to Alexis (pictured here), who looked after me so well all day. That's a very cool silver wall fountain behind us; this was my first time to Sheffield and I really need to go back and have a better look. And, of course, thanks for all the hard work on the book by Giles (who wrote the poem), designer Ness Wood, editor Hannah Featherstone, publisher David Fickling and publicist Lauren Bennett.




Just to note, if you like Morris the Mankiest Monster, you can download all sorts of free printable activity sheets from my website: Morris and other books.

Winners were:
Overall winner 2010: Morris the Mankiest Monster by Giles Andreae & Sarah McIntyre
Best Picture Book: Morris the Mankiest Monster
Best Shorter Novel: Boom! by Mark Haddon (also published by David Fickling!)
Best Longer Novel: Gone by Michael Grant

Highly Commended:
Picture Book: Don't Dip Your Chips in Your Drink, Kate! by Caryl Hart & Leigh Hodgkinson
Shorter Novel: How Kirsty Jenkins Stole the Elephant by Elen Caldecott
Longer Novel: The Dead House by Anne Cassidy

Commended:
Picture Book: The Great Dog Bottom Swap by Peter Bently & Mei Matsuoka
Shorter Novel: Secrets of Hightower by Martin G Naylor
Longer Novel: Life Interrupted by Damian Kelleher

And here's our United Agents group with very proud agent Jodie Marsh: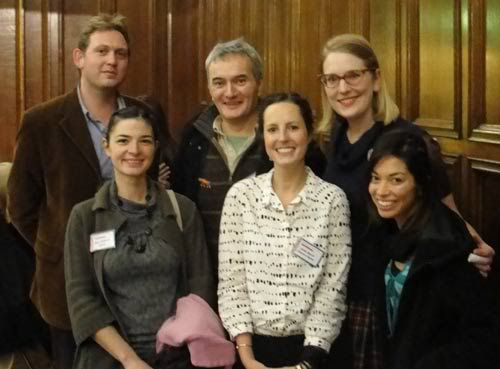 Thomas Taylor, Elen Caldecott, Peter Bently, Jodie Marsh, Sarah McIntyre, Mei Matsuoka