Eddie Smith
, about a project he's been working on all year, drawing trees at London's
Nunhead Cemetery
. Nunhead's one of the
Magnificent Seven
of London's cemeteries and maintained in a state of 'managed neglect'. That means the trees and vines weave beautiful patterns around the falling down Victorian graves and tombs, in a marvelously gothic way.
I've been
drawing trees in Greenwich Park
, so I was interested to hear Eddie's approach. Eddie and I used to run an art gallery in Camberwell for six years with some friends, and he trained in sculpture at the Royal Academy. You can see more of his work
here on his website
.
Eddie Smith - Drawing Trees YouTube link
I know zilch about making videos, but I've been messing around this evening with iMovie and hopefully you can get the general idea. (Sorry the resolution's still a bit dodgy, do let me know if you have any problems viewing it.) I got a kick out of seeing how Eddie's five-year-old daughter butted in, being very silly, but then got very absorbed in talking about her dad's drawings.
I took snapshots of a few pictures he picked out: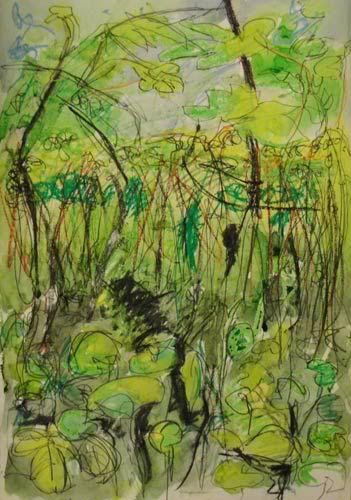 Last night I interviewed one of my best friends,