So my contribution to Polly Dunbar's game of Consequences has gone live on the Booktrust website! Now I can post some photos, and you can see the Booktrust gallery of the whole game here. Oh, and a bit about the envelope here!

Next in the queue is fab illustrator (or as it's addressed, the super-fabulous, rather splendid) Ed Vere: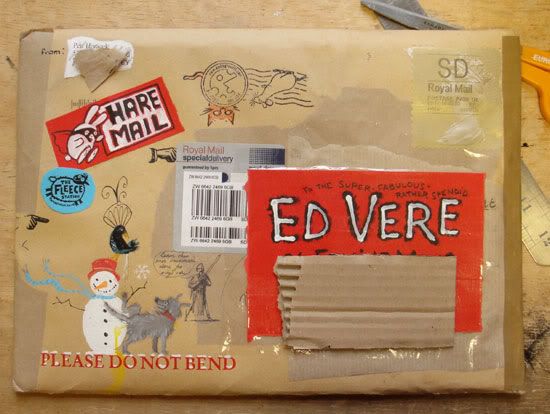 The envelope is getting pretty dog-eared, I'm not sure how much further it can go before it starts losing paintings out its seams. Here's the line-up just before I added my bit, when Viviane Schwarz was working on it:




And here's my addition. I'm not quite sure exactly what it is, I think it's a bit Vern and Lettuce meets Mortal Engines. A mobile Pickle Rye neighbourhood... or something like that. The bottle label is a narration box I cut out of a Tom Gauld cartoon from The Guardian. (It reads, rather obscurely, Rabbits are mute, so the phone call in chapter three is impossible.)




Oh, and apologies about that dodgy broken link I gave you yesterday, about recommendations for stocking comics in school libraries. Here it is again!