Godalming
in Surrey with Stuart to visit friends we knew from when we lived in Moscow. Since two of the kids are Stuart's godchildren, we've had them subscribed to
The DFC
comics magazine and they've been sent most of my books and a lot of my friends' books over the years. (This Christmas, I think
The Rainbow Orchid
,
Mo-Bot High
,
Monkey Nuts
,
Mezolith
,
Tall Story
and
Fever Crumb
featured prominently.) And funnily enough, they're all very big comics fans!
After lunch, we had a great time at the kitchen table, drawing, making comics and generally mucking about. Here's a portrait I did of Jamie. He loves
The Avengers
, just like my studio mate
Gary Northfield
. (Sometimes Gary gets me to buy his
Avengers
when I go to
Gosh!
and I always say,
They're not for me, they're for Gary!
and they say,
Yeah, right.
)
I think I was supposed to go have coffee with the adults, but I hadn't been doing morning sketches for the last week and the thought of doing silly drawings was too tempting. It's nice drawing stuff when it doesn't matter if it looks good.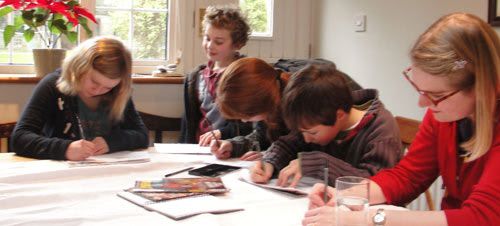 Here's one of our comics jams:
Hannah pulled out a big sketchbook of comics she'd been making. Here are the adventures of Super Granny! They are episodic, just like the DFC used to be before David Fickling started publishing it as books in the DFC Library.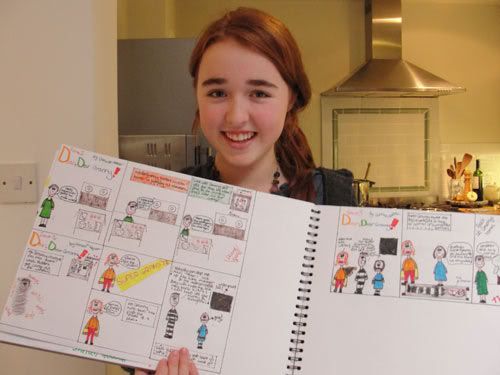 Here's my drawing of Super Granny, with a few accessories.
Here's another comic Hannah made, with stickers, which I thought was a clever idea.
A portrait of Olivia. Her brother said, 'That doesn't look like you, that looks like
Billie Piper
," but Olivia wasn't very offended by that.
Here's a drawing by Olivia, who's very into manga-style comics.
We also did some drawings of Warhammer pieces.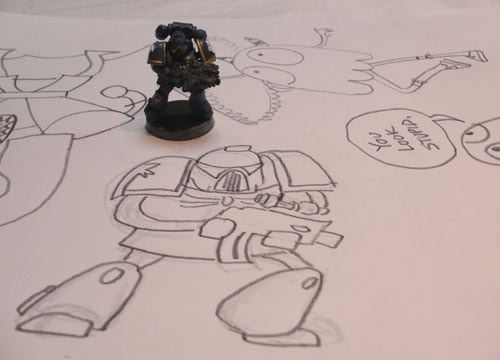 Warrior drawings by Jamie and me.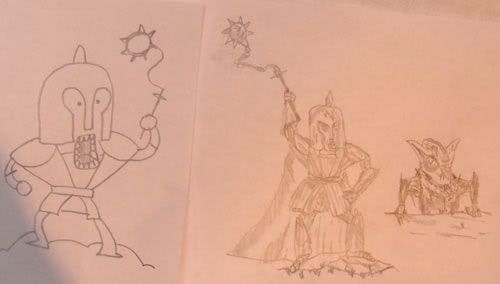 It's hard drawing a portrait to look like someone when I make them wear a big helmet.
A bunny comics jam:
Just before we left, Jamie ran off to get his sketchbook and drew a portrait of me, which made me laugh.
I'd been planning to revise a picture book text on the train ride back, but I caught up on zzzzs instead, and Stuart took a photo. I think I needed a day off, that was fun. I know it sounds a bit nuts to say that a day drawing is a day off work, when I draw all day for my job, but it's a totally different kind of drawing when there's no deadline pressure, no e-mailing, and it's with friends.
Thanks to the FPI blog for posting
an entry about Vern and Lettuce's tractor and the Booktrust Consequences game!
Saturday was very full-on, I ended up working a 16-hour day and almost falling to pieces. So it was great on Sunday, going out to the pretty town of