Thanks to Stuart, who's been blogging for me while my lovely sister is visiting from Seattle. We're doing a whole lot of catching up in a very short time.




This morning we pulled on our boots and strode through the rain to the Dulwich Picture Gallery to see The Norman Rockwell exhibition (running until 27 March). We both grew up with his artwork; she'd only seen one of his original paintings, and I'd never seen any, just reprints in books. Some of Rockwell's artwork is terribly kitsch, but no one can argue that they guy can't paint. I love the way he draws sticky-out ears, backs of necks, fingers and spot-on facial expressions. The most interesting part for me was seeing a few of his masterful pencil drawings, I'd only ever seen his finished works. Rockwell had this great way of drawing things with a bulk that makes them look chunky like potatoes, but at the same time combining it with a real subtlety of shading that makes them look wonderfully alive.

Here's my drawing of my sister, not so alive, when jetlag kicked in this afternoon. The sketch didn't come out looking much like her, but I tried out my new electric eraser for the first time, which was kind of fun. I need a bit more practice with it.




We went for tea at a French Moroccan cafe on Lordship Lane (she had two strong coffees) but that only staved off the nap by an hour.




Here's a quick drawing of Mary in the gallery.




And here's what she was sketching, a painting in the permanent collection by Nicolas Poussin.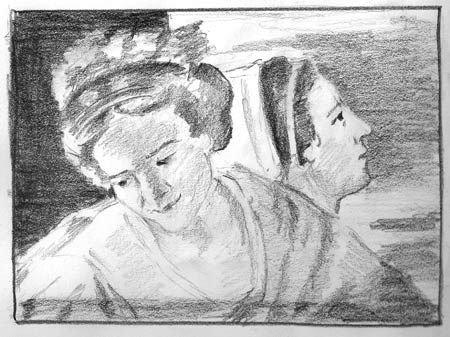 We have a bit of a thing for red boots.