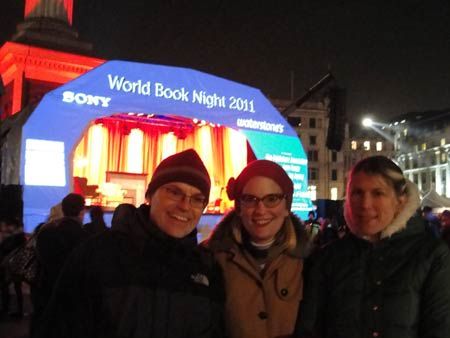 On Friday night, Mary, Stuart and I went over to Trafalgar Square to see what was happening for its first-ever World Book Night party. Although the cold was fierce, the line-up was amazing, and I took some shaky video footage of some of the speakers. The readings by Alan Bennett and David Nicholls were my favourite, so I've shown them in full, and Lemn Sissay had the best delivery, but in the video, you can dip into a few other talks, although I missed those by
Sarah Waters
,
Edna O'Brien
,
DBC Pierre
,
Rupert Everett
and several people who were taking part in the book giveaway. Margaret Atwood looked genuinely amazed to see so many thousands of people gathered in the cold just to see a bunch of writers talk, and my visiting sister said the same, that she didn't think you could get a huge group of North Americans together like that without bringing bands or some sort of performance artists to whip up the crowd. I wonder. But it was a great evening.
YouTube Link
Here's the menu for the video, in case you want to skip around:
Alan Bennett
(from the start)
Lemn Sissay
(7:20)
David Nicholls
(8:25)
Margaret Atwood
(13:23)
Boris Johnson
(15:12)
Nick Cave
(15:44)
Suggs (Graham McPherson)
(16:32)
Monica Ali
(17:43)
John le Carré
(17:52)
Tracy Chevalier
(18:18)
Philip Pullman
(18:27)
Mark Haddon
(18:34)
Hayley Atwell
&
Stanley Tucci
(19:38-22:48)
I would never have dared shoot this kind of footage at a literature festival, but because it was open to the public on Trafalgar Square, it seemed all right.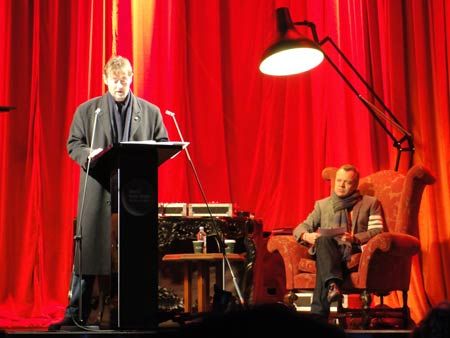 DBC Pierre (author of Vernon God Little) and presenter Graham Norton
The gang from Scholastic! I've had fun doing events with Fiz Osborne (centre) and Alex Richardson (front right).
Friend and critique group member Heather Kilgour with her husband Perraine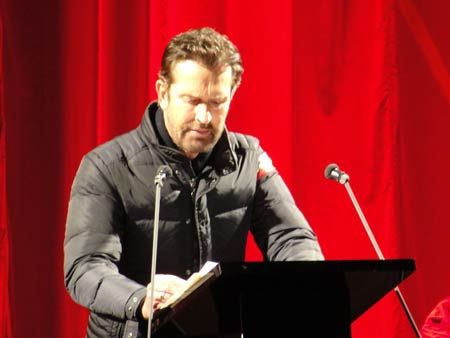 Rupert Everett
John LeCarré
Hey, look! A bunch of publishers were getting their authors to blog for World Book Day, and the writer
Steve Cole
gave
Vern and Lettuce
a mention here on the
Random House Children's Book blog
. Hurrah! (Thanks, Steve! Click on the image to read his full blog post, it's very funny.)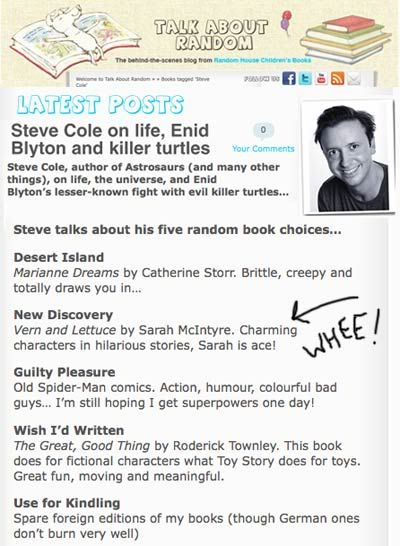 You can read
Philip Reeve's account of his World Book Day here
. (He got well McIntyred!)