London Comic & Small Press Expo
, which was fabulous! The exhibition hall at Goldsmith's University was gorgeous with its enormous domed ceiling and pipe organ, and it was super-handy being ten minutes' walk from my house and the studio. (I forgot something and had time to run home and get it!) Here's a photo of three of our four
Fleece Station
officers at our table.
Hey, news flash! Ellen Lindner, Cliodhna Lyons and I will be sharing a table next month at comics festivals in the USA! If you're in the States, come buy stuff from us that you can usually only get in Britain at MoCCA in New York City (9-10 April) and Stumptown in Portland, Oregon (16-17 April)!
I'll definitely have copies of my book
Vern and Lettuce
, my mini comic
Airship
with
David O'Connell
, the
Birdsong anthology
and some prints. (Possibly more, if I can get my act together amidst all this picture book, comics and
Monsterville
work.)
Fleece Officers Sarah McIntyre, Gary Northfield, Ellen Lindner
Illustrator El Ashfield at our table
My Birdsong editors Will Kirkby & Naniiebim. We're currently working on Issue 2!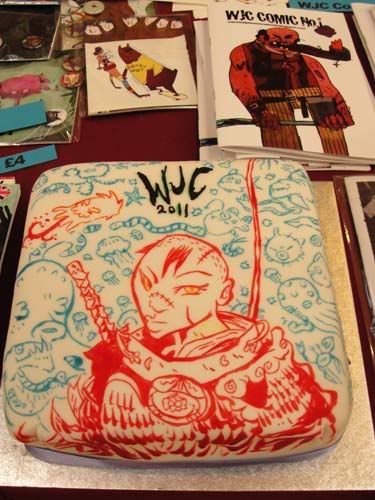 Fabulous birthday cake Will & Lou made for Warwick. Edible ink! Cake was very tasty.
Gary & I making appreciative noises about Warwick Johnson Cadwell's illustration for The Guardian that day.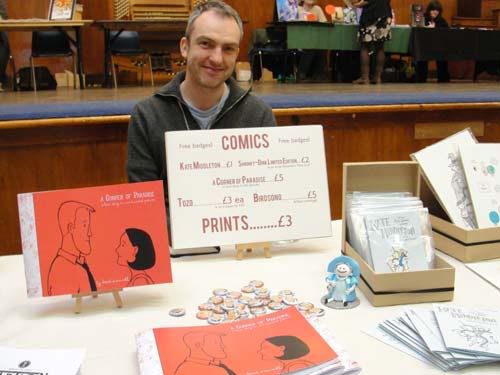 David O'Connell, who's currently writing a picture book with me for David Fickling! We worked on revised draft No. 13 this morning.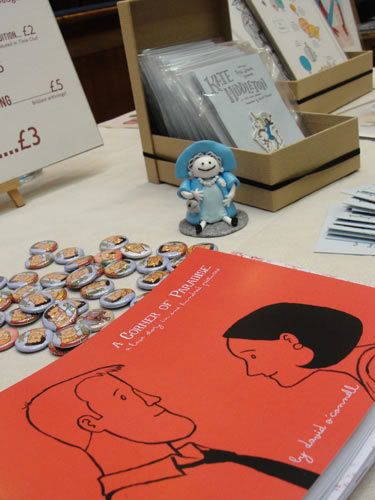 David O'Connell's top-notch comics wares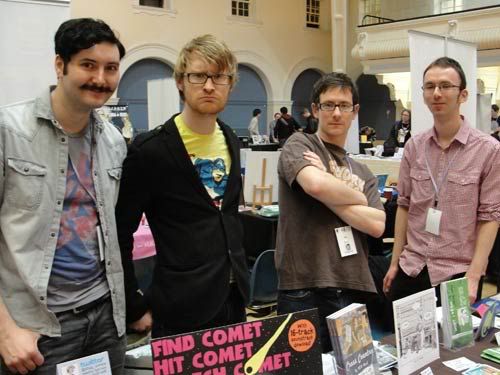 Comics boy band Perfect Bound, featuring Phil Spence, Hugh 'Shug' Raine, Joe Decie & Al Maceachern
Huw 'Lem' Davies with his Watermelon of Chance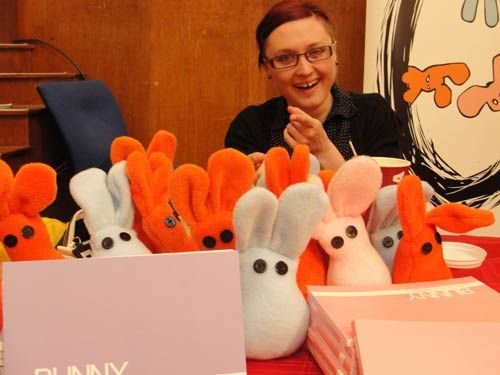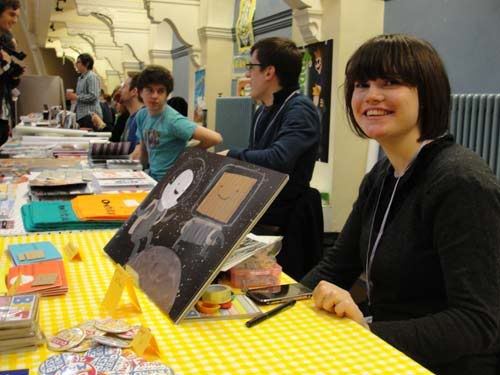 Philippa Rice with My Cardboard Life
Timothy Winchester, being ever-anonymous behind his crocheted dolphin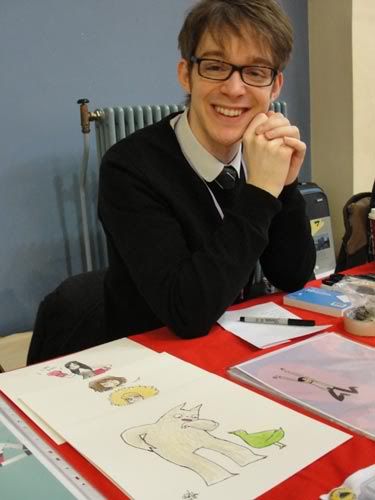 Scary Go Round's John Allison
Original John Allison artwork! I was sorely tempted. Bought some of his coasters instead.
Finally got to meet Welsh internet chum Tim Harries
Bravo! First-ever comics table by April Nash
Loyal Vern and Lettuce DFC fan! Hurrah! And just a reminder, the DFC is coming back as The Phoenix Comic!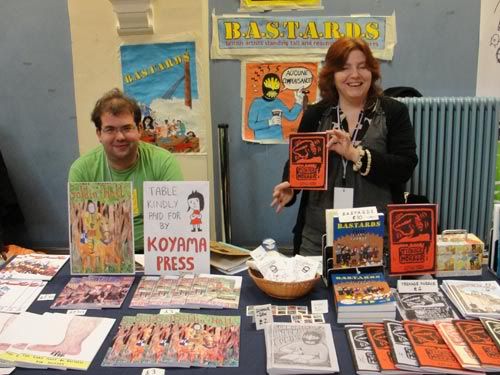 Rob Jackson & Francesca Cassavetti
Joe List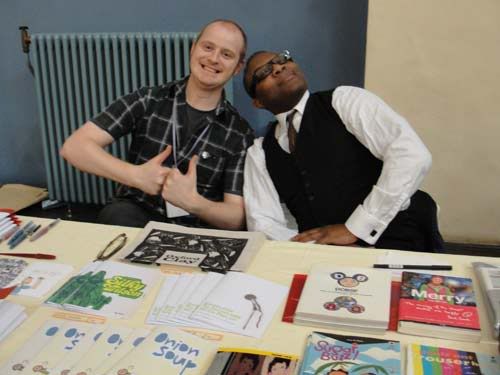 Dan Berry & Woodrow Phoenix (whom I notice has put lots more images up on his website)
Bridgeen Gillespie & me (you can see a picture of our slight height difference on this earlier post)
Thanks so much to all the expo organisers! I really hope this happens again next year, and I LOVE the venue. I think the event could do with more signage and publicity at future expos, but even with less crowds than we got at the UK Web & Mini Comix Thing in years past, I still sold more stuff than I have at the last two or three conventions put together. And thanks to Ellen for her lovely illustrated and annotated
Map of New Cross
!
I've been intending for more than a week to blog these photos from the