Hay Festival
this year! And one of them is with two of my all-time favourite writers,
Geraldine McCaughrean
and
Candy Gourlay
. Here's a video Candy just made! And you can read about our event in Candy's
festival blog post here
.
My event with
Anne Cottringer
(writer of our book
When Titus Took the Train
) is already sold out, but you can still book tickets for these events:
Geraldine McCaughrean & Candy Gourlay
: Monday 30 May 2011, 4pm
Humour and quirkiness sit at the very heart of these two new adventures; join their authors as they reveal how they put spark into their writing. Chaired by Sarah McIntyre.
Details here
Sarah McIntyre: Cartoon Creations
: Tuesday 31 May 2011, 10am
Hurrah! We've got our hands on this inspired illustrator and comics creator for a whole hour. So come and meet her cartoon friends and learn super-secret tips on how to invent your own characters. Bring a pad and pencil!
Details here
I'm a big fan of both of the books we'll be discussing,
Pull Out All the Stops
by Geraldine and
Tall Story
by Candy. Here's my fan art and a review of Geraldine's book: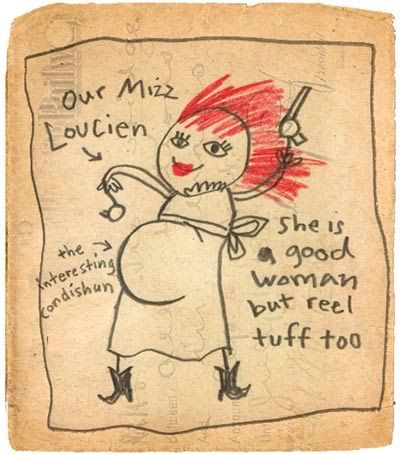 And
Candy's book
:
I'm doing three events at the