MONSTERVILLE... It's so totally fabulous, I don't even know where to start! Today was the Grand Opening Day at Stratford's Discover Centre in northeast London, and the construction team had been working late into the night yesterday so it would be ready when Neal Layton, Ed Vere and I arrived to see our drawings turned 3-D, and the monster mob descended. And it was AMAZING. I spent the first twenty minutes running around babbling wildly with excitement. Here I am, crawling around in Ed's monster mouth.




Here's the spooky forest pathway that leads the voyagers to the monster village. It starts off in a wardrobe with clawed and shredded suits, with some crazy sounds orchestrated by Sam Usher.




Monsterville has a tiny monster cinema! Neal couldn't arrive until later because he was coming from Portsmouth, but Ed and I got there early and went a big mad running around.





Here's Ed, having a peek through the doors.




Ooooo! It's real! There are MONSTERS in the watching monster films!!!




The lighting effects are wicked; I love the way these ones make my Beauty & Beast window display cast monstrous shadows.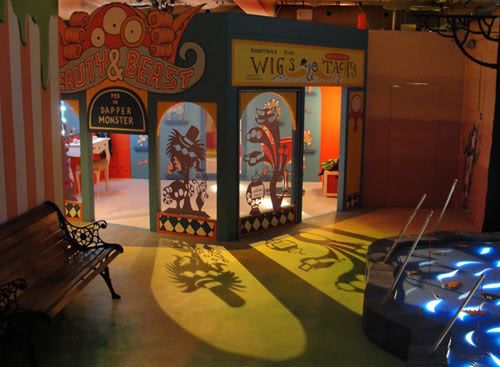 Here are some of my little friends fishing in Neal's pond.




Let's go into the Beauty & Beast boutique!




Here's the Discover Centre's Eleanor Butler, modelling one of my wigs.




I had a blast seeing people trying them on.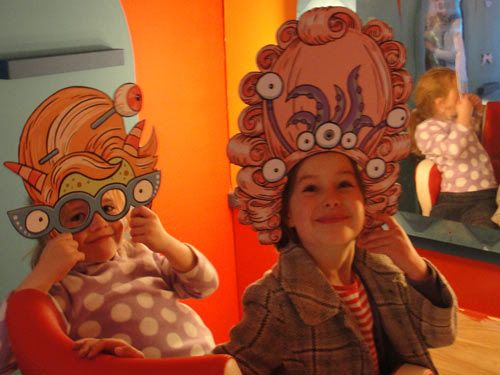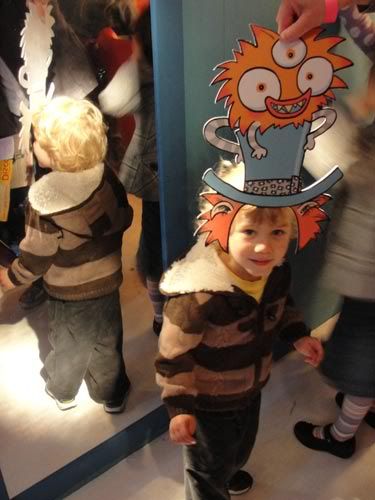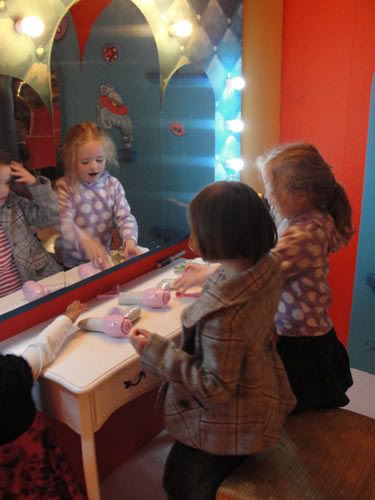 And here's my Lolliplops ice cream parlour, leading on to Neal's Monster Gallery.




Earlier I'd made a sketch of an eyeball cash register, and they'd made it happen!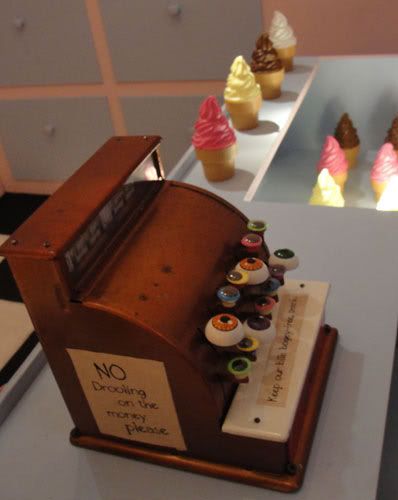 The head technician, Paul Callaghan, asked us to sign our buildings. I've never signed a building before! (Or if I have, I won't admit it.)




You can just see my monster cake through the window.




Eleanor posing in Neal's bandstand: it has buttons on the supporting columns which play different instruments.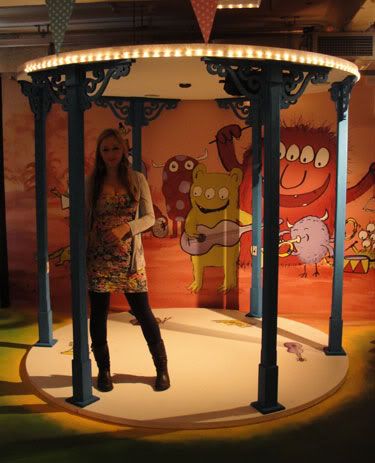 Now let's go down the street to the Monster Gallery...




Check out Neal's cool trompe d'oeil effect with the flooring! The big books if for sticking in everyone's monster drawings.




Ed and I christened the book with its first drawings. Here's Ed's: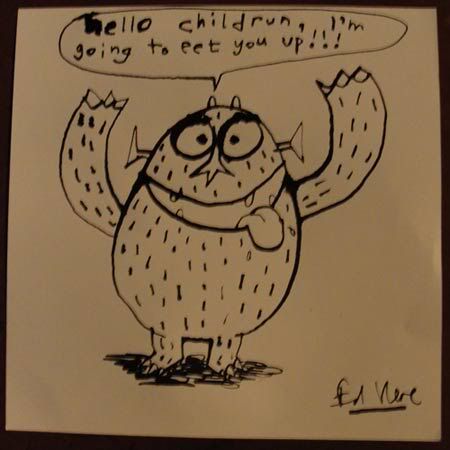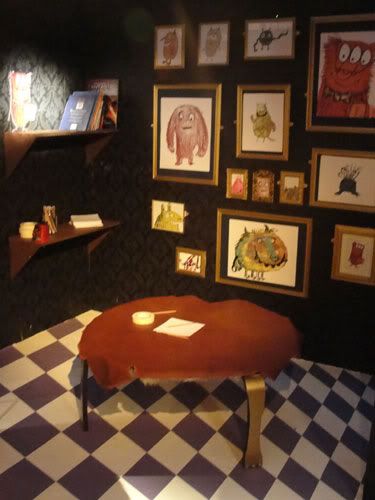 And my drawing:




The gallery has a magnetic board, like a giant fridge, where you can stick monster body parts together.




Here's Discover's director, Sally Goldsworthy, modelling with monster parts.




The entrance lobby has a map of Monsterville.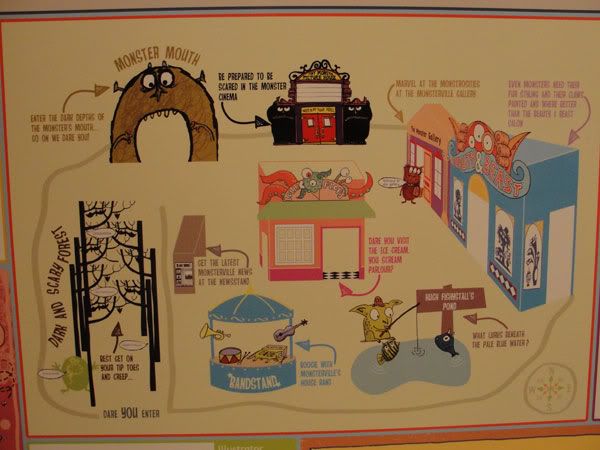 A monster newsstand! One of Discover's workers also freelances for The Guardian and wrote up the newspaper copy. It's going to get lots of use with school groups coming in to try their own hand at monster journalism.




The entrance wardrobe: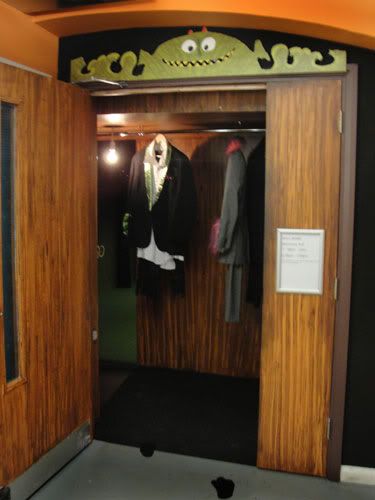 Ed's cool monsters on the entrance staircase: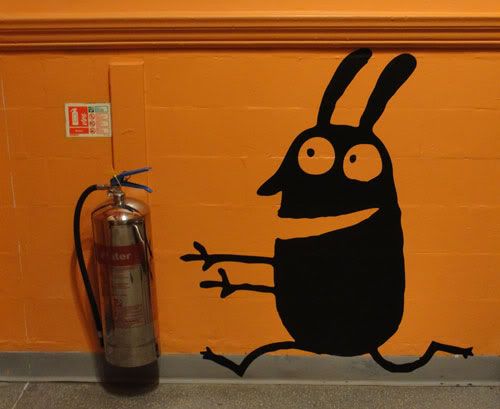 Ed was super chuffed to see his monster drawing blown up so large on the centre's front window.




Ed, Neal and I all led our own events, but my favourite was the MONSTER DRAW-OFF. The kids gave us categories of monsters to draw, and the three of us had three minutes to come up with a monster in that category. Then the kids voted for the best monster. Here's my entry for 'angry monster'. (I won that round.)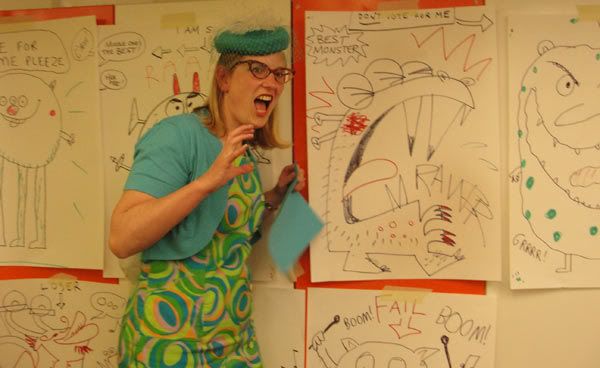 Here's Ed's drawing for 'musical monster'. (Ed won that round, hands-down. Or pants-down, I should say.)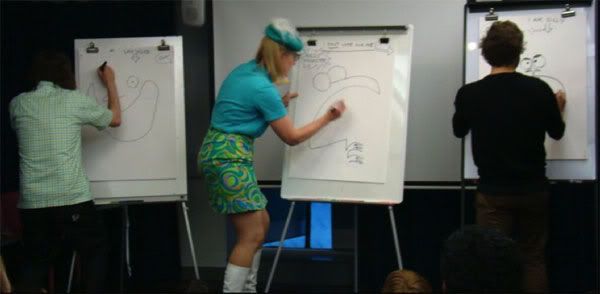 Photo by Apryl Hammett

You can see a few more here: 'sad monster', 'evil monster' and 'cuddly monster'.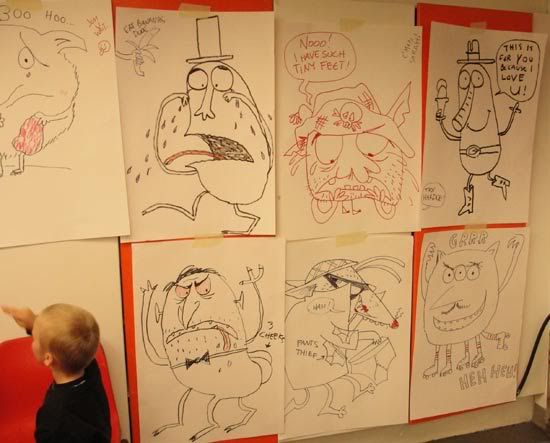 This is Ed's drawing for 'monster wedding'. Tongues!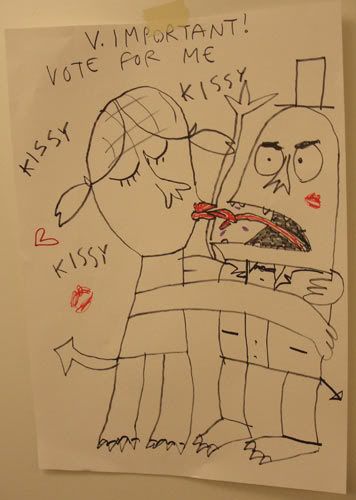 You might notice little comments around the edges; there were dodgy bits of sabotage and attempts to influence the crowd going on there.




Here we are! Neal, me and Ed. BEST MONSTER DRAW-OFF TEAM EVER. We totally want to do that again, we had so much fun. Festivals, take note: the three of us might be persuadable!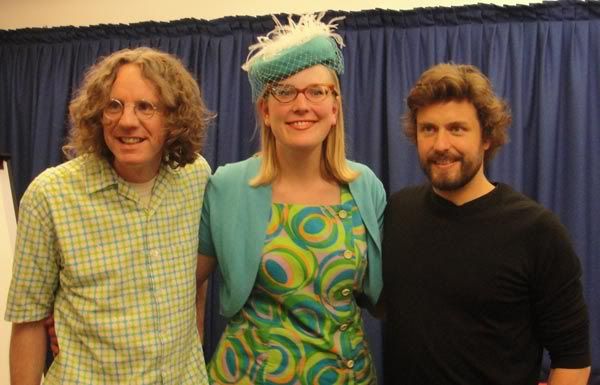 This is my Monsterville hero, Paul Callaghan, technician extraordinaire. A HUGE thanks to the whole team who made this happen. I think this is the most fun job I've ever had.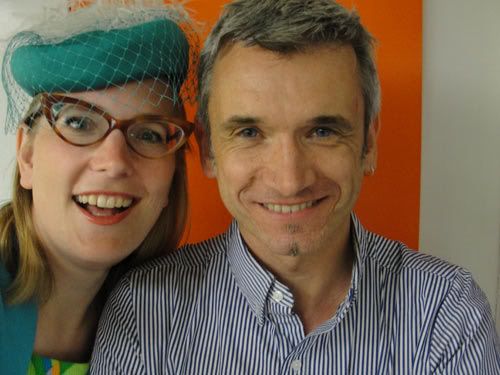 Neal showed us lots of his monster drawings during his event, although he claimed never actually to have seen a monster.




Ed made no such claim. He says he was followed home by this monster, and was very scared, but very inspired for our project.




Here's a visualiser projecting Ed drawing with his old-fashioned surveyor's dip pen and ink.




Kids drew loads of monsters today.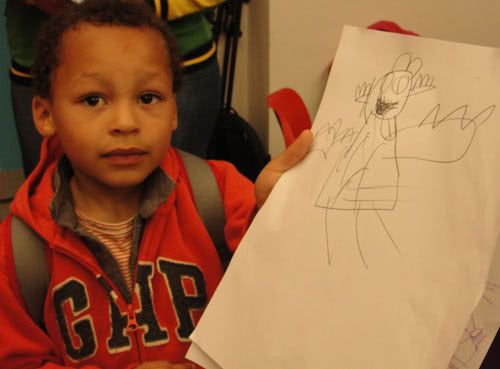 I thought this kid's monster was rather smashing.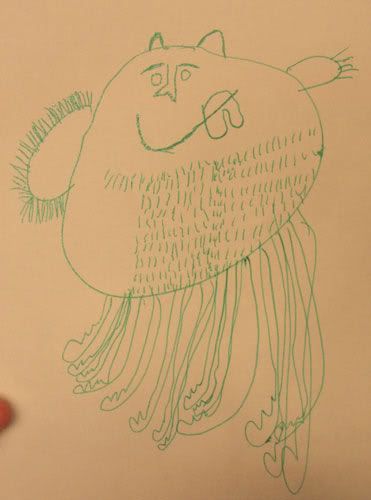 Here's giddy me with my fab friend Caroline Smith, who brought her kids along.




Thanks so much to all my friends and colleagues who came to see Monsterville today! It's going to be open until March next year, and you can have a look here at the summer schedule of events. If you're in London, don't miss it! There's another whole floor upstairs with other fun stuff where kids can run around and explore, also well worth the visit.

You can see past posts about building Monsterville (sketches, photos) if you click here and scroll way down.