Okay, let me just start with the best thing about my first visit to the Hay Festival: I got to spend a day hanging out with these fab ladies!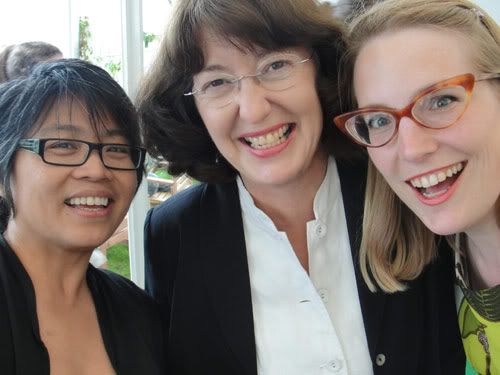 You'll find Candy Gourlay all over my blog, and Candy and I both think Geraldine McCaughrean is the best writer we know. And she's lovely, we had a good romp in the field that is the massive lit festival at Hay-on-Wye in Wales. Here we are at our event.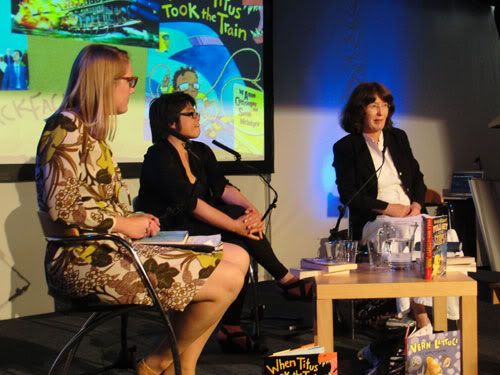 I talk about Candy's Tall Story in an earlier blog post, and here's am illustrated review of Geraldine's Pull Out All the Stops, which you can read in full over on Philip Reeve's website: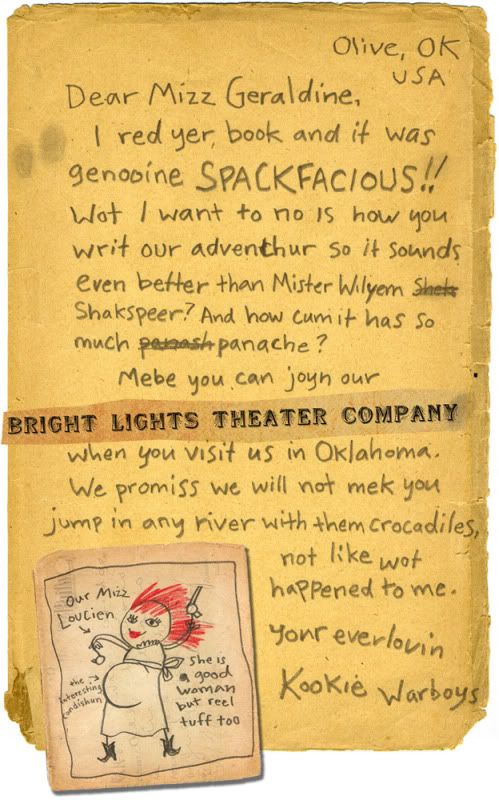 The next day, I was swanning around, doing my monster-aliens-space princess thing on the Starlight Stage...




...when who should I walk right into when I came out of the event?




Why, it's the Duchess of Cornwall! Yes, indeedy. We shook hands and talked a bit about aliens and monsters, and then she went away, but popped up again in the Green Room. So here we are just outside in the garden and she has a brand new copy of Vern and Lettuce. I introduced her to Anne Cottringer, who gave her a copy of our picture book, When Titus Took the Train. Stuart is still rolling his eyes in mock horror that I said, 'Hello, you' to the Duchess and signed her book, To Camilla, instead of using a formal title or something. Apparently that is not the Done Thing. I hope she likes comics. (Candy says I 'barged past security', but this is not true! It was all very open and easy, just most British people are very shy.)




I'd been curious to meet the writers Ali Sparkes and Andy Stanton, and I got to see them over lunch, together with Graham Marks. In fact, we were having so much fun mucking about that, that two things happened, bad and good. The bad thing: I completely forgot I had a train to catch back to London, and missed my ride....





The good thing: it meant I got a lift all the way to Newport with the actress Maureen Lipman. How cools is that? Here we are at Newport station.




Oh my, who is this big beardy man in my lap?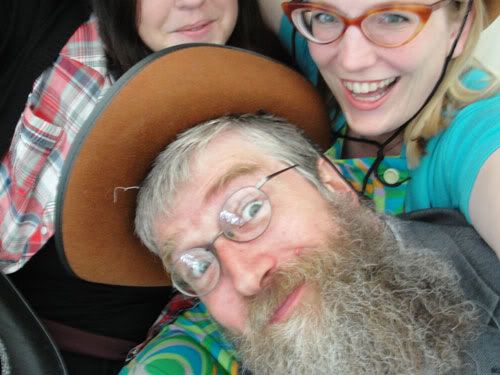 Hold your horses, it's Philip Ardagh! Philip and I always seem to have our photos or event descriptions side-by-side in festival brochures, but we never, never overlap. Until this time! So my curiosity had been well stoked. And yes, he is every bit as beardy as his pictures and wears size 16 shoes.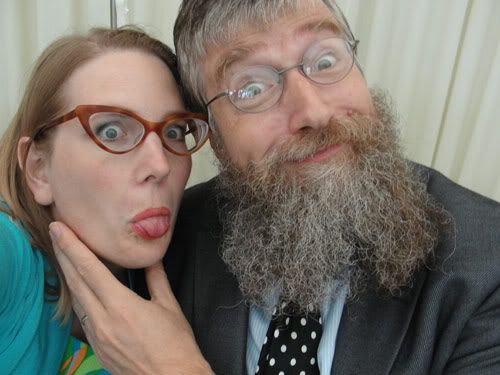 Here are a couple quick portraits I sketched: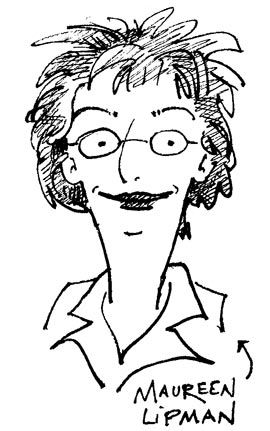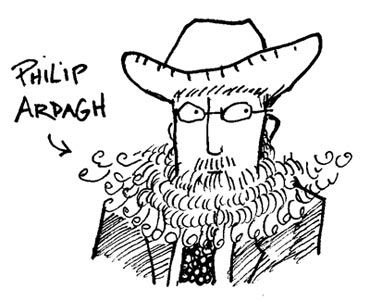 But the publicist Nina Douglas looked prettier in a cowboy hat than Philip, so we went off and spent some time on the farm.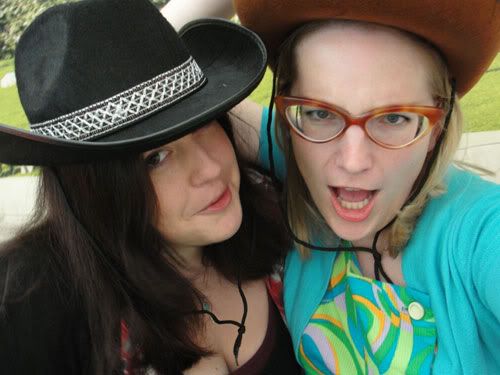 Oh wait, no, it is not a Welsh farm, it is a big photo backdrop next to the teas and coffees. I might just be slightly overcaffeinated here. Nina is not even my publicist but I seem to see her more than I see a lot of my friends, and she lives in mortal fear of appearing on my blog. (Ha ha, hello, Nina!)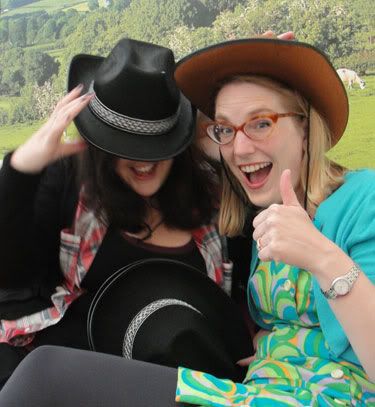 Here's my fab writer, Anne Cottringer. She lives in Hereford (not far from Hay), so we don't get to hang out very often, and when we do, fun things happen.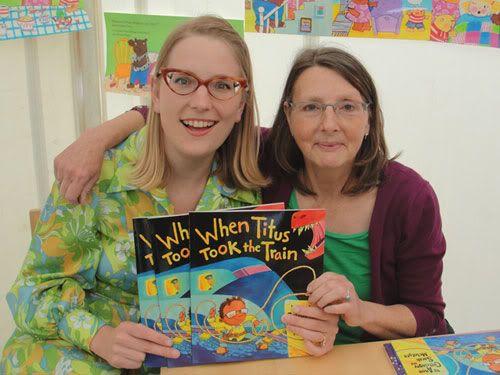 Have you seen the stop-motion animation we made? (Apologies if you have already!)



Here we are doing a Titus board game workshop in one of the children's pavilions.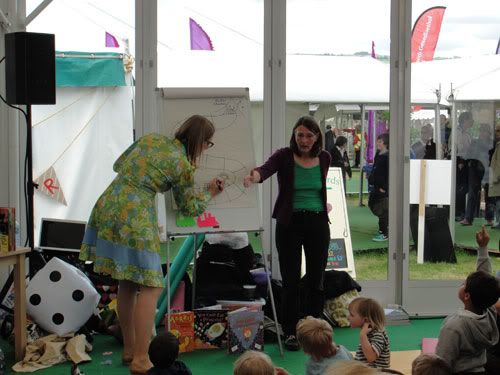 When I first arrived at Hay, I was a little bit intimidated by the huge rank of famous-people-I-don't-know all plunking away furiously at their laptops in the utilitarian computer space behind the artists' Green Room. I didn't quite know what to do. But then I found the marvelous and hugely prolific comic creators, the Etherington Brothers, and immediately felt much better. Lorenzo Etherington (left) and Bob Etherington (right) had just finished up their Monkey Nuts comics workshop and I had a good chat with them and their partners before they headed off back to Bristol.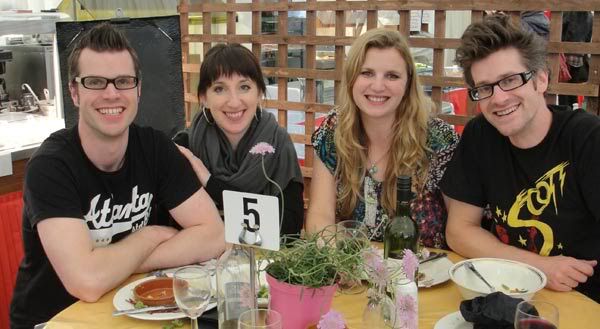 And then I saw Axel Sheffler. I run into Axel about once a month and he seems to vacillate between bemusement and bewilderment at the encounters.




Here's my fab publicist from Oxford University Press, Harriet Bayly and her family. Hattie did a good job looking after me and keeping me out of too much trouble.




Although she did look slightly surprised when she popped away from the lunch table and came back to find I'd drawn all over her daughter.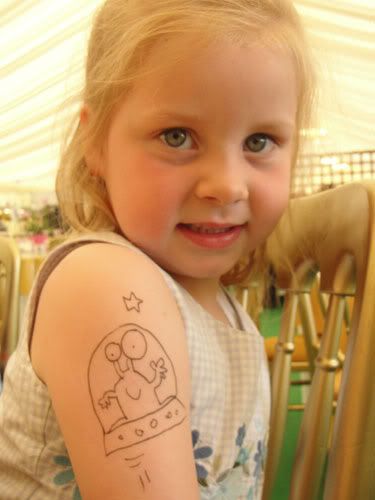 This kid was funny. I'd signed something for him, so he came back with a brochure which included a picture of him from last year, and he signed it for me. Now we're even.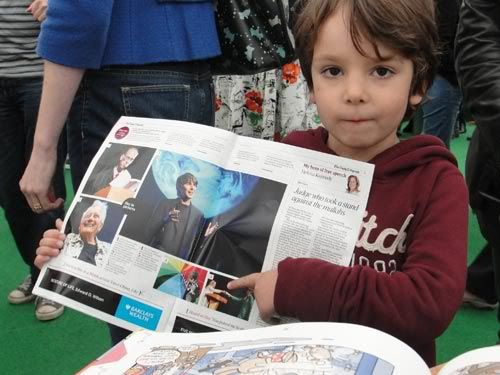 After my three events, I managed to stay an extra night at the festival so I'd overlap with my lovely friend Layn Marlow. Here she is with Philip, who's sitting at a... jaunty angle.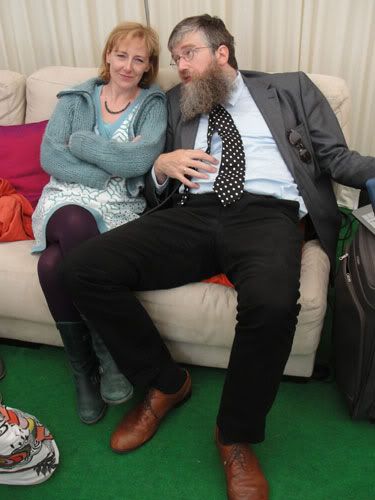 We made Bug and Bear hats at Layn's event! Here we are with her daughter, Tegan Marlow.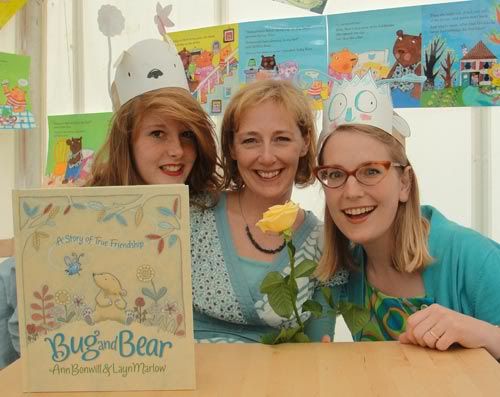 Another Bug hat: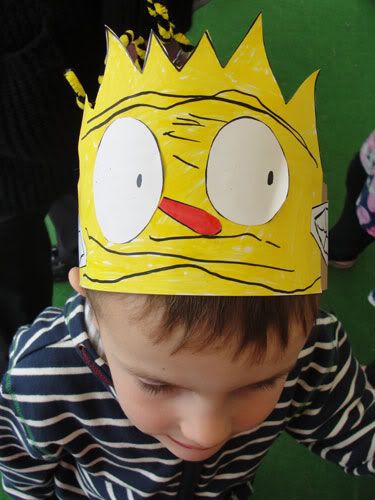 Layn drawing characters from How Many Sleeps?: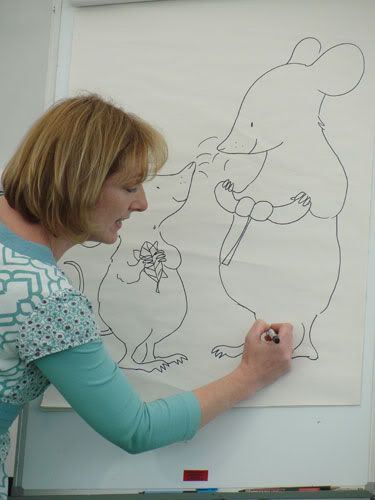 Layn's whole family! In the Great Outdoors of the tea and coffee area.




Tegan and Candy's daughter, Mia, were super-chuffed to meet up with Malorie Blackman (as were Candy and I, of course; Malorie's pretty amazing).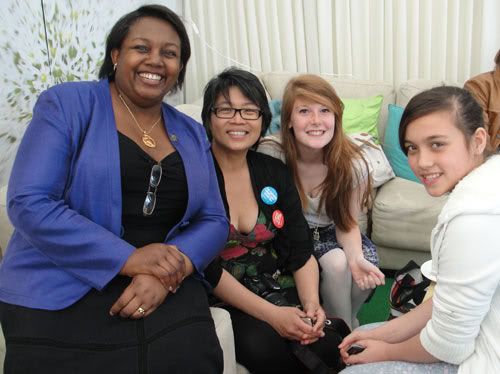 You can watch the trailer for Malorie's new book Boys Don't Cry:



And here's Judith Kerr! I grew up with her book Mog the Forgetful Cat and everyone in Britain seems to have read The Tiger Who Came for Tea. Here she's with publicist Philippa Perry, who really knows how to throw a good book launch party and who had tea with me over breakfast when I saw her walking by the window and nabbed her.




I didn't actually stay in a B&B, but the most wonderful big Georgian private house, owned by Malcolm and Shirley Smith. They just open it up for the festival, and are amazing hosts. Just before I left, I ran around their beautiful, huge back garden and saw the blackcurrant and tayberry bushes that had made breakfast so tasty. And very entertaining, sitting across from Mary and David Lodge; they told me lots of cool stuff about doodlebugs, Spitfires and air-raid shelters. I was very sad when it was time to leave the table! The other people I got to meet while I was staying there included Linda Grant, Edward St Aubyn and a Cambridge archivist of colonial-era Indian film footage named Kevin Greenbank. (And Linda told me I just missed Chris Priestley, darn it.)




This is the road I walked from Malcolm & Shirley's to the festival site. Although I didn't get much time to explore the village, Hay looks lovely, and nestles into beautiful green hills.




I went to Candy's writing workshop, where she talked about how legends about giants inspired Tall Story and had us make up some legends of our own.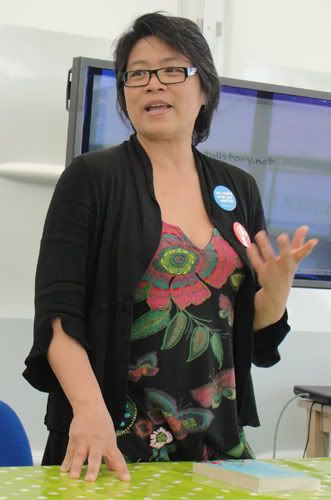 My photos from dinner after my event with Geraldine and Candy didn't come out, but I wanted to be sure to get in a photo of Fiona Dunbar (right), who was out in force, along with librarian Ferelith Hordon (centre).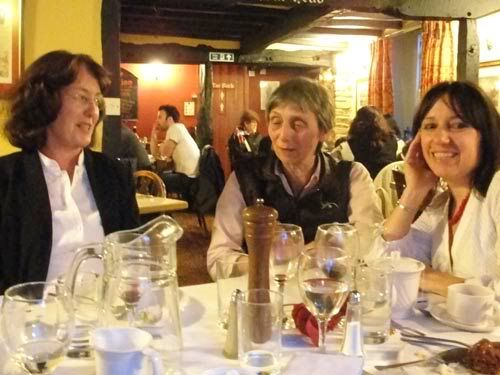 A few more Green Room shots: Here's Geraldine and Candy with Michael Morpurgo.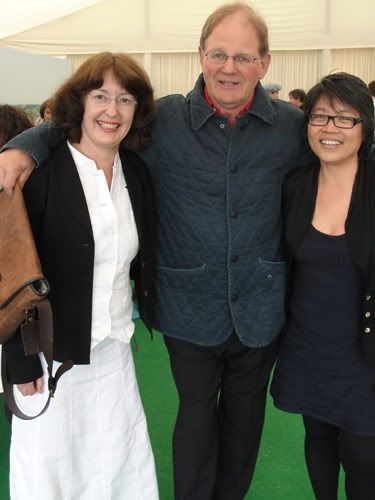 And Layn with Emily Gravett (note their matching boots):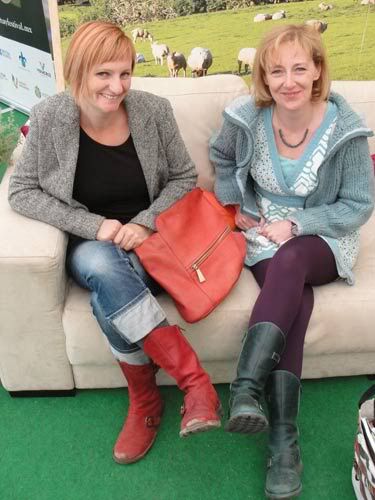 Some writers I just learned about: Caroline Lawrence, who has fab western clothing, the thickest hair I've ever seen and who's been writing Western books, including The Case of the Deadly Desperados.




And speaking of Western, here's an Englishman named Rupert Isaacson who pretty much lives in Texas now, who wrote a book called The Horse Boy, about how he was able to connect with his autistic son through horse riding.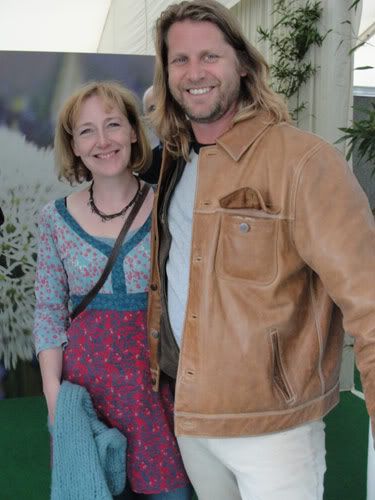 They went on a big family ride across Mongolia, which sounded well cool, and now he's made a film about it:



Just before I left, I met Joanna Nadin, who's written a book called Penny Dreadful is a Magnet for Disaster, illustrated by Jess Mikhail (whom I met last year at a SCBWI retreat).




Here's the fabulous Sophie Lording (sophielording on Twitter) who read on my blog that I was very keen to doing an event with Geraldine McCaughrean and made the Hay magic all happen. Thank you so much, Sophie!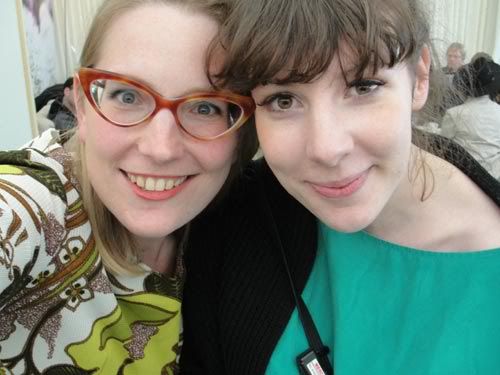 Other fun things included two events by standup comedians Jo Brand and Arthur Smith. I followed everyone's advice to bring wellies to the festival, but luckily we hardly had any rain and this picture wasn't prophetic.




I'll attach a few more pictures with Camilla just because, from the intensive grilling I got about the royal wedding on my last visit to the States, I know that it's what a lot of my readers in North America will want to see. Here she is, meeting Anne Cottringer:




Anne and Camilla discuss When Titus Took the Train: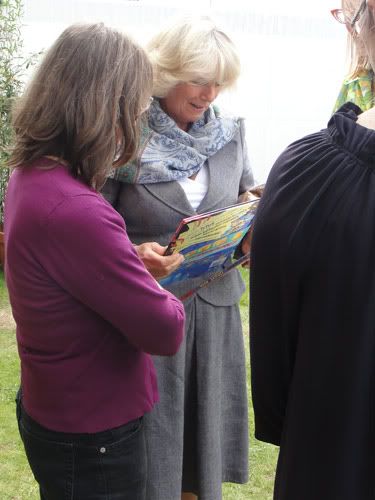 From the look on the duchess's face, I think possibly I am saying something cheeky here, but I hope not.




Anne and I being slightly fazed and bemused by the whole thing:




Edit: I just realised that the kid's autographed copy of The Hayly Telegraph: Free Daily Paper of the Telegraph Hay Festival has my illustration and an interview with Candy for our event! Here it is. (Click on the image to zoom in for just the text.)




And a final sketch I made while scribbling a letter to a friend on the train ride home.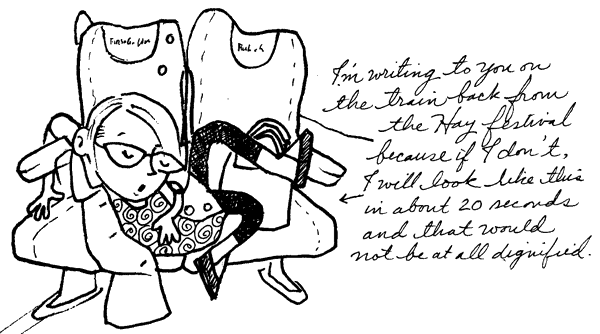 Edit 2: Oo! Now go read fabulous write-ups by Candy Gourlay and the Etherington brothers!