This morning I went into the Scholastic offices to interview publisher Alison Green for Ireland's Inis magazine, and the production team I've been working with had a surprise!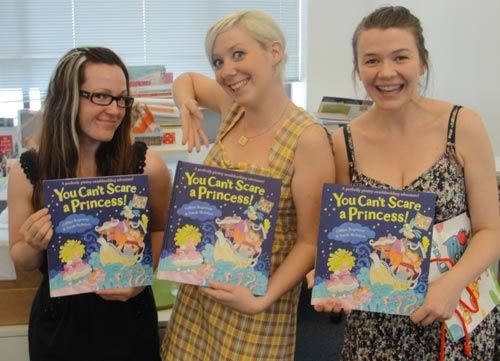 Fresh off the press! Brand-new copies of our book with Gillian Rogerson, You Can't Scare a Princess! We were all a bit giddy, there's nothing like working like crazy on a book, then seeing it all printed up. Ta-DAH!




Here's editor Fiz Osborne, me, designer Zoe Waring, and my new editor, Ellie Parkin. (I started the book with editor Katherine Halligan, who went on maternity leave, then worked on it with freelance editor Alison Ritchie, and now with Ellie. Actually, Zoe was my constant through the whole project, so we probably worked the most closely, but it's a lovely agreeable team at Scholastic, so the whole process felt fairly seamless. They like to swap around jobs at Scholastic, just to get a feel for what it's like in other areas of production, so Fiz and Ellie have both come along as publicists with me on events, even though they're editors. (Fiz came on her first festival event ever with me as a publicist - in Bath - and we had such a good laugh!)


And talking about good laughs, these can also be had with Scholastic's Consumer, Marketing and Communications Director Alyx Price and fab publicist Catherine Alport. I'm not just saying this, the whole team at Scholastic are a LOT of fun. I'm really glad to be working with them. (Oh, and they also do a great job selling books! The first Princess book is doing incredibly well. Hurrah!) Here are Alyx and Catherine, looking markedly erudite.




Ha ha, no, really...




And here's lovely publisher Alison Green! I thought I'd only get about thirty minutes to interview her, but we nattered on for two hours, so I think this could be an amazing article. She gave me LOADS of fabulous anecdotes and insights into having her own imprint and working with creators such as Axel Scheffler, Julia Donaldson, Viviane Schwarz, Nick Sharratt and loads more. Thanks, Alison!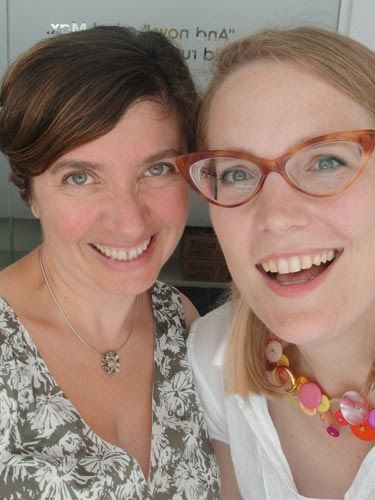 And one more of the team, just because they're fab. That's Publishing Director Lisa Edwards on the far right. This time, I didn't catch head publicist Alex Richardson, who was away, but she's done loads as well. Thanks for all your hard work, ladies!