Last Tuesday I went with comics creator Darryl Cunningham to the Klimb Children's Book Illustration Auction near Paddington station and drew for four straight hours, 'til I could draw no more!




The idea was that I'd draw anything people wanted me to draw, for a flat fee. I think we were supposed to share out the drawing a bit more, but I had a long list of orders and people wanted to go with the person they'd already seen drawing, so I guess I sort of hogged the easel. Eek. Nikalas Catlow did relieve me for a bit. I got lots of commissions for birthday gifts - mostly office parties and for children's bedroom walls. This one's for a kid who likes dogs and trains.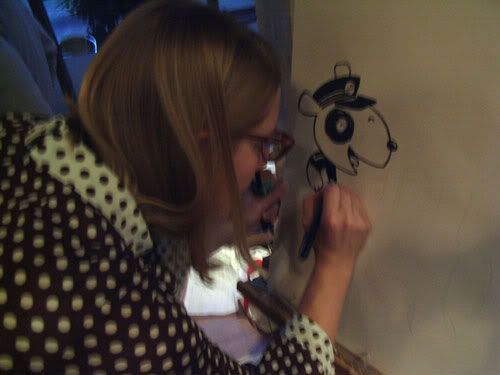 A lovely lady modelled the artwork a bunch of us had donated for the auction. I was drawing while mine went under the hammer and missed how much it went for, but someone told me they thought it was between £200 and £300, so that was fine by me.




This one was commissioned by someone who told me to draw 'a publisher in a Hawaiian shirt' as a present for a male publisher, without giving me any visual references. 'I just want to see what you'd think a publisher might look like', she said.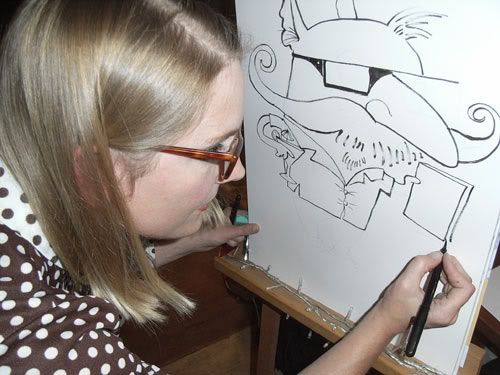 Can't go wrong with aliens and cakes...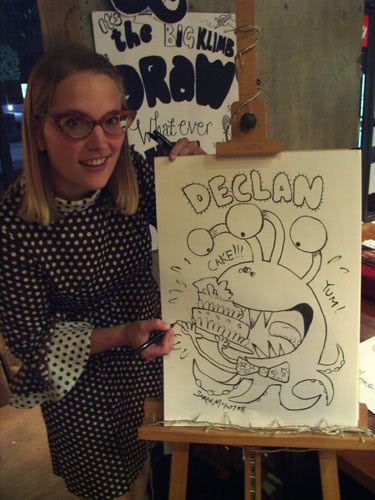 This guy had me draw a fashion designer friend (photo reference on his iPhone) riding a unicorn while carrying a miniature Doberman, but unfortunately you can't quite see it in the photo, so you'll have to imagine it.




Thanks to Darryl for the photos, and to illustrator Garry Parsons and friends for all the hard work they put into organising the event!

Edit: You can see more photos and read about the evening over on Natasha Worswick's blog here.