Happy 50th birthday, Philip Ardagh! Last night I went along to a joint birthday party and book launch for the magnificently hirsute Philip and one of my very favourite illustrators, David Roberts. Philip's one of those people who loom largely on the children's book scene (he's 6'7") and I always used to see him next to me in festival brochures, but we never actually overlapped until this year's Hay Festival, when we could compare heights. (And yes, it turned out that he's a wee bit taller.) And here's David and Philip with their fab new book, also larger than life, The Eddie Dickens Trilogy (three books in one, actually).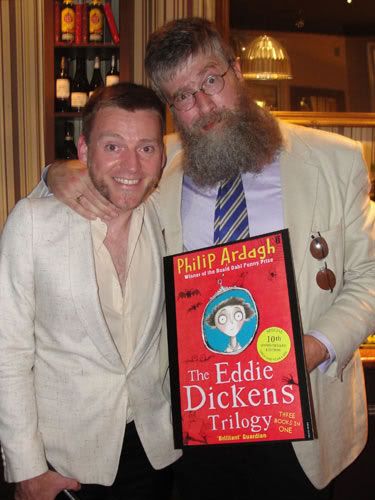 I wore a new hat with an enormous silly swoosh of brown feathers coming out the back, which I thought complemented Philip's big beard, a sort of beard on the reverse side of my head. First Philip introduced me as his sister, but somehow we ended up getting married and here we are, cutting the wedding cake. We think the cake was supposed to be eaten earlier in the evening, but it somehow got overlooked until almost everyone had left. (More for us! Ha ha...)




David was our lovely bridesmaid.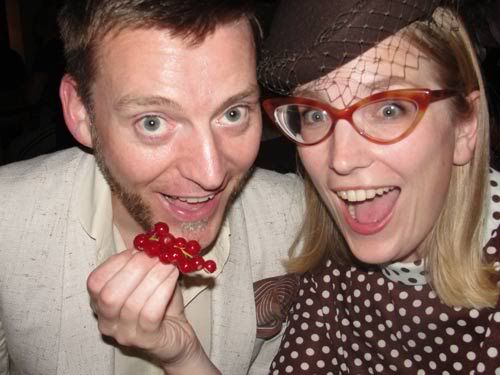 Philip and I have been working on a TOP SECRET PROJECT (shh...!) with the Discover Centre for the Cultural Olympiad, and it was great to see two of the Discover gang at the party, who helped me, Neal Layton and Ed Vere build Monsterville: Sally Goldsworthy and Kate Wolstenholme (the two lovely ladies in the middle). They're @Discover_Story on Twitter. On the left is Louise Ellis-Barrett, head editor of Armadillo Magazine (I had fun with an interview she did with me earlier this year) and on the right, writer and children's bookseller for Waterstone's Piccadilly, Nicole Burstein (@NicoleBurstein on Twitter).




And not to slight another fine magazine about children's books, here's David Blanch, co-editor with his wife Jenny of Carousel Magazine, here with Louise... and, oh wait, who's that just behind them?




I also got to meet writer Anthony McGowan and his wife Rebecca, standing in front of some oddly empty picture frames. (I was so tempted to break out pens with David Roberts and draw in them.) Anthony writes loads of books including Henry Tumour and The Donut Diaries. (He's @AnthonyMcGowan on Twitter.)




And here we are with two writer who've worked with Faber & Faber: on the left, Grace Dugdale, Sam Mills is sitting next to her, and that's Digital Culture Editor for The Telegraph Martin Chilton in the middle.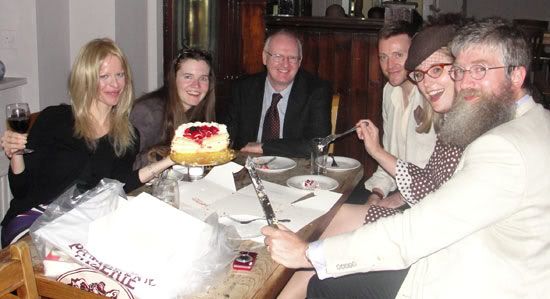 And one last shot with the merry wedding entourage... thanks for a lovely evening, guys! I'm now a very happy bigamist.