Yummy Pancakes! Before Gillian Rogerson caught the train back up to Leeds after our fabulous You Can't Scare a Princess! launch (pics here), I met her for a celebratory breakfast. It also just happened to be her birthday, a great reason to keep the party going! Our friend Philip Reeve (who'd taken part in the Pirate Draw-Off) was catching his train back to Dartmoor that day, and he came along for pancakes and took this photo of the two of us: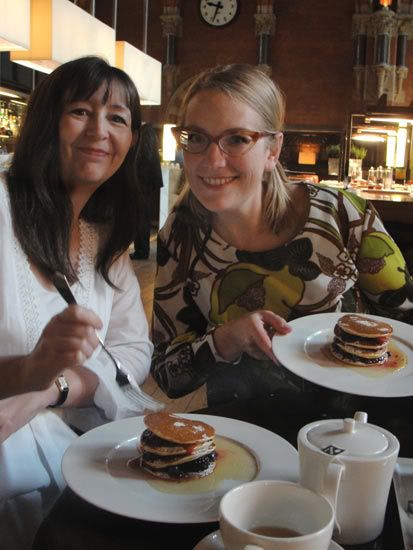 I'd been curious for awhile about the renovated hotel space inside the hugely ornate St Pancras rail station, so this was a perfect excuse to run around and look at things. We had breakfast in whats called The Booking Office. (You might recognise the building's exterior as King's Cross in the Harry Potter films.)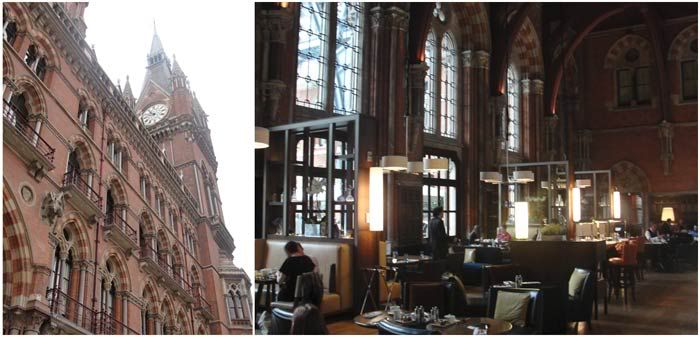 Gillian and I don't get to do a lot of events together, but you can catch us together for a whole two days up in Leeds on 19 & 20 November at Thought Bubble comics festival. We'll be running a jolly pirate themed family fun table, where you can design pirates, create amazing treasure maps and more (and buy our books and get us to sign them, if you like!). I'll also be doing a short talk at the Leeds Graphic Novel Award ceremony, where Vern and Lettuce has been shortlisted for the award, on Fri, 18 Nov, 1:30pm at Leeds Central Library. And I'll be speaking on a panel about the Nelson anthology a bunch of top British creators and I are launching with Blank Slate, from 11-11:45 on the Saturday at Thought Bubble.

Thought Bubble is one of the biggest events of the comics year, and great for everyone who loves storytelling generally; do come along if you can!





I'm also appearing this weekend up in Scotland at the Wigtown Book Festival this Saturday (Pirates! At 2:30pm!), talking afterward at the local library about comics making, then doing a day of school events on the Monday with Shoo Rayner.




After the party, I was able to have a closer look at the picture Alex Milway drew for me, featuring Gillian and my Captain Waffle and Alex's fearsome Mousebeard from The Mousehunter books. Alex is a good friend of our Fleece Station studio and I was definitely thinking of him when Captain Waffle in You Can't Scare a Princess! just happened to have a mouse permanently tucked into his beard or hat. Thanks, Alex!





A few more shots of St Pancras... look, there be dragons!




Then breakfast was over and it was time for Gillian to catch her train and I was very sad to see her go. See you soon at Thought Bubble, Gillian!