Usually going to Cheltenham is a stately affair, where one gets set up in one's hotel room, has a little wander around town, does one's event or two, then has a long dinner, maybe drinks, before retiring to bed. Nope, nope, not this year; it was ALL ENGINES GO from early this morning morning til I just crashed back through the door at home about an hour ago. But I was rather curious to see my photos, so here I am at the computer already.

Ha ha... I told Axel Scheffler that every time I get a photo with him, he looks freaked out. So this time we make a special effort.




I did a lot of commiserating with Axel's Gruffalo, or the lovely lady who got kicked and mauled while she steamed away inside the costume. (Because after all, the Gruffalo is a monster, so if you're a kid, you have to fight it, right?)

Here I'm having a hard-core political discussion with a darling chappie named Alistair... (I had to grab this shot because I knew Stuart wouldn't be much impressed by all these book people, but this one might make him do a double-take. And it worked! Now he wishes he'd come along.)




I got a bit shy about getting a photo of Julia Donaldson; she'd already signed books for two hours so I didn't want to hassle her. But no one told me how many hours Lauren Child had been signing (probably just as many), so I took the liberty of snapping this trio (reviewer and Guardian columnist Julia Eccleshare, Lauren, and publicist Philippa Perry).




It's kind of hard to tell what's going on in this event photo and it looks like total mayhem, but really, people are making stuff, it's all good. The event sold out and we made lots of noise and drew adventure board games and everyone seemed to go away happy, so hurrah. I noticed quite a few kids drawing shark attacks on their railway game journeys... maybe sharks are an imminent threat when you live around Cheltenham.





Here's fab illustrator Mei Matsuoka, whom I interviewed on this blog a couple years ago, when she was still traveling in from Tokyo to meet with her London-based editor. You might know her for her books The Great Dog Bottom Swap and Great Sheep Shenanigans (the latter which qualifies her for honourary Fleece Station membership).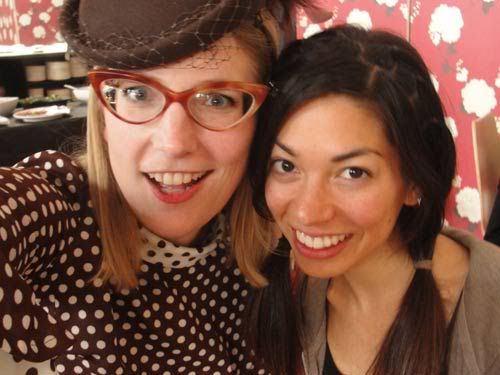 The great thing about these festivals is getting to meet new people, and this time it was Louie Stowell, who wrote The Usborne Write Your Own Story Book. She knows loads about comics and grew up reading stuff like 2000 AD, and I'm hoping she'll start coming along to London's Comica Social Club at the Royal Festival Hall. (Another woman in comics, hurrah! The next two meetings are 26 Oct and 30 Nov.)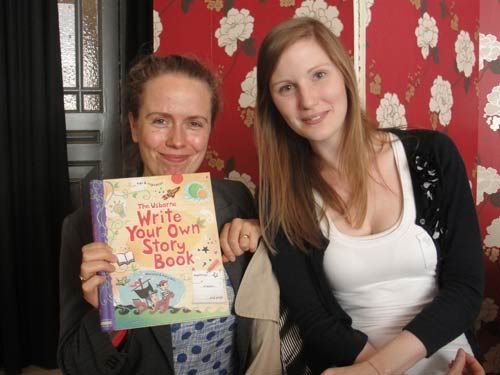 Louie Stowell and Usborne publicist Amy Dobson

I spoke briefly with political cartoonist Steve Bell, but again, felt shy about snapping a photo because he was hiding rather comfortably in a corner. And I was sad to miss his talk, but luckily Louie went and, on the train ride back, showed me her illustrated notes. That bearded guy really does look like Steve.
Edit: Ah! Louie has just posted her summary of the event on her blog, go have a look!




Here's a book I've been meaning to read for months, Out of Shadows, set in 1980s Zimbabwe, and now that I've met the lovely chap who wrote it – Jason Wallace – I will, for sure.




Here's the fab Jane Churchill, who organises the children's part of the festival. Thanks for inviting me, Jane!




And here's my Scholastic pubilcist extraordinaire, Catherine Alport, together with my very helpful event manager, Kate. Thanks for all the support, ladies!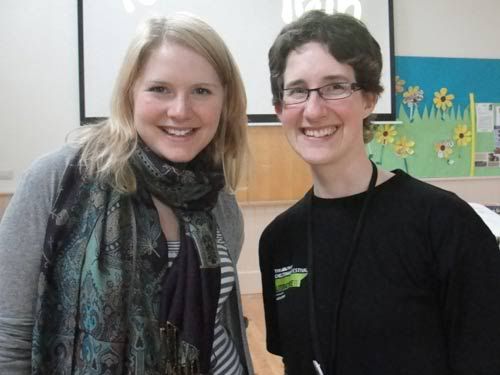 Catherine helped me with the best bit, sampling treats in the Writers Room. They had brownies... and profiteroles! Hurrah! I'm going to have to buy all new dresses if I keep this up. Back to gruel tomorrow, but what a day.