Hurrah! This year's Comiket, part of Comica Festival, was a brilliant success. Three cheers to Paul Gravett, Peter Stanbury, events co-ordinator Megan Donnolley and all the other people who worked so hard to make it happen! Here are fab comic artists Luke Pearson and Sally Kindberg in the Green Room.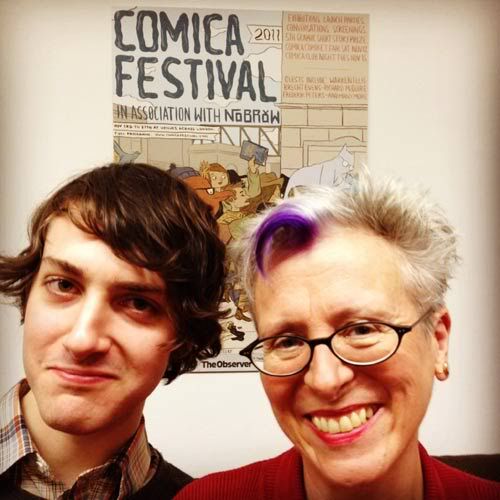 And gosh, it's awfully nerve-wracking drawing a brand-new comic in front of a whole room full of people! I sort of had a think about what I was going to draw on the tube, on the way in, but I was surprised to find out just HOW BIG the screen was! I'd never drawn a comic about Captain Waffle before, he's from my picture book, You Can't Scare a Princess!, but I thought it would be funny to have him storm a comics fair and get arrested for buying pirated copies of Tintin.




I wish I'd taken a photo of the page at the end, but I was too flustered to remember. I mostly based myself out of the DFC Library table, and Matilda Johnson, the office manager at David Fickling Books, kindly let me sell my mini comic Please Be Moral Do Not Spit alongside Vern and Lettuce. I noticed James Turner's Super Animal Adventure Squad was selling very well, which was great to see. It's SUCH a funny book. Here's writer and illustrator El Ashfield with her copy of my mini comic.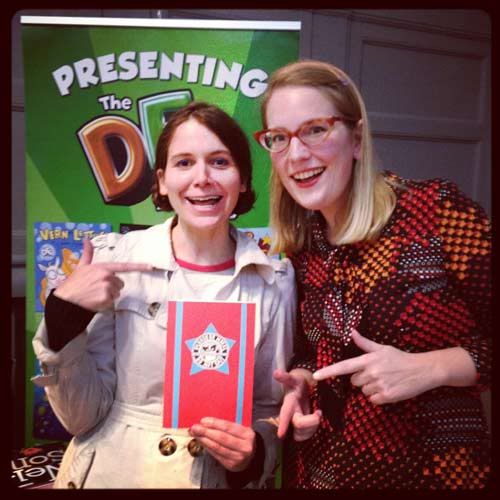 It was great getting one of my comics heroes, Posy Simmonds, to sign my copy of our Nelson anthology. Nelson looks fabulous! Such a great coming-together of so many top British comic artists, it has to be seen to be believed.




Here's the stuff I hauled out of my handbag at the end of the day. They include four diffferent issues of We Are Words + Pictures, The Accidental Salad by Joe Decie. (Hey, did you know Joe recently proposed to his partner through this comic? And she said yes, whew!). Then there's A Taste of Chlorine by Bastien Vivès, Nelson, My Cardboard Life by Philippa Rice, the Solipsistic Pop anthology, The Green Bean by Katie Green, Candy Bag by Sally Jane Thompson, People I Know by Timothy Winchester and End of the Line by Woodrow Phoenix.




Here's Lovely TEAM DFC LIBRARY! It really is the most cracking set of family-friendly-but-for-everyone comic books you'll ever find.




Here's Mo-Bot High creator Neill Cameron doing his turn at the signing table:




Here's Woodrow's fab studio mate, JAKe, who also bravely stepped up to the drawing challenge (and took the earlier photo of me).




Tom Humberstone and the lovely Solipsistic Pop (which I creatively mispronounce each time I say it; it would feel wrong to say it correctly).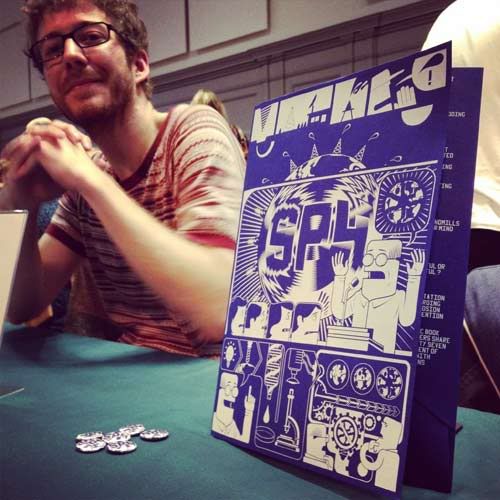 Excellent children's book writer and illustrator Lerryn Korda:




Rian Hughes signing a copy of Nelson for Jonathan South. (Rian drew the pages set in 1990.)




Here's a wider view of the hall. The Bishopsgate Institute was such a lovely new venue for the festival, and very central.




Philippa Rice with her amazing knitted creature: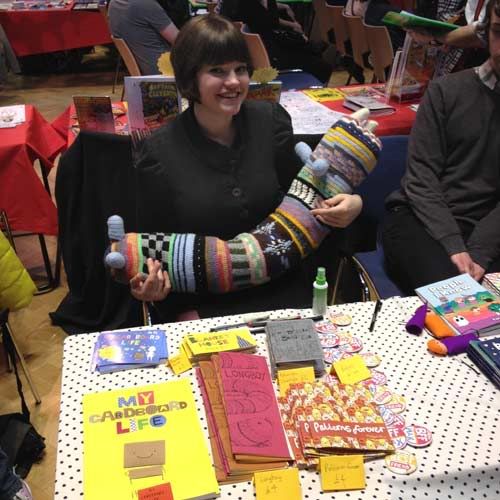 Karrie Fransman doing live drawing:




Katie Green with her wonderful creations:




Fab friends Woodrow Phoenix and Bridget Hannigan:




Some young kid walked up to the We Are Words + Pictures table and drew this great portrait of Anne Holiday and Matt Sheret. Cool!




Anne and Matt with their fab portrait:




Rachel House and Jo David:




Joe Decie made this lovely drawing for me in my copy of The Accidental Salad but he was eating a very large throat lozenge which made him pull dour faces.
Edit: Oh no, Joe corrected me on Twitter: Ha! (actually it was a cherry chocolate liqueur from @itsthatlady) Plus I was trying to look angry, it's my new look.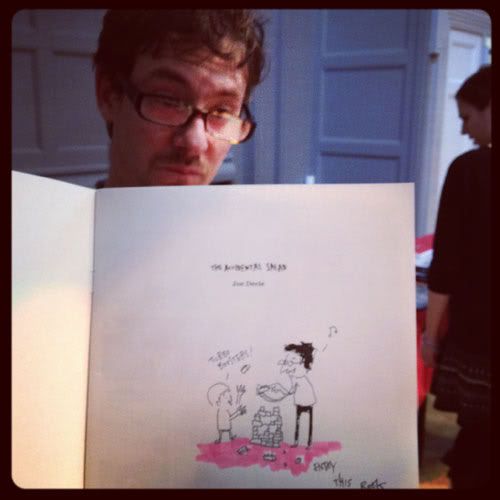 Sally Kindberg on the Drawing Parade! I wish I'd caught a picture of Hannah Berry drawing, but I was chatting away and missed it. Lots of amazing drawing happened up front, a lot of people just sat in the chairs in the middle and watched, I might do that more next time. I think the next one will be in April, but keep an eye on the Comica Festival website.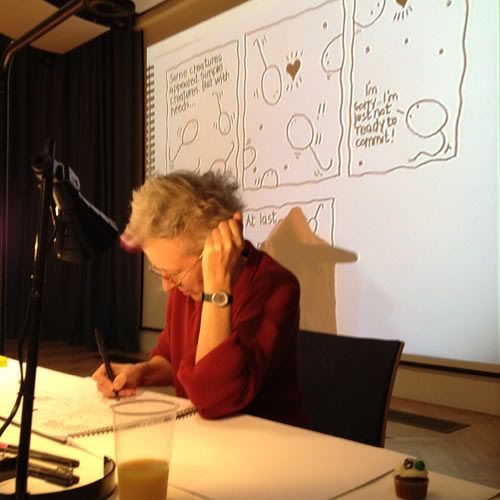 Here's Megan Donnolley, on the left (with Francesca Cassavetti and Corinne Pearlman), who put so much work into the festival. Well done, girlfriend! You look very efficient with that walkie-talkie.