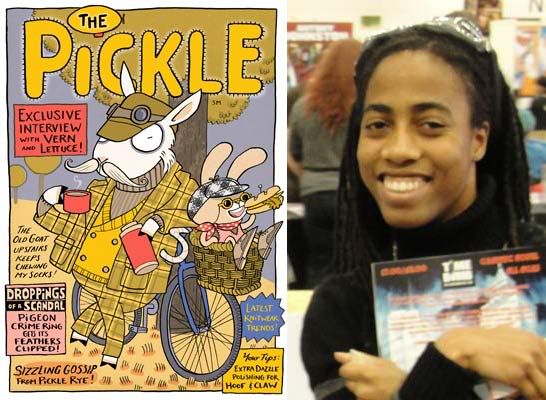 Exciting! Look, a brand-new Vern and Lettuce strip by comics artist Tammy Taylor!!! Tammy has designed two pages for Vern and Lettuce's online comic, The Pickle, which will soon be joining the other pages already online. (Have a peek at them here!)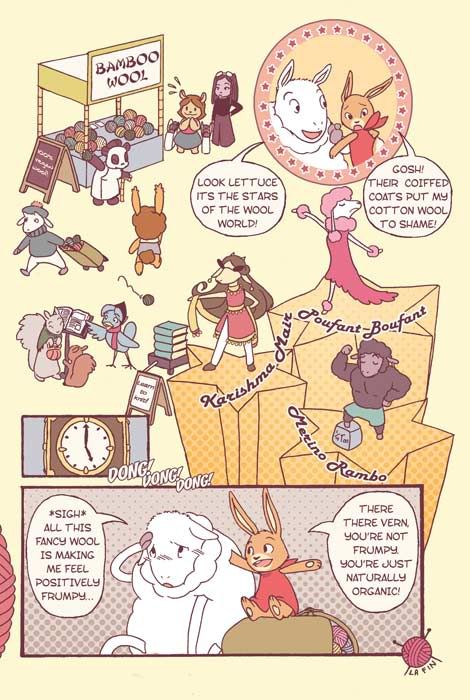 Aw... so much woolly goodness! Kids and adults, editor Serge the Ferret is always looking for your contributions to The Pickle, feel free to join in with the fun!

I think I first met Tammy at MCM Expo, where she was running her table, chok-a-block with attractive comics, and looking fabulous in steampunk goggles on top of her head. Here's one of her sketches and some artwork from her website: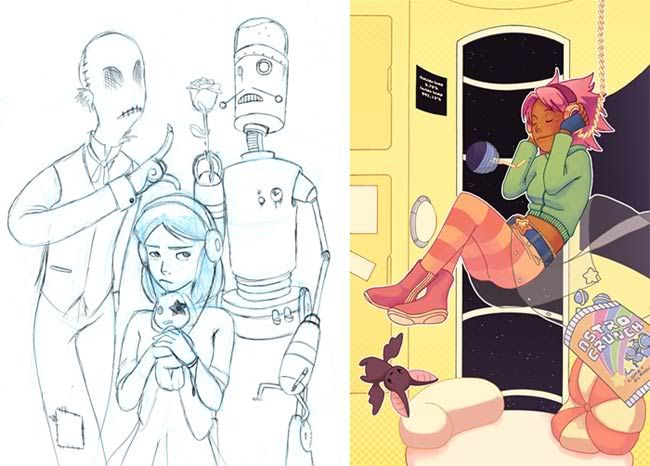 I was so chuffed by Tammy's contribution to The Pickle that I asked her if she wouldn't mind telling you a bit more about herself and giving us some reading tips.

So Tammy, how did you get into comics?

Ever since I was a wee nipper I had always read books and comics. When my mum started giving me pocket money, I religiously made a pilgrimage every Thursday to the local newsagents to by the Disney Weekly, featuring Mickey Mouse and chums! As I grew older I moved on to Sonic the Comic and eventually manga. I've been drawing ever since I learned how to use a pencil and was constantly sketching in my note books but it wasn't until the I finished my university studies and had done some translation work for a French illustrator that I plucked up the courage to draw my first ever comic and sell it at the MCM Expo. The reception and encouragement from everyone was amazing so I continued producing small press comics.

What's the project of yours that you're most excited about?

I'm scribbling away on a short comic named 18 this summer!, which tells the story of some friends during their last year of school as well as a couple of other small but very secret projects!

Would you mind recommending three of your favourite family-friendly comics to my blog readers?

Blade for Barter by Jason DeAngelis & Hai (Click on the box that says "Free manga preview")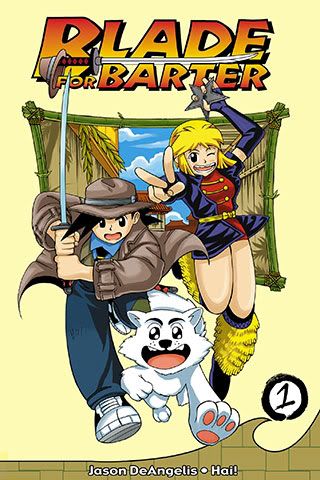 Q: What would happen if the samurai were still around in 1950's Japan?
A: They'd have joined a union, and gone on strike due to lack of employment!

Meet Ryusuke, an unemployed samurai looking for work in the city New Edo, a vast patchwork of mighty sky scrapers a ramshackle wooden houses. He could be more successful if he were to sign away his soul to the samurai union, but he decides that it would be far more rewarding to take up unusual jobs like perusing a band of eat-and-runners with his trusty dog Hachiko and a feisty ninja girl named Mac who takes great pride in arming herself to the teeth with gardening plethora.




This comic was supposed to be a three volume series, unfortunately it never sold enough copies so they only ever made one book. It was a real shame as the story itself had so much potential and was packed full of visual gags and Easter eggs that made rereading it so rewarding.

Cucumber Quest by Gigi DG





Reading Gigi's comic is like taking a walk down sunny memory lane where I'm greeted with the pleasant memories of 1980's Saturday morning kids' cartoons and chocolate-flavoured breakfast cereal. Meet Cucumber, a young boy about to enroll into magic school, only to be informed by his smug-faced father that that he has to save the land of Dreamside from the Evil Cordelia. There is one problem however, the sensible young Cucumber doesn't possess a single heroic bone is his body, but never fear, his little sister Almond is itching to go on a big adventure, catch bad guys, find treasure and other cool stuff! Prepare yourself for a culinary-themed world with useless villains and lots of giggly silliness!


Lackadaisy Cats
by Tracy J Butler


Okay this one is suitable for slightly older children (ages 12 and upward). It tells the anthropomorphic tale of an underground drinking establishment during the 1914 prohibition of alcohol in St Louis. The clandestine watering hole, Lackadaisy, is kept hobbling along through the loyal efforts of an eclectic team of moonshiners, the devastatingly beautiful Mitzi, the reckless Rocky and his naïve cousin Freckle, a rather perky Ivy and an incredibly surly Victor. There's action, there's suspense and there's lots of laughs (though they're mainly caused by Rocky...)

One of the first things that will strike you is the slick sepia art work as Tracy spares no effort to capture the look and feel of America's Jazz age. Since the debut of her comic in 2008 her sumptuous art work and storytelling abilities gone from strength to strength and will leave keen readers salivating for more.


Those look and sound brilliant! Thanks so much for your work for The Pickle and for your comic insights, Tammy!