Come help Philip Reeve and me do live interactive drawing tomorrow (Thursday) from 5-6pm at Foyles bookshop on Charing Cross Road! Bring along your suggestions and we'll give them out own spin! (And it's also a great time to stock up on books for Christmas! Get Philip to sign copies of his amazing books including Mortal Engines, Fever Crumb, Larklight, Here Lies Arthur and No Such Thing as Dragons. (This has been my year of getting totally absorbed in his books, they are truly fabulous.) And if you like, I'll sign whichever of my books Foyles has in stock! I'm pretty sure they'll have my Princess book, possibly more.

Then, of course, you have the Blackwells Steampunk Evening (now with Chris Riddell & Paul Stewart!, as well as Philip Reeve, China Miéville, my studio mates and other fab folk) and the launch party for The Boss by John Aggs & Patrice Aggs, in the Rag Factory just off Brick Lane.

And while I'm here, a bit more blogging about yesterday... I took the train down to Brighton, dressed in a slightly mad-cat-woman-ish way in these lovely new gloves.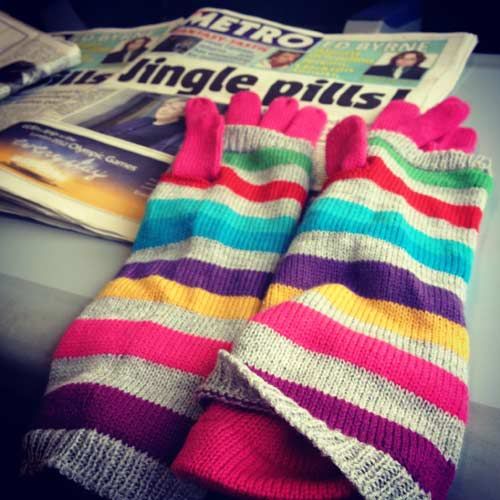 And very first thing, I met up with lovely illustrator friend Jo Moore! She's currently working on a new website, so I will link to her soon, but in the meantime, she showed me her fab new sketchbook work and we had yummy hot drinks and buns at coffee@33, just near the station. Here are a couple drawings she did while visiting the Grayson Perry show at the British Museum, which I absolutely must go see very soon.




A couple more pics of lovely, quirky Brighton-on-sea! (Although if you read Philip's Mortal Engines series, you will get a very different view of Brighton-on-wheels.)