So I'm a journalist!




No, not really, but I did write an interview article about fab publisher Alison Green for Ireland's Inis children's book magazine. It's a cracking issue, No. 36, with Neil Gaiman's reflections on Diana Wynne Jones, an article featuring Emily Gravett's work, another showcasing one of my favourite picture books of the year, Jon Klassen's I Want My Hat Back, insight into the Bologna Book Fair's illustration award, Oliver Jeffers' work, the beautiful Indian work showcased by Tara Books, and loads more good stuff. If you love children's books, go over and either subscribe here by joining Children's Books Ireland or buy individual copies. (You can see some of the shenanigans I've got up to with CBI on trips to Ireland here.)

You can read below the extended version of the article (we had a good long chinwag!), but buy the hard copy for the shorter, snappier version.




I never would have guessed that publisher Alison Green started her career doing blind taste tests of canned meat. Or that she bases her enormous respect for sales reps on her experience of crawling on hands and knees around the filthy back rooms of newsagent shops in quests for Branston pickle. No, all I'd ever known about Alison Green is that she turns out high-quality picture books from some of Britain's best creators, including Julia Donaldson and Axel Scheffler. So when I was asked to interview Alison, I quickly got in touch with two of the creators she's worked with, to pick their brains about this woman at Scholastic UK (my publisher!) who has her own imprint.

Nick Sharratt effused about working with her: "She gives you the freedom to go for bonkers, off-beat book ideas, but she demands the absolute best from you and is complete stickler for detail and getting things just right - which is of course what one wants in a publisher. I relish going into her office, eating all her biscuits and not leaving until we've cracked some knotty story structure problem or got the text absolutely spot-on."

Viviane Schwarz wrote: "One of her principles was that you could make stories as weird as you like if you draw it in a style that doesn't frighten the horses', that is, that doesn't look weird but pleasant and sweet. Viv left me an enigmatic tip: Ask her about the time I needed to draw a kitten, she will still remember."

I knew Alison must be very busy and assumed I'd only get 30 minutes, at most, for the interview. But I forgot to look at my watch as soon as I set foot in her office and, over the next two hours, it dawned on me that not only does Alison publish stories, she's a natural storyteller, and I was mesmerised.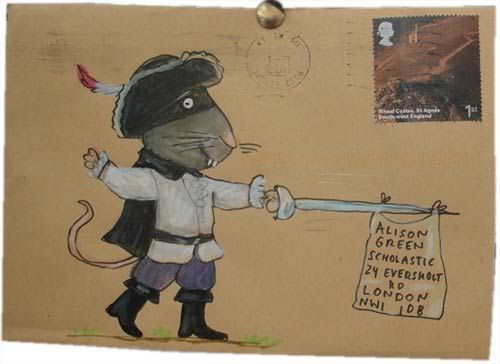 We started with her early history and her dad, who's 79 and still designing packaging for the food industry. Alison can trace her awareness of typography and design issues to seeing her dad at work. She thought she'd be good at marketing and, at a university recruitment fair, signed on with Nestlé, selling soup and canned meat. "You'd get a phone call every now and then from the Home Economics department… They'd ring up and say, 'We need someone to test the new production… and you'd have to check, in a blind testing, that the new production and the old production tasted exactly the same. So at nine o'clock on a Monday morning, I'd be faced with a plate of beans and sausages, or a little plate of chopped up canned meat… ugh!" Alison also recalled being sent out for six weeks' sales training, selling Branston pickle, among other delights, a few jars at a time to small shop owners, including a day in which all eleven customers were named Mr Patel. "They're trying to serve customers, and because there's often only one person in the shop, they'll send you off to check what they've got in their storeroom. So there you are, in your little smart 1980s suit … crawling around in the FILTHY upstairs room, trying to work out if they do actually already have a case of mayonnaise or something, counting what they've got. It does leave you with a respect for sales reps.




"So I decided to try publishing instead. A friend of mine was working in children's books, and she seemed to be enjoying it so I thought, that would be more my kind of thing. So I taught myself how to type, and when I could do 30 words a minute, I handed in my notice and signed up with a temp agency."

Looking for publishing work, Alison got lucky and went to work as assistant to Denise Johnstone-Burt at Simon & Schuster. On her first day, they gave her a cardboard box full of unsolicited manuscripts to read. "And I'm thinking, I shall be The One to discover The Gem. It took about ten minutes of reading to think, I shall not be The One…" Alison describes what she refuses in public to call the slush pile as "quite poor, generally. Mostly it's people saying, 'I've written this story about vampires that is suitable for children aged three to 27', and you think, come on, do your research."

One of Alison's first jobs was working on Budgie the Little Helicopter, books by Fergie, the Duchess of York. One job was sending faxes to the palace. "I had to begin them, Your Royal Highness, Ma'am, and end them, I remain, Madam, Your Royal Highness' most humble and obedient servant. … For Fergie! I only spoke to her once, when she rang me out of the blue, barking, 'Hello, Alison. Duchess here!' That was seriously alarming!"

After Simon & Schuster, Alison worked at Methuen (now Egmont) with then Publisher Rona Selby, where she met Dick Bruna, creator of the iconic Miffy books.




She recalled doing several school events with him, where he refused to draw. "He said, 'No no, the drawing is incredibly precise and very slow'. He talked about how he simplified and simplified and simplified his drawings, showing the early drawings of Miffy, where, if he wanted to show her crying, he'd initially draw lots of tears. And then gradually, he simplified it until he did just one big tear – 'And that's very sad!' he said. He was a very gentle, very lovely man… very precise! He reminds me a lot of working with Nick Sharratt, in that the simplicity and precision are really crucial. They both make what they do look deceptively straightforward. But actually, if you don't get it quite right, there's nowhere to hide in their images."




Nick Sharratt always has a very clear vision about his books from the start, Alison said, using their book Elephant Wellyphant as an example. "I opened the post and there was this little black-and-white mock-up book that is, to all intents and purposes, Elephant Wellyphant. The ordering was different, some of the elephants were different, it was just black and white, but it was already a work of genius. I ran all around the office saying, 'Look at this! Read this!' I actually found it kind of a shock when it went into colour because it was already a perfect thing in black and white."

Elephant Wellyphant relies on novelty elements to make its concept work, and Alison talked about some of the challenges novelty books present to her and Zoe Tucker, the Art Director who designs all her books. "Invariably, these books are not quite as simple as they look in terms of putting them together. There was a lot of discussion about which things we should animate…" Alison pulled the tab to make Rude Smellyphant emit a green cloud – Parp! – from its backside. We both laughed. "This is the one that children absolutely adore, and is a great example of how good paper engineering can really enhance a book."




I asked her if she ever has arguments with the production department. "Oh, endlessly! But usually good-natured! Generally speaking, Production think that we want the moon on a stick." Alison reached for a copy of the soon-to-be-published Danger Island: A Perilous Pop-up World. She opened its covers and an enormous jungle with layers of complex tree canopy pop at least a foot up into the air. Alison grinned at me over the treeline and posed the question: "Of all the bits that are in here, what would you say was the most complicated thing to source?"

I look about at its gazillion bits and pieces. "Oh, I couldn't say, it could be something as stupid as the beads…"




"Even more stupid… the rubber band. The rubber band! The rubber band is for this little catapult thing." Alison pulled little cardboard pieces out from a box and began to assemble the catapult. "The rubber band had to be of a particular tensile nature and we just couldn't get it to work. It couldn't be too weedy; it couldn't be too thick. We had endless returns of the rubber band and then the suppliers quoted us some lunatic price. It was something like – it's not going to sound a lot -– 5p each." The interview paused for awhile as she flicked little orange beads around the office and I dodged to pull them out from under chairs.

Of course, everyone wants to know what it's like to work with current Children's Laureate Julia Donaldson and Axel Scheffler. "With Julia, it's mostly by phone and e-mail because she's up in Glasgow. She does come to London occasionally, and then we can have a little brainstorm and talk about how things are going, or I'll catch up with her at the end of a festival." About editing her stories: "With certain of her texts, I think, why on earth am I calling myself her editor? The Gruffalo came in completely word perfect and, I would say, at least half of the books I've worked on with her have been the same… I haven't changed a thing.




Occasionally I've had to suggest things, for instance when the first draft of Room on the Broom came in, it didn't have the dragon in it. The witch's broom snapped in two and all the characters tumbled down. Then it cut straight to the bit where they are putting bits and pieces into the cauldron to make the new broom. I said, 'It needs something at that point, it just needs a climactic moment. Don't know what.' With some authors, I might suggest something, but I prefer to let them have a go first, because if you suggest something, then it's really hard for them to think away from that; you've planted that idea there and they might not come up with something better. So I just left Julia to it …and the next draft came back with this whole brilliant sequence with the dragon and the animals coming out of the mud as a scary, four-headed monster, and it was completely perfect!"




"With Axel, he'll come into the office with two or three different versions, maybe, of a central character, but he gets the characterisation so fast. …Some people will draw you a cat, and it's a lovely cat, but it's just a cat. He will draw you a cat and straight away it's a character with a personality." I ask Alison if Axel needs to do much reworking. "Not much, usually. Some pages will go through two or three versions, but it's quite an organic process of discussing things back and forth, so there will usually be a couple of sets of roughs before he gets going on artwork. And there are the occasional things where he's a bit naughty…" Alison looks at once cheeky and slightly abashed. "Oh, I don't know if I can even say… shocking! We might not be allowed to put this in…"
"He doesn't put willies on things, does he?" I ask, laughing.
"No, but I'm sure he would…" She lowers her voice. "We were working on Tabby McTat, which came out a couple of years ago, and we were discussing this bit where the cat goes searching for his owner, Fred the busker.




"The text says Tabby McTat is wandering 'up and down and all over town'. Axel was saying, 'Where do you think he'd go?' And I said, 'Well, perhaps it could be down by the river?' I thought that would make a pretty scene. But Axel felt that this book was all about gritty urban realism, because there's a wicked thief and a busker in it. So his pretty little river scene also has an upended shopping trolley, graffiti, some homeless people under the bridge, litter, a duck that's trying to swim past an abandoned beer bottle. And then, the final touch … an abandoned syringe!"

"Oh," I said.

"I had to insist that we Photoshop it out. It was tiny! But I did have to say to him, 'Axel, I'm sorry, I can't have the syringe in the picture.' You can imagine a three-year-old saying, 'Mummy, what's that?' and we'd have had letters from outraged parents. Though Axel now claims that the syringe wasn't sinister at all, as it had been discarded by a diabetic!"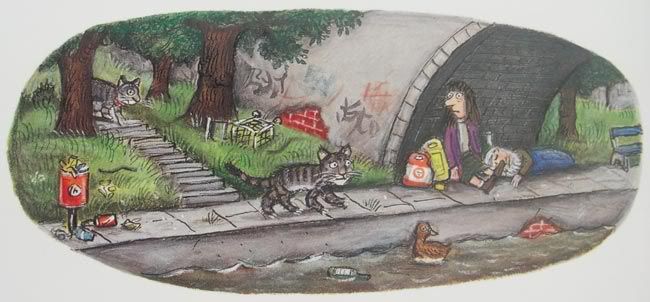 Alison showed me the proofs for Julia and Axel's next book, The Highway Rat, which comes out in September. "It's such a funny book. The Highway Rat goes around mugging all the other animals for their food – even the ants. He steals their nice green leaf. Then he finally gets his comeuppance from a cunning duck. But you see, Axel sneaks cheeky things in! Look at this fabulous picture of the animals' party. They've have managed to get all the food back that the Highway Rat has stolen from them. But then look at what this frog's eating: it's one of the cute little bugs!" Alison smiled widely at the thought of some little kid suddenly realising one of the minor characters is quietly being eaten.




I asked about deadlines, and what it was like dealing with creators who must be so busy all the time. "Julia never runs behind. We sort of set the deadlines between us. She's very realistic. It's mainly about communication. …Axel will always try to accommodate us, but he is frantically busy. His artwork often arrives at the eleventh hour, but when it does come in, it's fabulous."

As we talked, I had a peek at the bulletin board above Alison's desk, where she had several drawings and decorated envelopes tacked up, including a photo Axel had doctored of Gordon Brown. "That was following an article in a newspaper – I think it was The Scotsman – that described Gordon Brown as 'the Gruffalo of British politics'.




I picked up a copy of Dogs Go Shopping by Sharon Rentta and commented that I liked all the dialogue comments, little asides from the main text. I asked Alison who had come up with that layout technique.

"Sharon does that quite naturally in her sketchbooks. With Sharon, I wouldn't say that writing is her first love. But what she does do is think of stories in a completely visual way. And she's an incredible draughtsman." She showed me a scene from Sharon's latest book, A Day with the Animal Doctors.




"She gets in so much humour and so much movement. What she's really interested in is characters. The thing that we've had to work out together is how to help Sharon develop backgrounds in her work. A lot of artists find interiors really difficult. They get very constrained by the feeling that a room has to have straight lines. It makes the illustration suddenly very rigid and can make it visually quite dull. What Sharon loves to do are these drawings with minimal backgrounds, so we managed to get her to suggest internal space but with a minimum of actual wall and skirting board and coving… so you know you're inside, but you've still got that sense of flow and energy to it."

"It gives you lots of room for text as well," I add.

"Exactly, and children can find their way around the page. This book is all about discovering the details. So you can go and explore and find the slug in bed being given a shower, and the little cleaning mice who are endlessly being put upon. For someone who appears to have quite a traditional look to her artwork, Sharon will do quite radical visual things like let the giraffe's head go off the page."




"They're all slightly different, the ways we work with all these different people. One of the things we've specialized in, almost by accident, is working with illustrators to help them develop their own stories. It's worked really well with Helen Stephens, for instance," said Alison, pulling out a copy of Fleabag.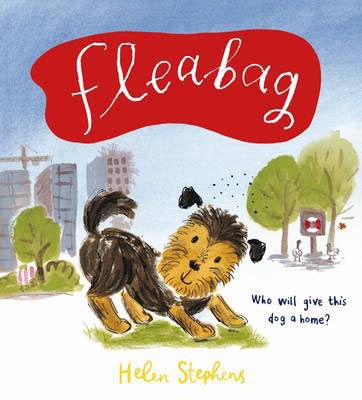 "Helen came to us with what has now become the title page image for this book: a scruffy little dog, some lovely curly lettering and the name 'Fleabag'. She didn't really know what the story was, but it was quite obvious it was going to be about a dog who needs a home. You know that from the name and the little hopeful expression on his face. So we brainstormed a lot, and we had a much more complicated story initially. It was about the growing friendship between a dog and a boy, and first you'd see the story from the point of view of the boy and then from the point of view of the dog, and it would inter-cut between the two. But we were struggling, because it meant that there was just not enough room to tell either story properly. In the end, it finally occurred to us that the book is called Fleabag, so it should be from the dog's point of view, and all of a sudden the whole thing clicked into place."


http://i92.photobucket.com/albums/l27/jabberworks/Events/fleabag.jpg

Alison described a similar experience working with Tracey Corderoy on Never Say No to a Princess!. "Tracey had a barnstorming beginning to the book. So much energy, with this stroppy little princess, saying, 'I want ponies! I want them now!' But then the resolution of the story wasn't quite working. So she came in and we talked through about three or four different ways to do it. …I think she really enjoyed that sort of brainstorming. It's quite lonely, sometimes, being a writer, on your own and expected to come up with solutions."




Alison touched again on this theme of creator isolation while talking about author/illustrator Viviane Schwarz. While they were working on Timothy and the Strong Pajamas, Alison said, "Viv's life was quite chaotic at that point. It wasn't long since she'd graduated, and she was moving house every two months. She was having nightmares with her digital files, trying to get the line black enough, and she had terrible back problems, so we said, 'Why don't you come into the office? We'll set you up with a chair that is comfortable, we've got a spare computer'. And it just meant that she had a calm space where she could come in and sit there all day, and we would make sure she ate something and got tea and biscuits and a bit of company. Because I think, it's a lonely old business at the best of times, and if you're feeling a bit rocky, it's good to be able to come in and feel supported."




Alison described an early meeting with Viviane, where they went through Viviane's sketchbooks. "She has wonderful sketchbooks, as I'm sure you know. She said, 'Oh, there's this title I've got. There's no story yet – just a title. It's called Timothy and the Strong Pajamas.' And I said, 'I have to publish that book'. I mean, what a fantastic title. And she had this funny little character called Timothy Smallbeast, who already looked great. So I said, 'Let's write the story.' We sat there at my computer, saying, 'Well, this could happen, that could happen, why are his pyjamas strong? What is it about them that makes them strong?' And tried to have a really simple reason, so that you don't spend too long explaining why they're strong. We decided that it was simply that his mum had mended them so well, that when he put them on he became a superhero."

"Viv told me to ask you about drawing a kitten." I said.

"Ah yes, it's this kitten here (in Timothy and the Strong Pajamas). Viv couldn't get it right. She kept saying, 'I can't do cats, I just can't do cats.'




I laugh. "Even though she's done two whole books of them?"

"I know. But those aren't 'cat' cats, really. They're not cutesy kitten cats. They've got a completely different feel to them. For this particular book, we needed a really cute kitten. Luckily, I have a thing about kittens. I buy myself a naff calendar every year..." Alison broke off to rummage through her desk and did, indeed, pull out an old calendar featuring soppy, soft-focus photos of kittens. "I really know my cats. I can't draw, but I still managed to draw her that kitten and she traced it off my drawing. In fact, I think I may have modelled it for her, as well – you know, acted it out. We do a lot of modelling. There are times when Zoë and I will actually be down on the floor, acting things out, and sometimes the illustrators will even take photos of us for reference. I know that my arms ended up in The Night Iceberg by Helen Stephens.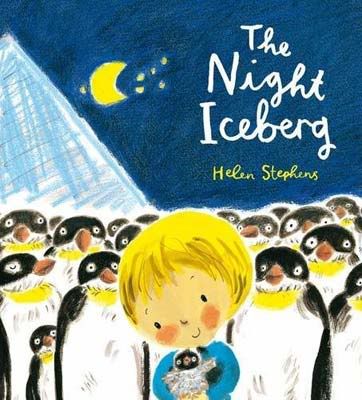 "Helen had to draw a tricky curve of the body as the mother bends over the cot, while turning her body at an angle to tuck the baby in. So I stood there like that while Helen took a photograph of my arms. I thought, surely she'll adapt it a bit. But no, those are my arms! My skinny little arms. Immortalised. Sometimes if you say, 'I think the character needs to have more tension in their body, to show that they're excited, or to show that they're angry', or whatever it is, sometimes it's good to act that. To show what happens when you're angry. You lean forward, you hunch your shoulders."




"So what are the advantages and drawbacks of being your own imprint?" I asked.

"Well, in the good times, it's very obvious. I really like the thing of being able to see my contribution to the company separated out from the rest of Scholastic. There's something very satisfying in that, especially when it's going well. Another plus is that, generally speaking, I don't have to do any projects that I don't want to do. When I worked at Egmont, years ago, we did a lot of TV tie-in books, and I remember having a load of Biker Mice From Mars books foisted on me. Not exactly a career highlight! That sort of thing wouldn't happen to me now. I don't necessarily get to do everything I want to, although it's rare that I'm told I can't. If something does get turned down at the Acquisitions Meeting, it tends to be for costing reasons, which makes sense. And broadly, I do sort of know after all these years what works and what doesn't, so I tend not to be proposing projects where everyone frowns and says, 'Um, no, not this one, Alison!'"

I mention Alison's recent awards – she was Highly Commended in the Imprint and Editor of the Year category at The Bookseller Industry Awards, and for Zog by Julia and Axel, which won Children's Book of the Year at the National Book Awards at the end of last year.




"It's been one heck of a year." Alison groaned at the memory of seeing her photo blown up huge on screen at the Bookseller award ceremony. "I never wear make up, and it just looked terrible. But it was really nice to have the award… children's books don't often get recognized. There's still that feeling that the grown-ups do the proper publishing, so it was nice to win out over a lot of grown-up publishers on that occasion."

"The main drawback to being my own imprint is that it's very visible, what you do. We get daily sales figures in an Excel spreadsheet, and my name is there as a separate line. That's great in the good times, but for the first two years it was grim. It takes two years really to do anything in publishing, because the lead times are so long. Even if you sign up a picture book on your very first day, it's got to go to production a year before publication. So it's a good two-and-a-half to three years before you've really got a list together that actually looks like anything. And you spend all of that two years saying, 'Believe me, it's coming! It will be good! It will be great!' and your office is just empty." Alison laughed and indicated the creative mess around her. "When I joined at Scholastic, my office was so bare. There was a desk, a chair, a computer, a phone… there wasn't even a pen or pencil, and I thought, oh God. I'd better pick up the phone and ring some people! It was quite scary. Luckily I'd brought some of my Macmillan books with me, so I could put those on the shelves as evidence that I could publish books really."

"You must spend a lot of time now e-mailing and doing paperwork," I said. "I get too much of that even as an illustrator."

"There's a lot of it, yes. Some aspects of it can become almost like brand management, where these people want to do a poster and those people want to do a sticker and those people want to do a special for this, and 'Is the copyright line right for that?' … I tend to work quite late. I have slight workaholic tendencies so I'm now part-time. That is designed to stop me working five mega-long days a week. I'm not meant to work Tuesdays and Fridays, but I still check my e-mail. I probably did two or three hours from home last Friday … And if it's a busy time, I can get drawn into doing bits and pieces. But it's still better than if I work full-time. I spent most of my career trying to cram seven days' work into five. At Macmillan… God, I probably worked half of every single weekend I was there. Now I just cram five days' work into three."




And what does Alison do to relax? "I'm a very bad singer in a choir. And I do my own writing. I've always written bits and pieces for my job. But The Fox in the Dark was a book that came out a couple years ago, and I've got a new one called Pinkie Mouse, Where Are You? And I've had a bash at trying to write scripts as well. I was sending little sketch scripts to a particular producer at the BBC (Gareth Edwards, the producer of Mitchell and Webb). He kept coming back and saying, 'Hmm, maybe not this, but send me more… Yes, I like that one, I'll keep it on file.' And I thought, I must pluck up courage and ring him. We had such a funny conversation. Obviously, he didn't know anything about me, so he said, 'The thing is, Alison, sketch writing, it's not really a living. You need to have another job as well.' And I said, 'Well, I've GOT another job, I'm a children's publisher!' He said, 'Oh, that's funny! I've just published a children's book.' Which he had, with Hachette. He said, 'Do you mind if I send you something?' And I'm thinking, Erm, okay! That's turned the tables. So I went, in one chameleon moment, from being the supplicant writer to the confident publisher! He sent me his story, and we all really liked it, so we ended up offering him a two-book contract."

I ask, "Is he going to produce any of your comedy sketches?" Alison laughs. "Who knows! It's a very long shot. But I carry on trying things, and I potter along…" And as I leave to go meet with my own editor down the hall, I think, if I could learn a thing or two about pottering from this woman, I'd be well ahead of the game.


Click here to see more of Inis magazine Issue 36.