You know how I've been doing all these tree drawings in Greenwich Park? Well, I finally drew a tree I was proud of, and it wasn't a drawing, exactly, it was a print. And it made me very happy! Here's a photo of it:




I'd never done on-location linoleum cutting before, but I thought I'd try it, since I can never seem to get a line I really like with pencil or pen.




There's something so lovely about making lino-cut prints; instead of trying to give an image bulk, you're subtracting bits from the solid bulk it already has, chipping away at the negative space. The park squirrels liked my equipment. See the wooden handle of one, sitting on my bag, next to the eraser? Well, I've discovered, it looks just like a nut to a squirrel. We had several tug-of-war sessions, which finished with me wiping off the squirrel spit off the handle and examining the teeth marks.





Here's the scene I drew, it's really just a loose interpretation of it, because my hand kept slipping and lopping off branches I'd planned to include. Ah, well, it's still a tree, just a different tree.




My illustrator friend Heather Kilgour lives locally, and nipped over to the park to draw with me.




We left when it got too dark to see, and I came back to the park two days later to work on the picture again. But it was so much colder that day that the lino kept getting too hard and brittle (it cuts more easily when it's warm) and my knife kept slipping, rather dangerously, and making big slashes across the picture. I'd already cut myself during the last session, so I thought, nope, time to take this home and work on it there. So here I am, working at the dining room table with a photo of the tree.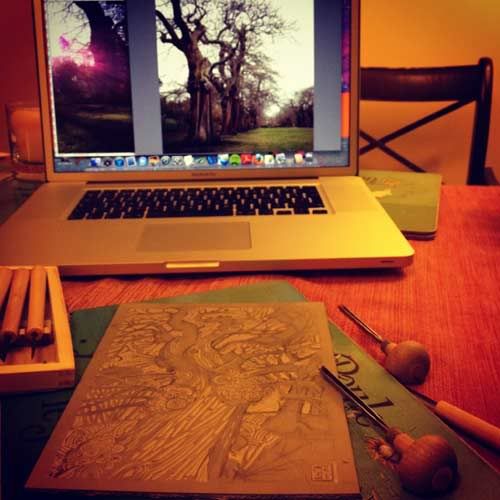 The closer I got to finishing, the more exciting it got. Here's what the block looked like, just before I printed it.




The best bit is rolling on the ink, that's when I get to see what didn't get cut away, and how the picture really looks.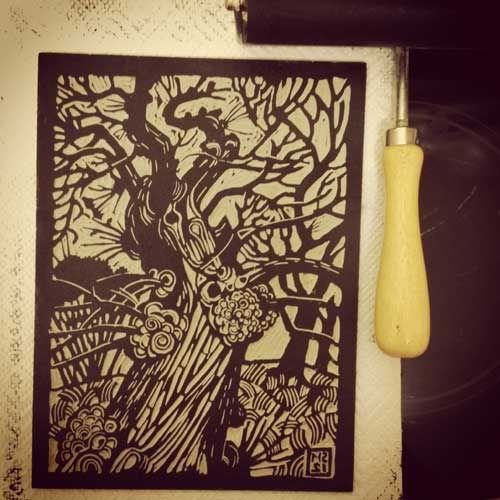 The way I printed it up was to put some ink on a piece of glass, ink up a roller on it, then roll the ink onto the lino block. Next, I lay a piece of paper on top of it, then take a wooden spoon and rub the back of the paper, pressing it into the block. When I peel away the paper, TA DAH! There's a reverse image on the paper. Exciting!




Then there's the tricky bit of finding somewhere to lay them out to dry, that won't get Stuart too annoyed. If I was in a print studio, I'd have drying racks, but the only place at home I had to spread these out was on the lounge floor. Fortunately, since the ink I used was water-based, they dried overnight. (Oil-based ink rolls on way better, but it can take days and days to dry.)




I'm hoping to do more tree prints at the park. Comics buddy Jim Medway suggested I do one a month, and make up a little book of twelve prints, so I might try that. (Thanks for the tip, Jim!) I just saw a lovely A3 lino cut he made for a book he has coming out with Blank Slate this year, called Playing Out. Should be good!