Congratulations to my DFC-now-Phoenix colleague Dave Shelton on the launch of his illustrated book A Boy and a Bear in a Boat! The amazing launch party cake was appropriately themed: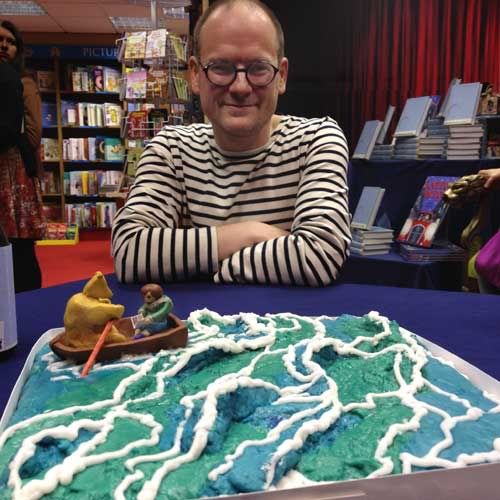 Oo, isn't it a lovely cover?! I was turning it around and admiring it on the train ride home from the launch at Heffer's bookshop in Cambridge. Kudos to Dave, publisher David Fickling and designer Ness Wood for making it so lovely. Beside the tea ring, you CAN actually find a boy and a bear in a boat... look closely!




Here's David Fickling giving one of his jubilant speeches, and the book's editor, Kirstin Armstrong, looking on proudly.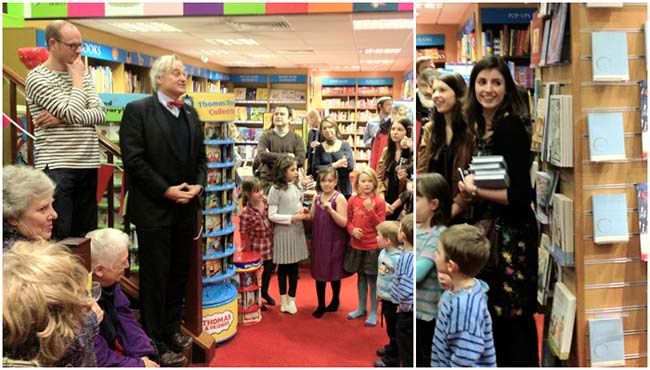 The back cover of Dave's book sums up the funny partnership of the two Davids. The top bit is pure Fickling and the bottom bit is all Shelton. If you want to hear Dave rave about his book... no, talk about his book... no, whisper very, very quietly about his book, go read his blog post about it.





Reactions to the speeches were mixed, as you can see here... Creative team Emma Vieceli and Andrew Ruddick (sometimes known as 'Pud') looked pensive, while the younger generation fell about laughing. By the way, did you know that Emma and Andrew are working on a very cool project right now, including actual training which involves wielding a massive battleaxe and double swords? More about that later...




So back to the book! I do so love its cover, although there was an alternative cover introduced. You'd think it tells you more about the book, but actually, once you get reading it, you'll realise that the blue tea-stain cover actually reflects much more of the book's quiet, surreal atmosphere than the busier cover.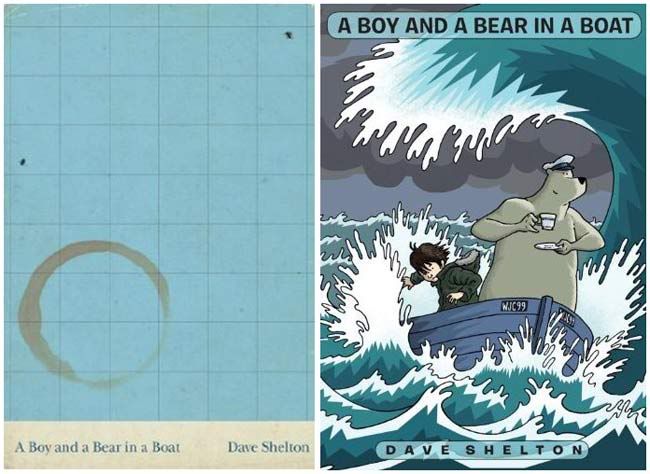 It's a strange and wonderful book. It's not structured like most children's books you'll read, and at first, I wondered if it really was a children's book, it felt more like something beautifully written that I'd read in Granta. But then it dawned on me that there are two very different readings of the book. I think adults might find it rather melancholy and even slightly sinister: why are these two characters stuck in limbo in a sea with only a map showing absolutely nothing on it at all except blue? Are the boy and bear actually alive, or is it a strange, existentialist afterlife sort of thing?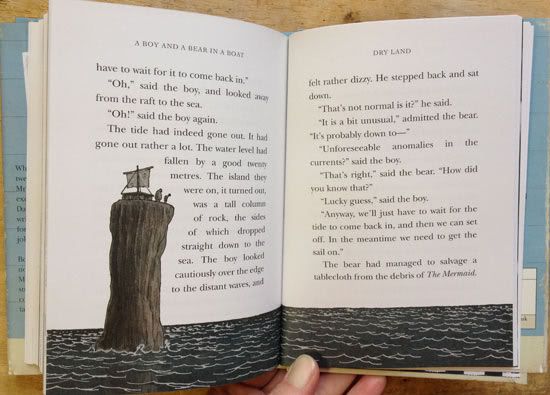 But I think children will find this book very intimate. When I was a kid, what I wanted more than anything else was the undivided attention of an adult who would listen to me, whatever nonsense I said, and go on adventures with me. And that's exactly what happens, out at sea, a boy gets a big bear's undivided attention and love for a whole book. Sometimes the boy is friendly with the bear, sometimes he's horrid to the him, but the bear just keeps on rowing, blundering along, and looking out for his little companion.




Most of the book has Dave's black and white illustrations, but there are five double-page spreads in dark, muted colour, and one page that stands out from the rest, a page showing the strange foreign comic the boy has found tucked under the seat of his boat. Here's my studio mate, Gary Northfield, examining it: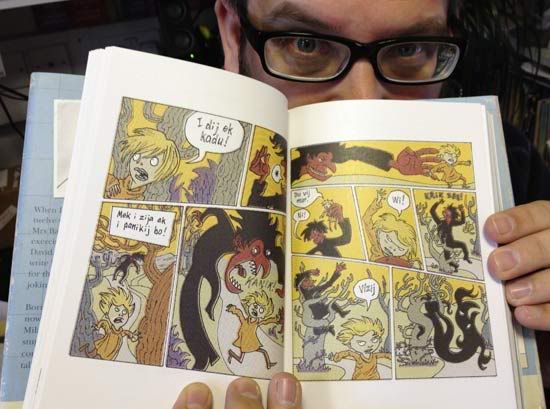 Gary and I started talking about how much fun it was to make crazy comics in a made-up language. My sister and I took a year of German together and used to speak made-up German to each other... we could understand each other just fine, even if no one else could. Gary laughed, and said he'd done a comic once in made-up Spanish/French on his way back from the comics festival in Angoulême. He trawled his blog and found it. (It's basically his Derek the Sheep but a llama instead of a sheep.)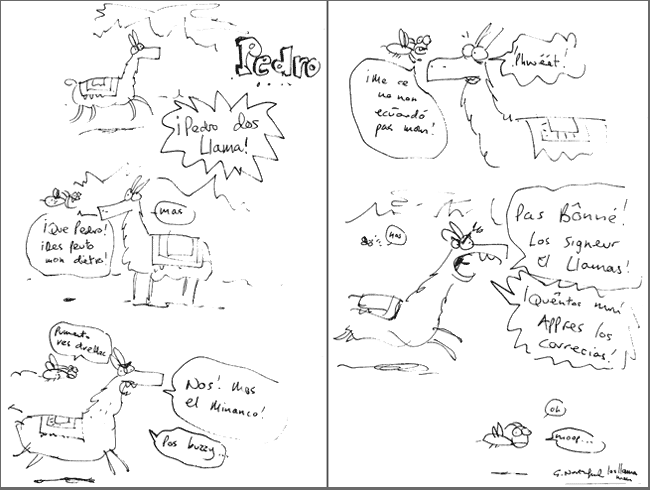 So back to Dave's book again! You can read Julia Eccleshare's review of it over at Love Reading 4 Kids, and writer-illustrator Thomas Taylor has also written about it on his blog.

Here's Thomas showing off Emma's latest graphic novel, Vampire Academy (which beat out Twilight and Buffy on the New York Times Bestseller list in Graphic Novels for two weeks!). And the Fearsome Threesome next to them are Illustration professor Martin Salisbury, illustrator and wood engraver extraordinaire John Lawrence (I'm such a fan!) and poet Tony Mitton. (David Fickling's always looking at my writing, scratching his head and saying, 'Hmm, perhaps we ought to run this by my friend, Tony, he really understands language properly.')




My lovely inscribed copy! On the left, illustrator Nicola Killen; in the centre, illustrator Marion Lindsay; on the right Dave's partner, illustrator Pam Smy, who made the lovely cake!




I love going to Cambridge because it means I get to stay with my lovely editor and typography student friend Bridget Hannigan. We got seriously caffeinnated before Dave's launch.




Bridget took me to the Fitzwilliam Museum to catch the tail end of an exhibition of four Vermeer paintings and a bunch of other lovely Dutch paintings of women. I love drawing from Dutch portraits, their conventions of beauty were so much different than they are now.




After the launch and dinner, Bridget, Woodrow Phoenix (her partner and my DFC colleague) and I got very caught up in playing Space Invaders.




Oh, and one more thing. Dave an I have a running joke that I always catch him in compromising photos with mystery women, so I can't make any exceptions this time.




One more thing, have you seen Neill Cameron's post about Issue 1 of The Phoenix comic? Go have a look!