Best cake EVER!!!
:D Look at all the details, even Morris's hairy tummy and the stitching on his pants!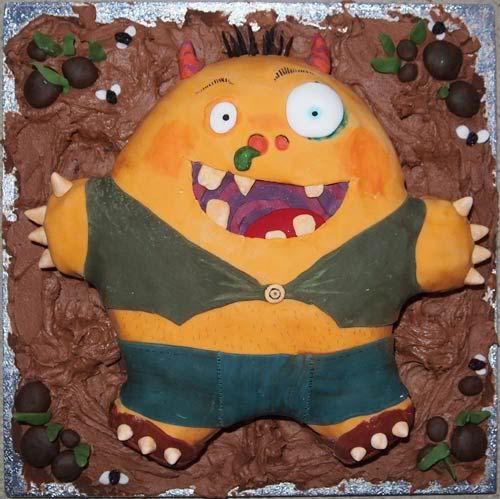 Bevis Musson
just made this cake for his 5-year-old son,
Callum
, who asked for it specially. Happy birthday, Callum! Bevis wrote:
Originally I was going to have him sat up, but that would have meant getting a new cake tin just for his head shape and I couldn't find the right one, so he ended up lying down instead. He's actually quite an easy shape to make out of cake, so it meant that I could get a lot more little details on there that I might otherwise have (plus the invention of edible icing pens has made life so much easier)...
Ah! Manchester-based Bevis (
@bevismusson on Twitter
) just sent me links chronicling how he made the cake! You can see his posts about it
here
, then
here
and finally
here
on his blog,
Making it up as I go along
.
That's brilliant. I have a
how-to guide for making a space ship cake
to go with
You Can't Eat a Princess!
, but this is the first Morris cake I've seen. Totally made my day, thanks, Bevis and Callum!
If anyone wants to thow a Morris the Mankiest Monster party, I have a bunch of fun activities you can use for it, downloadable free here
.
Oh, and Bevis has made other fab cakes, too, including a dinosaur and a pirate island! Just
go have a look and explore his blog
, that's the best thing. (
Edit: Oh my! Just saw some racy Sherlock artwork! Ha ha... it's mostly adults who read this blog, right? Parental warning...
)
Ha Ha!