This morning I got an early train to Bedford and spent the day pirating with loads of kids for Kempston Library's first children's book festival, it was great. Kempston is a fabulous example of why libraries are so central to our community, that place was BUZZING. When I walked in, two huge book buses were pulling out, and there was another Maisie Mouse event going on, run by librarians, just down the road. I spent the morning with two groups of kids who came in from a school within walking distance, then librarin Sue Shead drove me to a school just a bit further away.

We drew lots of revolting pirates. This is the least disgusting picture I drew, although one kid did ask if he could draw some poo on it, and the teacher wouldn't let him draw it on that particular picture.




Poo and bogeys were kind of the theme of the day. Which makes it very easy, because if you say anything related to poo or bogeys, all the kids go into hysterics. I did make the group at Balliol School follow the logic of pirates who are looking for a treasure chest full of wee.... Hey people, you can find wee anywhere, so why do they want this particular wee? Does it have special powers? (Yes, it did; long story ensued.)

Oh, pants are another hysteria point. Here's their creation, a lady pirate named Captain Happy Pants. One girl said Cap'n HP should be holding a crystal ball, and when I asked another kid to help me decide what this pirate could see in her future, looking into the ball, the girl said, 'PANTS'. Which sounded like a bit of a rubbish future, but they decided they could turn that around by calling her Happy Pants.





Here's the lovely library team! That's Sue Shead on the far right, who looked after me:




I also had a good chat with Rebecca Earl, second from the right, who keeps an extensive book reviewing blog. Becky's very quick, she's already posted about meeting me today, and dressing up as Maisie Mouse! (It gets very hot in those costumes, but she was cheerful about it, and only once slipped and admitted the inside smells a bit like feet.)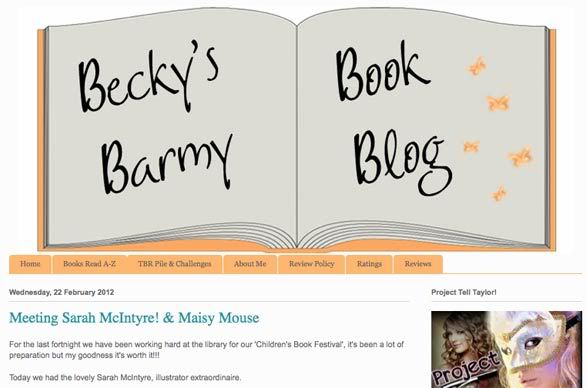 Becky writes her own books, and asked me some questions about getting published. One of the main things I always advise people to do when we talk about this is to encourage them to join the British branch of the Society of Children's Book Writers & Illustrators. They were such a big help to me in the early days, with their events and publications: finding out how to submit book ideas to publishers, who to contact, how to network with publishers and how to find other writers and illustrators to talk with. I feel bad that I haven't been able to go to many SCBWI events recently and I miss the people I know there – I've had a heavy workload – but I like to think that I'm still doing my best to be a SCBWI ambassador. I think what they do is excellent.




Becky and I also talked about Twitter, and how she's made her account private because she's had such a problem with spambots. I told her about Philip Reeve's latest blog post, and how he's decided to embrace spambots to help him with his novels.

Here's a teacher and some kids from Bedford RCAD Lower School with another lovely pirate we drew together, Captain Lazy Nastybeard:




Thanks so much to Sue, the librarians at Kempston and the teachers and kids from the Bedford schools for making my day so enjoyable! The kids assured me that they were going to go away and make up awesome stories about their pirates, so I hope I'll get to see some of them. Tomorrow they'll get a visit from writer Steve Cole, so they have lots to look forward to!

A couple other, slightly random things, from my day...

I reposted this picture on Facebook awhile ago because it made me laugh; I love Magnus, who loves magnets:




So on my way to Bedford, I saw this out the window at Luton Parkway and immediately thought of Magnus, that he would love it, a whole warehouse full of magnets. YES! It's Magnusland.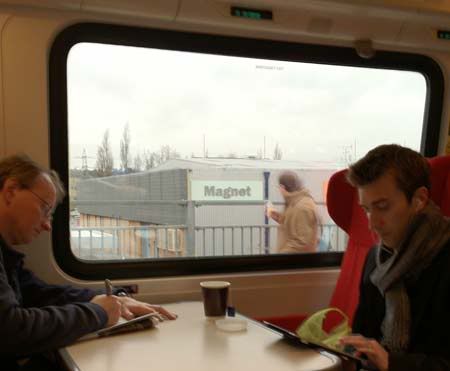 And on the way home, I was on the tube and looked over the shoulder of a woman who was reading The Stylist and saw a photo of the phone box my lovely studio mate Deadly Knitshade graffiti knitted with her Knit the City gang. Cool! The lady was nice and tore out the page to let me have it. (No, I didn't actually hit her with a rolled-up copy of The Metro to get it, as I said on Twitter.)