The Kitschies
for a lovely Gothic Evening on the Charing Cross Road at Blackwell's! Here are
Jared Shurin
and
Anne Perry
, who run the award and lots of fab related events. (Come see them at our
Worlds of Tomorrow
children's & YA Sci-Fi panel talk at Foyles on 22 May!)
This was my slightly bizarre take on 'gothic'. I should have put a beak and eyeballs sticking out of the hat, that would have been even more fun. With
Penny Schenk
.
And the most excellent comics gang was out in force! Here are
Emma Vieceli
,
Nana Li
and
Kate Brown
.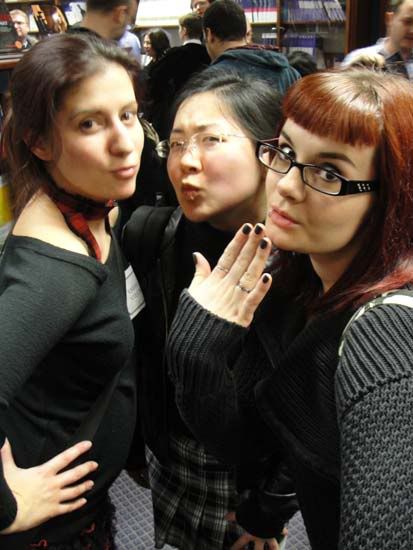 Philip Reeve
,
John Aggs
and Kate Brown:
When writer
Sarwat Chadda
met Philip Reeve, he immediately tweeted:
Omg I have just met @philipreeve1 ! #fanboywipeout
Ha ha...
Photographer, journalist and writer
Joel Meadows
with his album,
Spooked
:
Here's Philip in the tube, looking mighty fine in that hat.
Oh, and just one more thing, have you seen
Lucy Knisley's comic of a cookie recipe? Go have a look...
Thanks for