Thanks for The Kitschies for a lovely Gothic Evening on the Charing Cross Road at Blackwell's! Here are Jared Shurin and Anne Perry, who run the award and lots of fab related events. (Come see them at our Worlds of Tomorrow children's & YA Sci-Fi panel talk at Foyles on 22 May!)




This was my slightly bizarre take on 'gothic'. I should have put a beak and eyeballs sticking out of the hat, that would have been even more fun. With Penny Schenk.






And the most excellent comics gang was out in force! Here are Emma Vieceli, Nana Li and Kate Brown.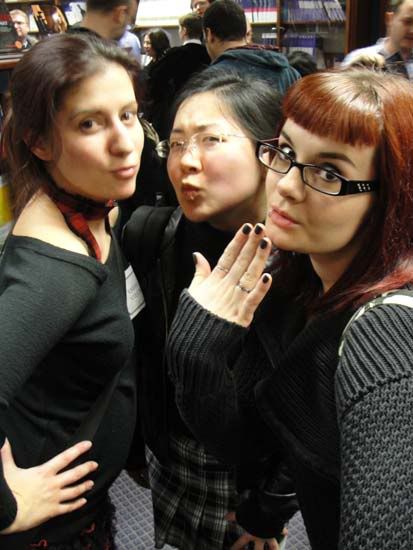 Philip Reeve, John Aggs and Kate Brown:




When writer Sarwat Chadda met Philip Reeve, he immediately tweeted: Omg I have just met @philipreeve1 ! #fanboywipeout Ha ha...




Photographer, journalist and writer Joel Meadows with his album, Spooked:



Here's Philip in the tube, looking mighty fine in that hat.




Oh, and just one more thing, have you seen Lucy Knisley's comic of a cookie recipe? Go have a look...