When writer Candy Gourlay and I were on a panel with Geraldine McCaughrean last year at the Hay festival, we didn't get any money, but we did each get a crate of sparking wine. I came by train, so I couldn't haul mine back, but Candy graciously took mine back for me in her car and stored it... until this weekend! (Thank you, Candy!) We thought that we'd better do something about that, so a few of us gathered in Candy's kitchen and took care of the unfinished business.




Fab writer Fiona Dunbar got caught up in the middle of things... Here's Stuart with one of the bottles. Candy just posted the photo on Facebook and listed him as 'Sarah's other half and president of the My Spouse Works In Children's Publishing Support Group. Two other members of this group were also present, but we somehow didn't get photos of them. (Sorry, guys!)





Here's Candy, Mistress of Risotto: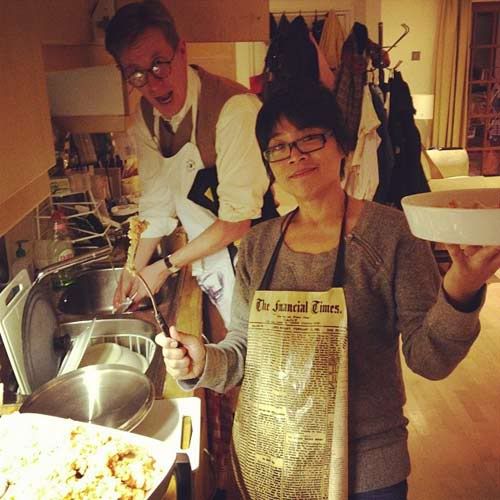 And Philip Reeve, the only person I know who makes apple crumble while wearing cufflinks.




Thanks so much for an excellent evening, Candy, Richard, Mia and Jack! (Candy's kids quietly serenaded us for much of the evening on guitar, which was lovely. And didn't tell me to stop making an idiot of myself on their trampoline, which was nice of them.) From Saturday morning, it was a working weekend. Back at the desk, with nibs and ink pot.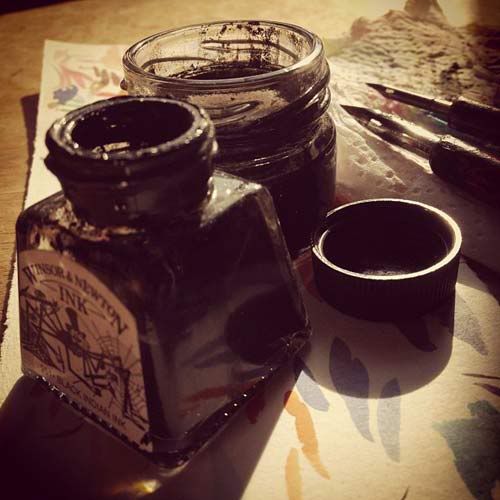 I popped out of the studio this afternoon and took a snapshot on New Cross Road. I love the expression of the girl on the left.




How many trainers can you fit on an electrical wire? The answer is, a lot. I think they used to be markers to show where certain drug dealers had their territories. But then I think lots of kids thought that was cool, and also a good way to bully people by putting their shoes visibly out of reach, so I don't think it really means anything anymore. But those little danglers are everywhere.




Shadows in an underpass. The council recently splashed out to get some metal flower-and-piping artwork for its walls.




And now just some domestic photos. I never seem to get time to do laundry, but all those event costumes need washing... I thought they looked kind of pretty hanging out.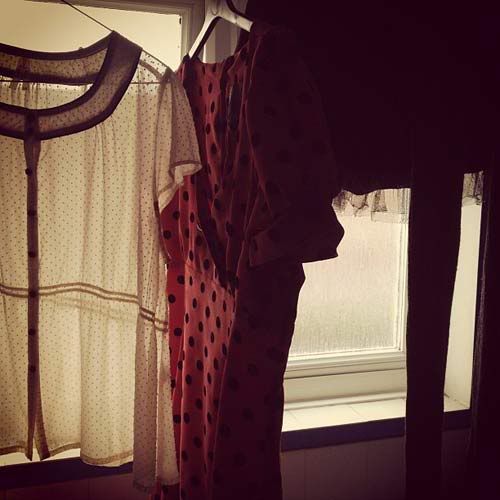 And then I got a bit obsessed with the water droplets on the petticoat until Stuart walked in and I remembered I was supposed to be doing other housework-ish type things.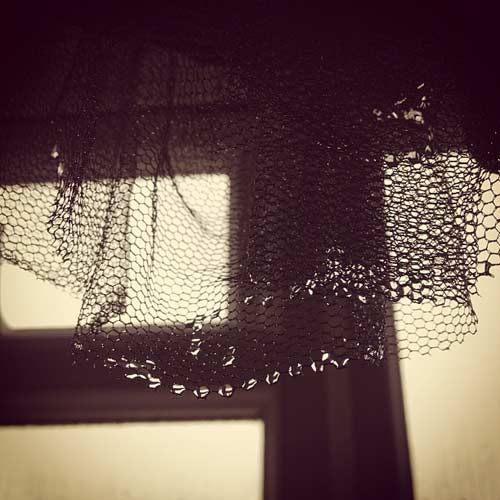 Hope you had a good weekend!