I keep having this ideal for my blog, that every day I should post a new drawing. It's tricky, when I spend all day drawing stuff my publishers don't want me to show you yet. But here we go, a pub drawing from last night. Viviane Schwarz did the bottom half, and I did the top half, upside-down.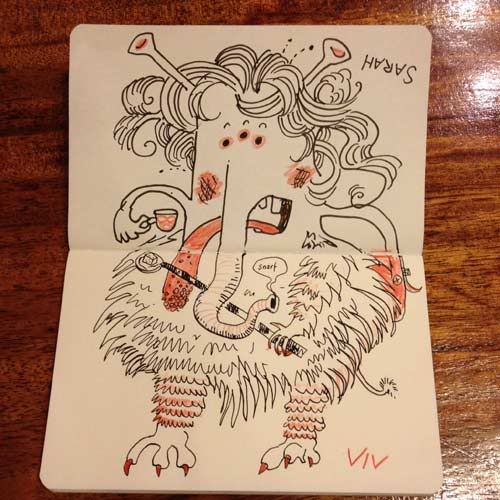 Viv and I met at St Pancras station and walked over to the new Central Saint Martins art college building. It's ENORMOUS. High ceilings, vast slabs of concrete, reclaimed brickwork, huge panes of glass. You can just see it in the background here, behind Viv swinging in this rather quirky little pavilion in the middle of the Kings Cross building site.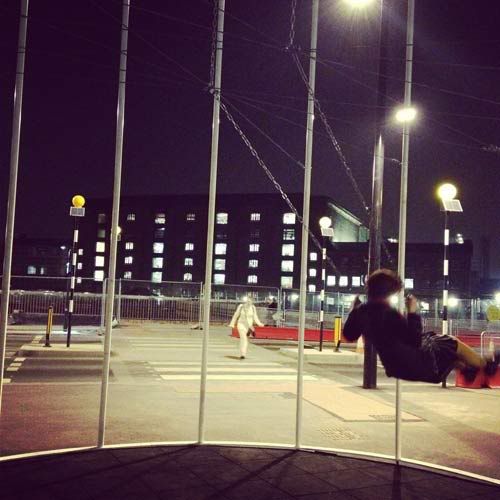 We started off the evening at the party to launch Christopher Brown's new book, An Alphabet of London. I've been excited to see this book, because Chris was one of my visiting lecturers on the MA Illustration course at Camberwell art college, and he loves that luscious, heavy, solid look you can get with lino cut prints, and I do, too! His publishers, Merrell, also had an earlier book on sale that he'd illustrated, A Pack of Dogs, and both books are very yummy. Nom Nom.




Here's a little peek at the page for T; Viv and I got a laugh from T is for Trepanning. It took us awhile to remember where we'd seen that carved wooden tiger mauling the colonist. I thought it was at the British Museum, but in the back of the book, it says it's Tippoo's Tiger at the Victoria & Albert Museum. Ah yes. And it's from 1793. If you've been to London, you'll undoubtedly recognise the art museum at the top of the page. The others are harder to guess: Trinity Buoy Wharf Lighthouse in Poplar, Temple Church in the City of London, oh, and there's a tourist in the corner.




At the party, we got to see his original lino cut prints on display, so lovely! It's a great conversation piece, trying to guess all the letters. This book will make a perfect London souvenir for people visiting London, a Londoner's gift for friends abroad, or a book for a Londoner to have on a coffee table to give everyone something to talk about at awkward dinner parties, ha ha.





I just had to get a photo of these lovely chappies. There were more than a few excellent twiddly moustaches present. (I have no idea who they actually are. Chaps, if you read this, please identify yourselves!) :)
Edit: Ah! The most excellent David O'Connell has identified them as Nick Appleton and Paul Bommer. Thanks, Dave!




Besides the alphabet, Chris gives us, in the back of the book, a big of a description and photos of how he set about making the prints. I'm itching to do a book of lino prints, starting with the trees in Greenwich Park, but I don't want to approach a publisher about it yet because I want it to be something I do for the pure enjoyment of it, not be freaking out about a deadline. Because making lino cuts is SO MUCH FUN. Even if you do something very simple, it can still look brilliant. (Here you can see one of my blog posts about it. Oh, and be careful with the sharp tools.)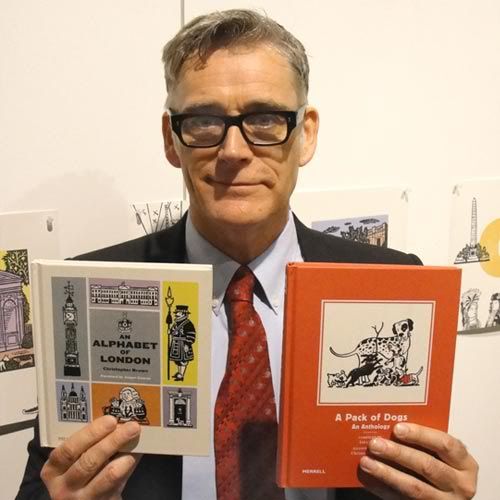 It's funny, it was only a couple weeks ago, when I met the art teacher, Tobias Till, at Winchester House School, that I saw a whole different set of lino cuts for a London alphabet. But they're very different, much more detailed scenes, and none of the simple stand alones Chris has done in his book. I remember Chris, at college, saying that alphabet books are a great way to organise and give purpose to a series of artwork.




So have a think: If you really want to illustrate a book, but you aren't sure what to draw, why not try making an alphabet book of your hometown? Or perhaps even food you find at the supermarket? Or breeds of fish? Or something sillier?

Here's A Pack of Dogs, back at the studio. Look at those lovely endpapers... mmm.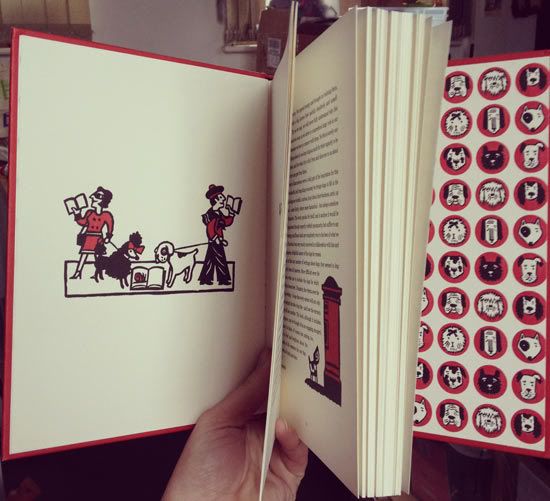 And I got to see my fabulous art college course leader, Janet Woolley! Jan was the best teacher anyone could ever have, I owe so much of my career to the way she looked after me on the course. I was lucky, I got her on her very first year at Camberwell, when there were only 14 students; now there are over 70. Jan says she quite likes the large number, because there are always people around the college, but I'm quite selfish, I liked getting lots of individual attention from her, Chris, and some of our other lecturers, including Anne Howeson, Chris Draper, Emily Mitchell and Gary Powell. I'm doing an alumni presentation in May back at Camberwell and I'm really looking forward to seeing some of the old gang.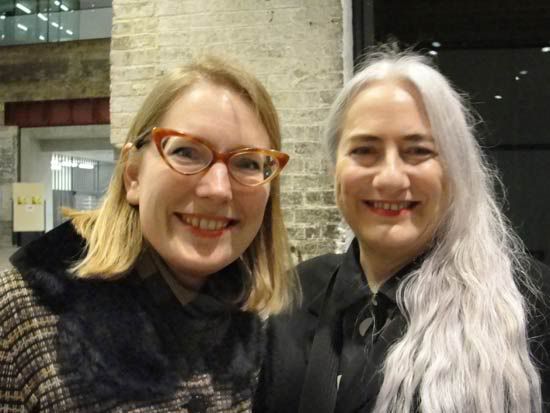 It was great seeing Viv. We've both been incredibly busy - she's even been to Australia! - but we had fun catching up, and Viv pulled out this fabulous Daily Mail article she found, about a letter from a kid named 'Flint' to a weatherman who'd visited his school, who told the weatherman that he was 'more awesome than a monkey wearing a tuxedo made out of bacon riding a cyborg unicorn'.



The student, named only as Flint, promised Albert Ramon - a weatherman for a station in Austin, Texas - a place at his top table when he becomes 'supreme Ultra-Lord of the universe'.
'I will not make you a slave, you will live in my 200 story [sic] castle where unicorn servants will feed you doughnuts off their horns,' Flint wrote. 'I will personally make you a throne that is half platinum and half solid gold and jewel encrested [sic].' (Read the rest of the article here.)

Viv and I had a good look at the exhibition, and some of the other amazing prints and clothing Central Saint Martins had on display. Loads of lovely wood engravings, by artists such as Monica Poole. There you can see some wood engraving tools, similar to those Chris would have used to cut his linoleum sheets.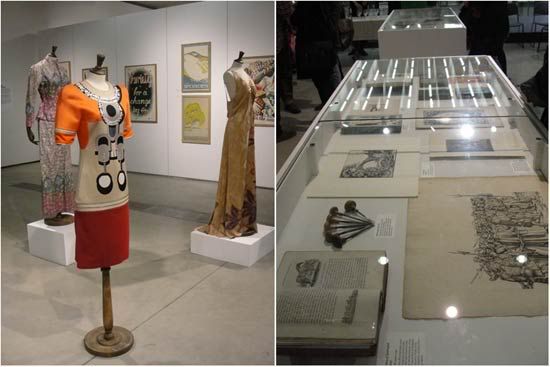 Then it was off to the pub! We met up with a bunch of illustrators in Clerkenwell, here are Noëlle Davies Brock, Nadia Shireen, Ed Vere, Véronique Joffre, Sylvain Marc and Viviane Schwarz. Do have a look at their websites; some amazing stuff there!




I also got to meet Tor Freeman and Susie Jenkin-Pearce, along with the good ol' boys behind them.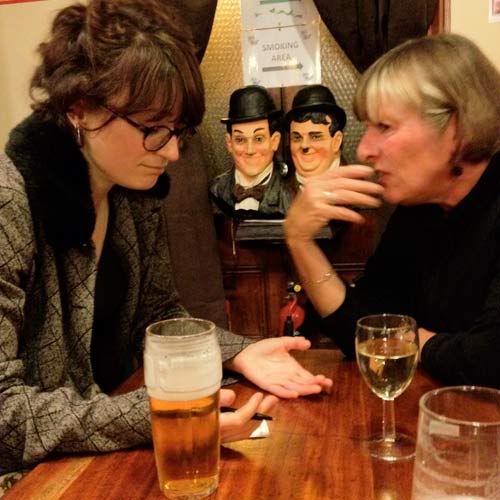 Oo, and here's Marilyn, peeking over Adam Stower and David Lucas.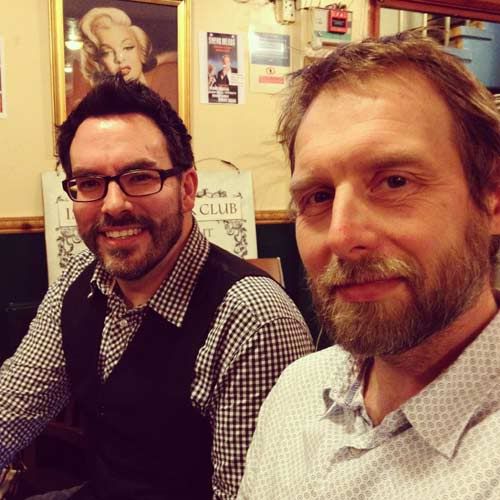 And a final shot of Viv, in her splendid fox scarf.