Hello! If you haven't yet worked it out from Twitter, the Bologna Book Fair is rumbling along right now, as I type! It's the biggest children's book event of the year, when more people than you can count all gather to buy and sell foreign rights to publish every picture book you can imagine. I went one year, the fair was amazing, and so was the GELATO. Publicist Nina Douglas and I were too busy to go this year, but we were feeling a bit sorry for ourselves, so made our way to sunny Soho and had a quick moment of make-believe at Amorino: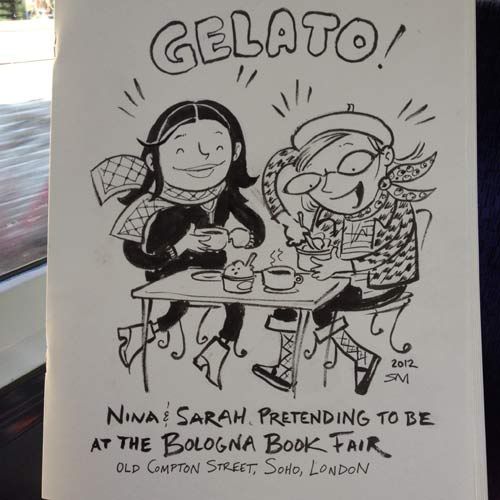 The book fair hasn't designated a hashtag on Twitter for everyone to follow, so people are all over the Internet. You can click on #BolognaBookFair, #Bologna2012, #BBF2012 and even #BBF12 to see moment-by-moment what's going on.

And we at the Fleece Station studio are represented! Walker Books has a taster brochure for Gary Northfield's upcoming comic-strip story TEENYTINYSAURS. I've been watching him work on it and oo-ing and ah-ing, it is amazing. Go ask about the rights, people at Bologna!




Just as all this has been going on, we got a lovely e-mail from some Portsmouth University students - Ryan McBride, Matthew Freeman Carter, Mitchell Jackson, Dale Bennett and Steven Ellis at 32RunProduction - with a video they'd made about our studio! So presenting... The Fleece Station, the Movie!


YouTube link

And look! Here's a little teaser for my next picture book! I don't know how much I'm allowed to say yet, but this image is in Scholastic UK's Bologna rights guide brochure, so I think I'm allowed to post it:




Back to the lovely TEENYTINYSAURS...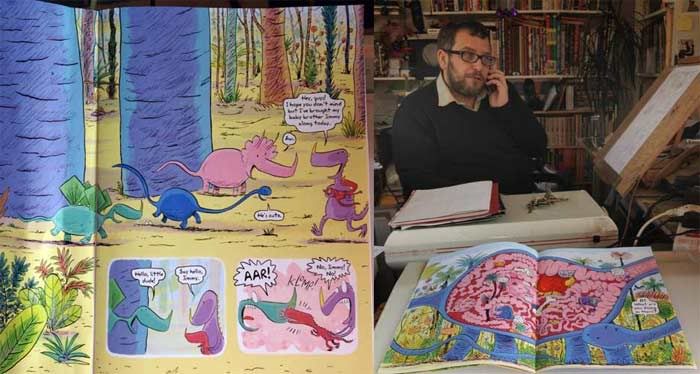 And good friend of the Fleece Station, Philip Reeve, also has a very exciting book just out with Scholastic UK! I've read GOBLINS and it is brilliant. Martin Chilton at The Telegraph thinks so, too! Here's his rave review...




And back to gelato, what everyone's really thinking about in Bologna. Now it's back to the drawing desk for me, to crack on with that picture book! Ooh, the deadline's not far off now...