So what was Labour MP Tom Watson doing when the news broke about James Murdoch resigning? He was drawing a monster!




I first met Tom at the British International Comics Show in Birmingham, when I was launching my new book, Morris the Mankiest Monster. He's @tom_watson on Twitter, and I was pleased when he tweeted, asking if it would be all right to bring his kids round to the studio. Here's Tom and his kids at the Fleece Station studio with my studio mate Gary Northfield, signing a copy of his book Derek the Sheep. Gary knows a lot more about politics than I do, and he's a big fan. (Mostly what I knew is that Tom once called someone 'pipsqueak' in Parliament and had to mind his manners and take it back. That made me laugh.)




The studio's too cramped for everyone to have space to draw, so we decamped to Deptford's Rail Carriage cafe and took over their biggest table. Tom's son loves Moshi Monsters, so our monsters had a definite theme to them. His dad and I were talking about making books, since Tom has a book coming out with Penguin about this whole phone-hacking scandal, and his son wanted to make a book, too. I told him that wasn't a problem; all you need is a bit of folded paper. (And then we discussed the intricacies of photocopying and distribution.) So here's the front cover to MOSHI MONSTERS MASH-UP GUIDE.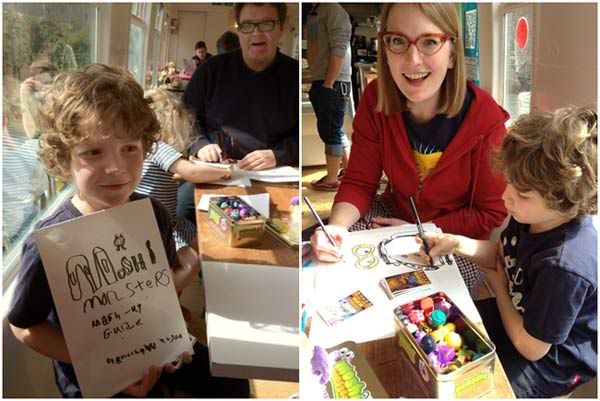 Looking good, I hope he keeps going with it. Here's his sister's monster. She got a bit irritable at one point, and Tom drew a picture of a smiley face, and said, 'What's this?' and she said, 'a smiley face'. Then he drew a picture of someone frowning asked, 'What's this?' and she said, 'THAT'S ME'. And she got a big, cheeky grin and everything was better.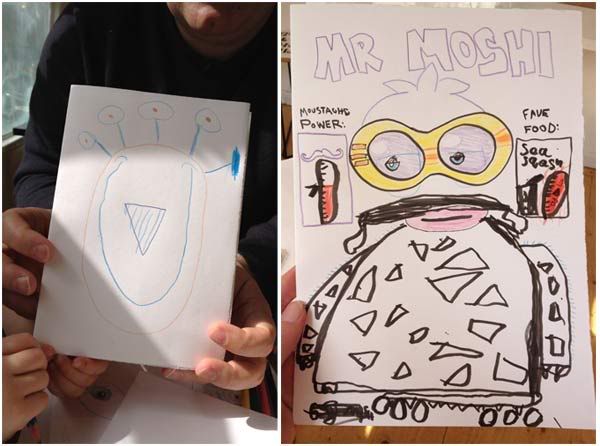 Here's Tom's son drawing a big green fart on my monster picture, oh yeah.




The news about the Murdoch resignation came in while we were having lunch among the monster pictures, and Tom mentioned it, then switched off his phone and picked up his coloured pencils. Which totally rocks. He told me about this app called Free All Monsters, which I totally have to get. You create a monster, then upload it and go around collecting everyone else's monsters. Loads of people have drawn them! Tom very kindly reviewed Morris on his blog. He loved the Rail Carriage and I hope we'll be seeing more of him in Deptford, that was fun. Good luck with the book, Tom!

Ha ha, here's the pipsqueak comment. And there's a lot more footage of him on YouTube giving Rupert Murdoch a harsh grilling.



Speaking of monsters, have you seen my friend and soon-to-be co-author Philip Reeve's blog post about his brand-new book GOBLINS? I've read it and it's FABULOUS. Lots of rude monster jokes, but also a ripping good story set in a world of goblins, cloud maidens, trolls, a middle-aged princess, all sorts. Go on, have a peek!